When you buy and sell things like shoes, books, and baby clothes through online marketplaces, you're participating in something bigger.
According to CPA Canada, 85 per cent of Canadians participate in the second-hand economy, shopping and swapping a whopping $28.5-billion worth of goods annually. For buyers, online peer-to-peer marketplaces offer a chance to grab items at a steep discount, or track down items that aren't available in stores anymore. Sellers get to turn their unused stuff into spending money — with the average seller earning at least $1,100 a year.
Buying and selling second-hand can also be better for the environment: When you reuse rather than manufacture, you help to reduce carbon emissions, water use and pollution, while keeping waste (including e-waste) out of landfills.
The catch? Many marketplaces leave it up to the buyer and seller to decide how to exchange money and goods, which leads to the biggest potential downfall: getting scammed.
Learn how to help make online marketplace transactions safe — not to mention convenient — by using Interac e-Transfer as your method for exchanging money.
Use Interac e-Transfer to make buying via marketplaces more convenient
Interac e-Transfer makes it convenient to buy things from online sellers because it's easy to use (here's how, in case you need to know). As long as you and the seller both have an email address or SMS number, and a Canadian bank account, you can make a payment via Interac e-Transfer.
When you use Interac e-Transfer, you don't have to go out of your way to take out cash, and it doesn't carry the same risks or delays that cheques do. Interac e-Transfer enables you to make more spontaneous purchases, too: If you meet up with the seller and they have more items you want, you can scoop up those deals, too — you won't be limited by the amount of cash you brought with you.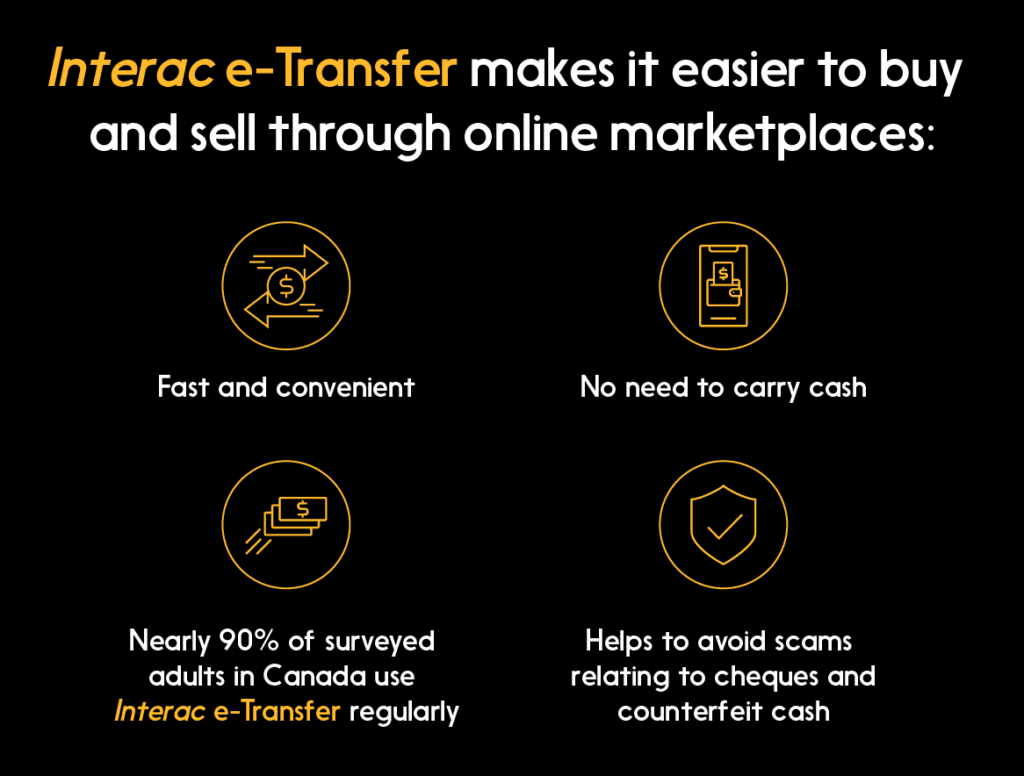 Tips to stay safe when buying via online marketplaces
Making safe and savvy decisions as a shopper is especially important when you're buying through online marketplaces. Keep these tips in mind:
Do your due diligence. If the marketplace includes seller reviews, check them out first. Avoid sellers with red flags (for example, if the seller is in a big rush to get the item, or insists on communicating outside of the platform).

Meet face-to-face in a safe public setting, whenever possible. Bring a friend if you're feeling unsure about safety. In some places, police have set up designated exchange zones that are monitored for safety — call your local law enforcement to see if this is available where you live.

Making the exchange in person gives you a chance to scrutinize what you're buying. Beware of fake merchandise (is that really a designer bag? Is that guitar actually vintage? Event tickets are often wise to avoid altogether unless you can verify the tickets are real). Before paying for something, carefully inspect it to make sure it's as described.

Offer to pay using Interac e-Transfer so you won't have to handle cash. And remember: Interac e-Transfer is one of the safest digital money transfer services in the world, but it's still smart to use the same precautions you would with cash purchases. Check any security guidelines or policies outlined on the website to protect yourself.
Tips for sellers on online marketplaces
Doing a major tidy up around your place? Maybe you're getting ready to move, or you're into a big seasonal clean. Whatever's driving you to clear out your place, keep these three tips in mind:
1. Offer things people actually want to buy
It sounds obvious, right? But you wouldn't believe some of the things people try to sell through online marketplaces — everything from puzzles with pieces missing to partially eaten food.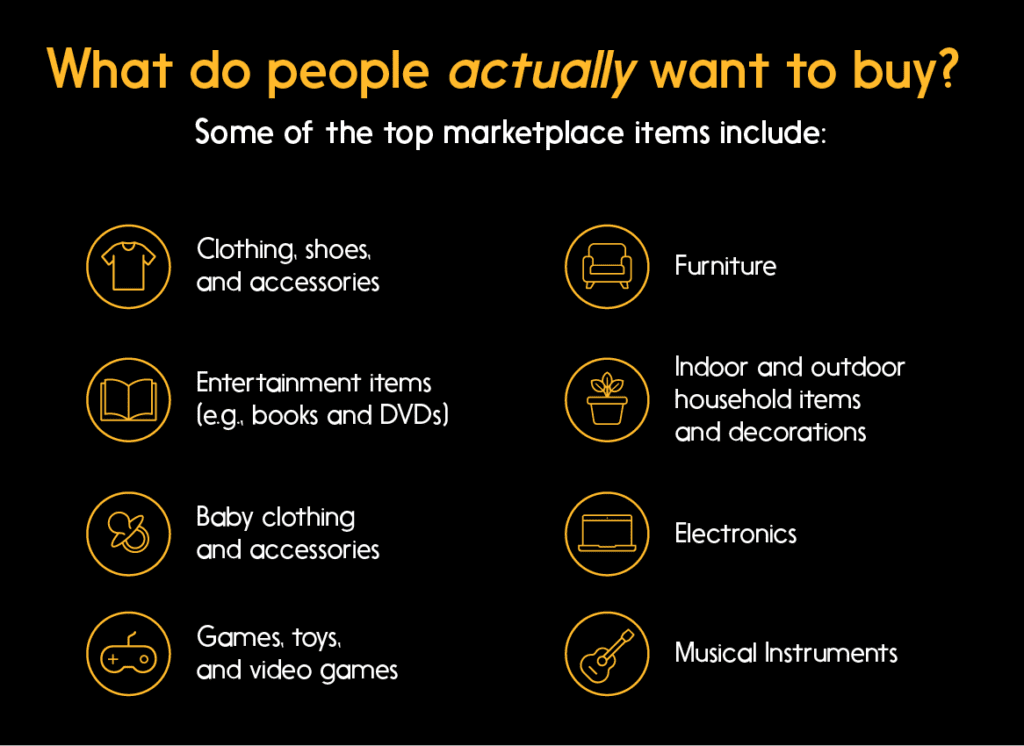 2. It's all about clarity: clear descriptions, clear photos and clear communication
A lot of selling in online marketplaces is common sense. Think about what would motivate you to buy, and do that — which means: set fair prices. Write clear descriptions of what you're selling. If you're selling electronics, state the exact model and specifications for the item if possible. And take clear photos of it.
Be ready for questions. And make things easier on yourself and buyers by answering common questions before people ask them, right in the listing — as in, what times are you generally available to meet up? Is the price firm or negotiable?
And perhaps most important of all …
3. Make it easy for buyers to buy from you, with help from Interac e-Transfer
How about a payment method that 88 per cent of Canadian adults have used? Accepting payment via Interac e-Transfer helps make things more convenient for potential buyers: They won't have to swing by an ABM on the way to see you, which might make them more willing to buy. (If you're not familiar with how to use Interac e-Transfer to receive money, or need a refresher, here's a quick and easy how-to.)
Interac e-Transfer Request Money can also be useful when you're selling: If you have the buyer's email address or SMS number, you can use Request Money to nudge them to send you the payment. Learn how here.

Set up Interac e-Transfer Autodeposit to make the transaction smoother and safer (learn how to do that here). With Autodeposit, you won't have to coordinate a question and answer with each buyer; they'll just need the email address or phone number associated with your account for the funds to be deposited.
Pro tip: Interac e-Transfer Autodeposit can also help reduce the risk of having your funds intercepted by fraudulent buyers: If you have it set up, the funds you receive are directly deposited into your bank account , following appropriate fraud checks by your financial institution, with no additional steps or passwords needed.
How to sell safely via online marketplaces
Follow these tips to help stay safe when you're selling your stuff.
Using Interac e-Transfer helps avoid some of the payment methods scammers like to use when posing as buyers — for example, counterfeit cash, fake cheques, and bank drafts.
Pro tip: Some scammers have used the speed of the transaction to trick sellers into sending money instead of receiving it.
When you're the seller, make sure to check if the buyer has sent you a payment via Interac e-Transfer and not a request for money — which would mean money was flowing out of your account instead of into it.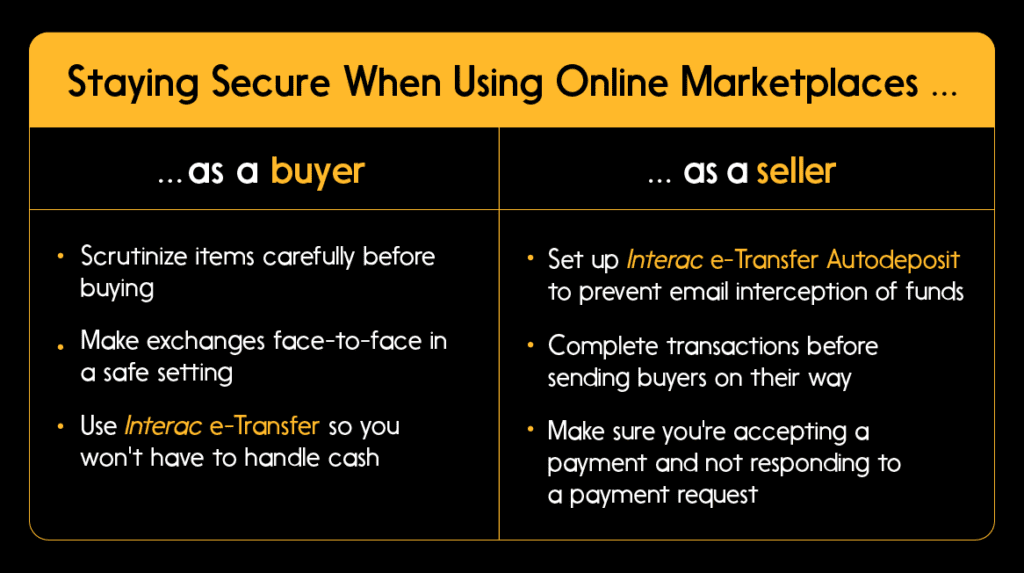 If you are using Interac e-Transfer with a security question and answer (as opposed to setting up Autodeposit), make sure it's a strong one that can't easily be guessed or discovered – and make sure you share it via a safe channel (in person if possible).

If someone's paying you via Interac e-Transfer in person (say, during a porch pickup), make sure the transaction is complete before you let them go on their way.
Pro tip: Just to be sure, check your bank balance to ensure the money is in your account before you send them on their way.
When someone asks you to ship them an item rather than meeting up, make sure you've received the payment before you send it. Check that the money is in your account.
Remember: Most people just want to buy and sell fairly. Listen to your gut, use our guide and take advantage of Interac e-Transfer to help make sure you come out on top whenever you swap.
See 10 more ways Interac e-Transfer can help make your life easier.