At Interac, we believe that well-designed technology should feel seamless and be secure.
We want you to pay in store, online, or send and receive money without giving much thought to the complexity of the processes behind every transaction or worry about the safety of your information. That's why Interac is dedicated to simplifying the complicated. We want you to get more out of life and focus on what matters.
Our rich history is deeply embedded in the Canadian economy and therefore the consumer experience. These unique insights are tied to our reputation as a financial technology leader, and allow us to drive growth, develop technology and provide quality services and platforms to our clients. The result? Making life a little less stressful for the many Canadians who trust our solutions.
Innovation thrives at the intersection of brand trust and customer experience.
The opportunity and challenge of keeping information simple as technology advances is part of the success and trust Interac has built and continues to put at the centre of our innovations.
Canadians get fast, easy and secure payments that they hardly need to think about while on the back end, our team plans, creates, and powers elaborate invisible systems that help them get the most out of life.
For example, did you know QR codes are for more than just checking out the menu at the restaurant? We loved making that technology work to enable cashless donations by pairing QR technology with Interac e-Transfer as a pilot project to help charities quickly gather funds. Being able to have fun with complex technology like this helps us support not just individuals, but business owners too.
Our hard work pays off! We're honoured to be recognized as the number one most trusted financial services brand in Canada for the eighth year in a row by the 2022 Gustavson Brand Trust Index. We're also proud to claim the fifth spot in the 2022 Leger top 10 most reputable companies in Canada. How do we do it? We've got Canadians like you to thank for their trust in us.
See what powers everyday payments
Our team is particularly passionate about technology infrastructure, security, and accessibility. We know we did our job well when you don't have to think about these aspects of payments at all as you go about your day.
We geek out so you don't have to worry when your payments move across Canada, and we don't want you to stress over being able access to payments either.
Stick to simple and get started
Simplicity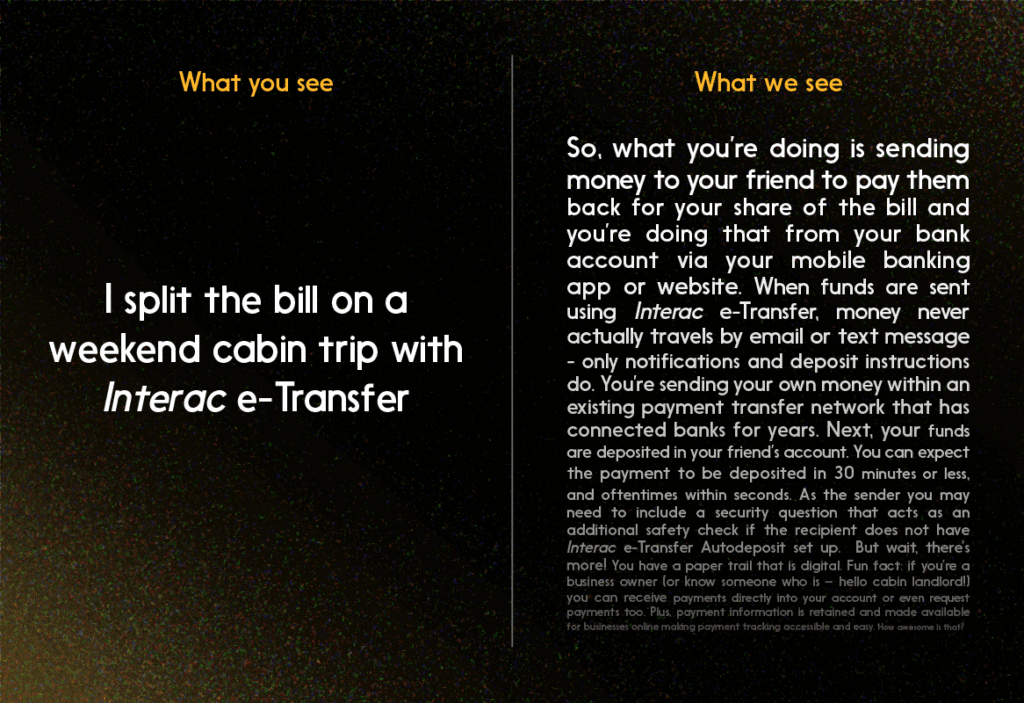 Picture it: You're finally getting away on that weekend trip with your friends. It's cottage country and nature for the next few days. Splitting the bill through Interac e-Transfer to pay the landlord upfront to secure the property is not a problem – you can send money from nearly anywhere in Canada.
Learn how Interac e-Transfer makes your life easier.
Security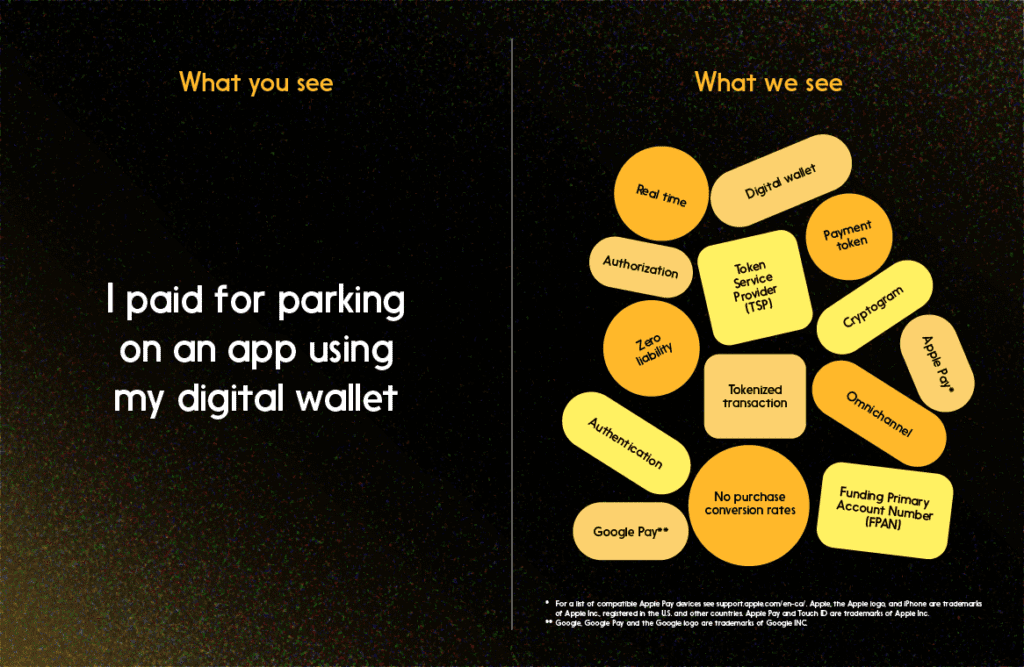 Picture it: It's been a long, rainy day. Being able to jump out of your car, open up your phone app and quickly and securely pay with Interac Debit e-Commerce feels good.
Read how to make the most out of your mobile wallet.
Access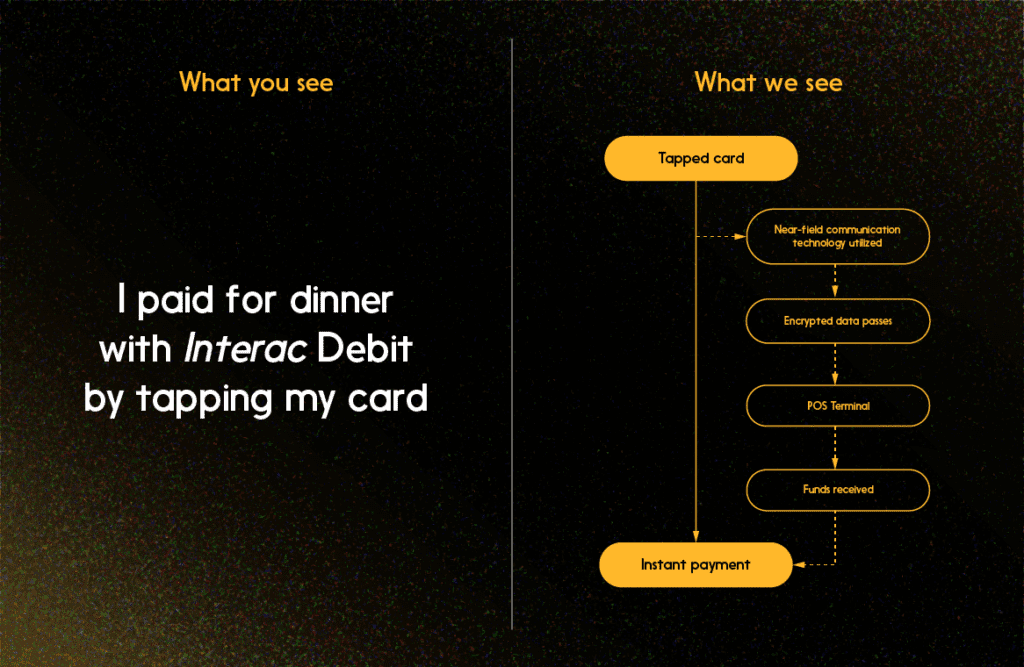 Picture it: Your friend got the promotion of her dreams and she's invited you out to dinner for a celebration. You want to treat her on this great occasion. Knowing that Interac Debit is widely accepted, you can settle the bill quickly by tapping your debit card is simple and you get to surprise your friend, win-win.
Discover what else you can do with Interac Debit.
Long story short…
We get it. That was a lot of information to take in. The beauty of it is that you don't really have to. We take these extremely complicated processes and technologies because when we take care of the complex stuff, you don't need to worry about it. When you don't have to worry about sending money or being able to pay from nearly anywhere, you know you're in control. And that little bit of simple? It makes all the difference.