At Interac, we celebrate diversity and believe bringing our authentic selves to work drives the best results and allows us to learn from one another. We are a diverse group of people and are committed to creating an environment for diversity of thought and experience, where unique ideas, perspectives and voices are not only welcomed, but encouraged.
This year, we are reminded that we all play a role in standing up against injustice. We all play a role in fighting racism and discrimination so we can contribute to a safer and fairer future for all Canadians. Although Pride Month may look different this year, the message it sends has never been more important.
This month, we are featuring the stories of people within the Interac family who are part of the LGBT2Q+ community. This is your opportunity to hear their stories and learn how we can all be better allies.
What is your name and job?
David Luque, formerly Risk Governance Manager, soon to be Fraud Programs Manager.
What is some of the work you do on a day-to-day basis?
I support the Risk Governance team in developing policies on reputational risk management and crisis management and have been responsible for supporting the implementation of Interac's Crisis Management Plan for the COVID-19 pandemic.
I also provide research and recommendations for the Interac 'Return to Office' strategy and monitor all health and safety guidelines outlined by the government to ensure we are safeguarding Interac's most valuable asset – our employees.
Lastly, I work to identify enhancements to our Business Continuity Plan process to ensure structured workarounds are in place in the case of business disruptions.
What is your favourite part of your job?
I really enjoy working with a supportive and collaborative team (in-person and remote), which provides me with the opportunity to meet and engage with various business units. The exposure to different business units provides me with greater knowledge into the dynamic work that is alive at Interac.
What is an interesting fact about you?
Pre-COVID-19 I was highly active in sports, balancing CrossFit and playing as the new setter on the Toronto Spartan Volleyball team.
During COVID-19, I discovered my hidden talent of using a power drill and decided to branch away from the typical interlocking plastic condo balcony tiles and built my own deck.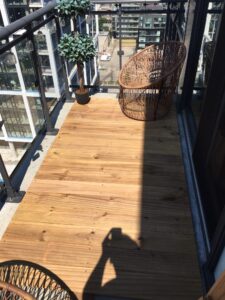 What comes to mind when you think about your journey at Interac?
My journey at Interac continues to evolve and has recently come full circle. I was first professionally exposed to Interac at the Risk and Cyber Crime Conference two years ago where I met the Fraud Programs team.
Prior to Interac I was at Deloitte, within the Fraud and Financial Crime service line, where I helped prepare a presentation that would be used for the conference. The Interac Fraud Programs team was great to work with and we bonded quickly. I was fortunate to work with the Interac Risk and Fraud team again last year, which introduced me to more Interac employees. After gaining insight on the culture at Interac, I soon realized the work, people and culture at Interac was exactly what I wanted to be a part of. When a position became available, I was excited to join the Risk Governance team to help support and push Interac forward.
The team has been supportive in my first year and we have shared great memories working together. In December we won the Interac Christmas decorating contest in the office and took home the prize for the Gingerbread House building contest (where I may have had some say in the vision of our creative design).
Now, here comes the full circle – I am very fortunate that another position has become available within the Fraud Programs team, which I will be joining come July. My experience in fraud and financial crime can be leveraged within this new team, and I can continue to develop my skills and help deliver innovative solutions and value to our stakeholders in this new role. Life can be full of rollercoasters and I am very grateful for the journey ahead within the Fraud Programs team.
What has your experience been like growing up as part of the LGBT2Q+ community?
I have been very fortunate to have found the Start Proud organization while in university, which is an organization supporting students to meet and learn from industry professionals at networking events and conferences. The Start Proud organization has provided me not only with great networks, but also lifelong friends and support. I was able to network into my internship at Deloitte, which turned into a five-year journey with the company. At Deloitte, I was part of a team that supported a professional LGBT2Q+ awards gala, which focused on providing various awards to members of the community for their achievements professionally or in the community. In addition, I was able to support the Deloitte Pride community through various events either raising awareness or donations for the community.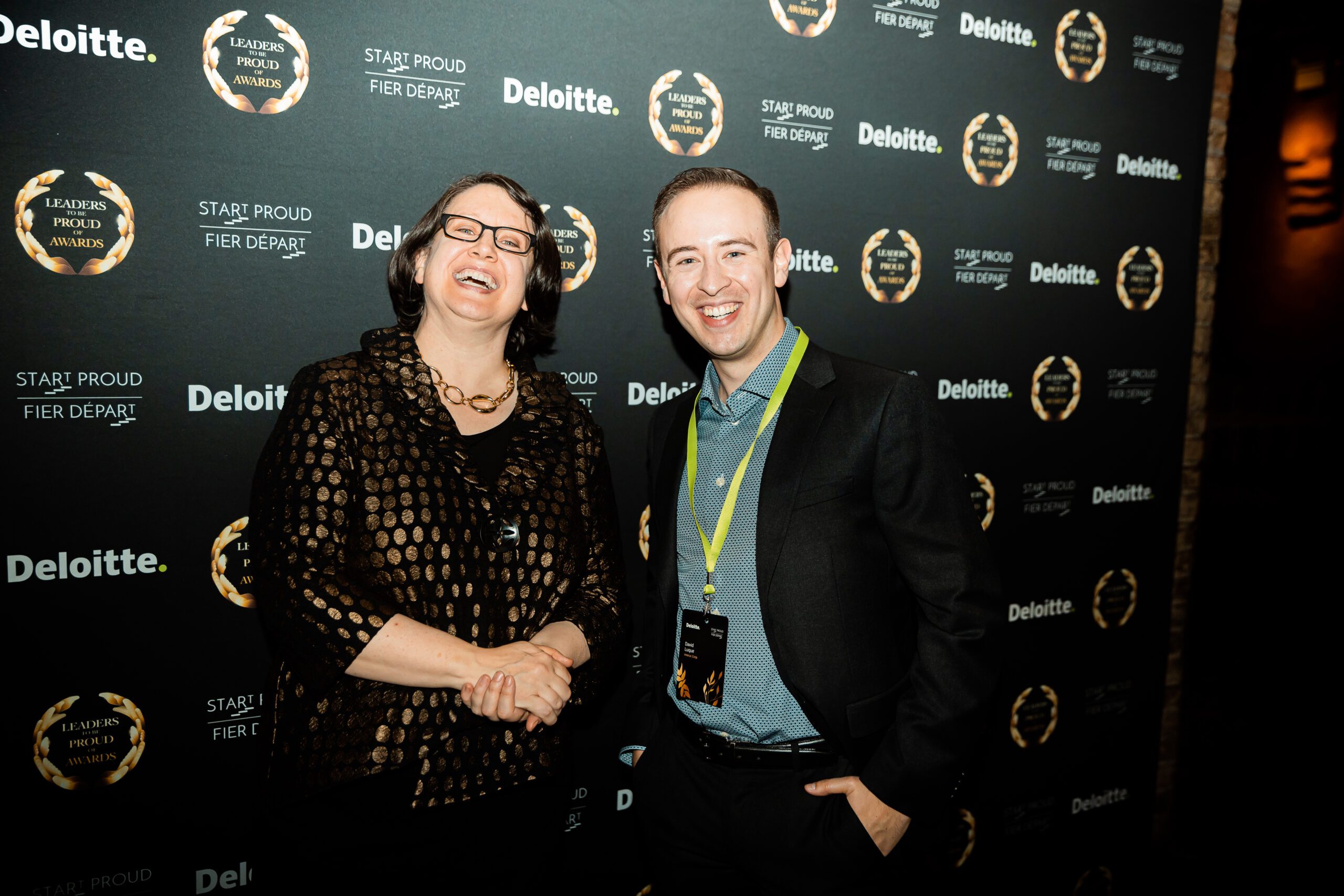 The LGBT2Q+ community can be very supportive and has really helped me build a career and lifelong friendships, and I have given back by attending networking events to share my experience and insight with students. Organizations such as Start Proud can only be successful when organizations and members give their time to help students grow and one day pass down their own experiences to the next student.
My next goal is discovering how to be a supportive member of the LGBT2Q+ community at Interac, and sharing my story is the first step towards my goal.
What does Pride Month represent in your life?
Pride Month represents the great sacrifice that many before me have given to drive equality. I will never know the hardships that many community members endured before me and that is why I can only remember and raise awareness of the sacrifices made.
Pride Month also represents a time of celebration to be your authentic self and be proud of who you are as an individual. It is also a time to help expose others to a world that is different than their own to help them understand the differences and realize commonalities between humans to have the same life goals of equality, respect and love.
What advice would you give to a member of the LGBT2Q+ community looking to start a career in FinTech?
Get yourself out there. Network with industry professionals to understand the work that they do and what companies they value. Great talent can be lost in a sea of resumes when applying for a job, which is why face time is very valuable either through community partnership initiatives, networking or conferences.
My second piece of advice would be to find a company that you value and want to help grow. Employers are attracted to potential candidates who share the same passion and interest in their company.
Do you have any resources/ words of advice you want to share with people who are looking to be better allies?
Being an ally starts with getting to know the person, friend or co-worker. Making assumptions must be avoided and sometimes it takes time for a member of the LGBT2Q+ community to be open and be their authentic selves at work. How non-LGBT2Q+ people express their beliefs or opinions at work, which may differ from the LGBTQ+ community, can prohibit members from feeling comfortable coming out in the community. Creating a safe and respectful work environment starts with every employee, so I think annual equity training for staff and People Leaders is important to ensure a culture of respect, support and equality.
I also think managers and executives must actively and vocally show support of the LGBTQ+ community to foster safe spaces at work. One way to start is by exploring resources offered by community organizations that help non-LGBT2Q+ people learn to become better allies, including the following:
Sexual orientation is one of the 8 dimensions of demographic and cognitive diversity recognized through the Interac Diversity and Inclusion Program.