We're building an employee-centric workforce at Interac, a model I believe is essential for organizations to embrace if they want to succeed in a rapidly changing landscape.
Over the past three years, we've been on a workplace culture journey, moving from a hierarchical organization to one where lateral cross-disciplinary teams collaborate on common outcomes. The vision is an aligned workplace that offers flexibility while empowering employees to focus on common outcomes and achieve their best together.
I'm proud to say we're being recognized for the success of this approach: The Canada's Top 100 Employers competition, co-published by Mediacorp and The Globe and Mail, named us among the top employers in Greater Toronto for 2022.
A top employer in Greater Toronto
The selection process for Canada's Top 100 Employers takes a number of factors into account across eight categories, including employee communications, benefits, the nature of work and the employee camaraderie. Broadly speaking, when an organization is able to provide a flexible work style and opportunities for growth, it's a win-win situation for the employees and organization alike.
I believe we're being recognized as a top employer because we live and breathe our guiding values, which are intrinsically employee-centered. We believe in collaboration, and we expect our people to lead with integrity, candor and respect. When you have a career at Interac, your experience should reflect that.
The future of work is changing. People want to be valued for the contribution that they make towards an organization. To be a true employer of choice, an organization should provide clarity on direction, and trust and empower employees to take accountability to achieve great results. This establishes alignment and inspires pride in what you're achieving together.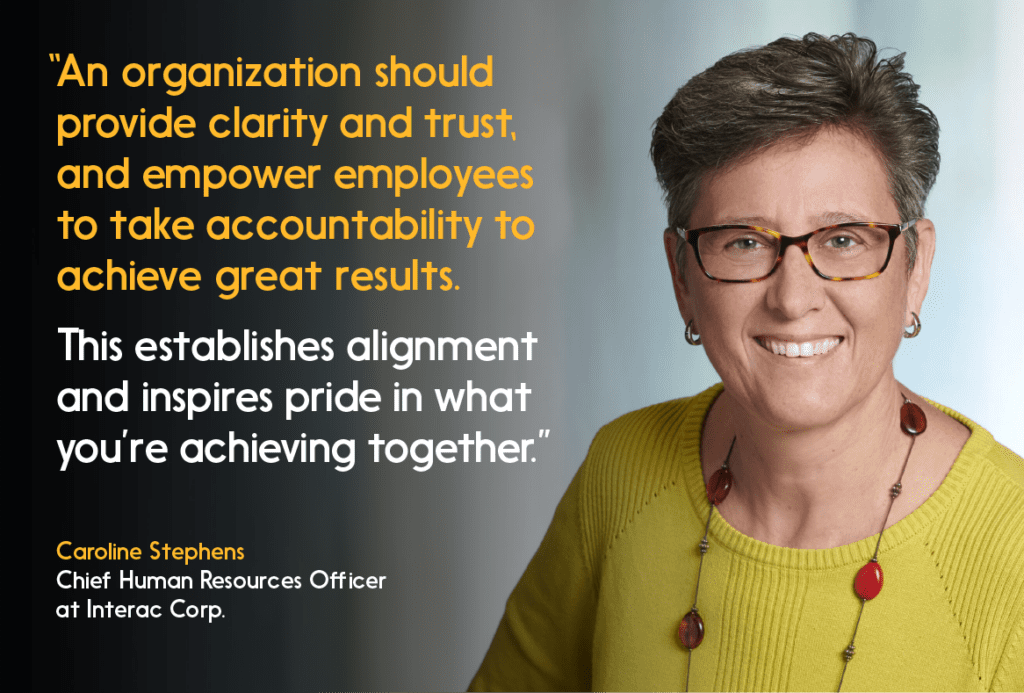 How to foster an empowering workplace culture — during a pandemic
While we've known for years that people want to work in a workplace that offers both open communication and collaboration within the organization, and employee empowerment, COVID-19 sped up the work we'd been doing at Interac to further this evolution. We were in a unique position to empower our employees to take accountability to achieve results thanks to the progress we made through a very focused cultural journey the previous two years.
Employee wellness and engagement have always been top of mind for Interac, but we knew the lockdowns and other changes could lead to some people feeling anxious, isolated or stressed out. So we stepped up our efforts. During our "Employee Appreciation Summer," for example, we gave the team a chance to recharge by creating three extra-long "Wellness Weekends." We doubled the mental health benefits for employees and their dependents. And to combat isolation, we kept people connected (while also supporting small business) through a series of fun and engaging virtual events.
From early on in the pandemic, we set up an easy-to-access resource centre to streamline information employees needed to know about COVID-19 and any impacts to Interac, making it as easy as possible to get the facts they needed. We assured everyone that there wasn't going to be a round of pandemic layoffs. We gave our people a home office stipend. We put quiet hours in place to help people deal with new demands on work-life balance.
On another level, we instilled empathy in our managers. We believe that when you demonstrate authenticity, empathy, and flexibility, your employees are motivated to contribute their best.
Our employees appreciated the human-centric approach Interac took to reinforce the safety, security and support they needed during these uncertain times. In return, they demonstrated a commitment that translated into perhaps the highest levels of productivity and performance we've ever seen. Our employees are proud of Interac, and management is proud of its employees.
A diverse workplace is a strong workplace
Two years ago, we kicked off a formal diversity council. It has since moved into the office of the CEO, because we believe as an organization that diversity and inclusion must be a priority from the top. We're certified by Diversio, which measures, tracks and works with organizations to improve their diversity and inclusion efforts. Through ongoing hiring, we are becoming a workforce that reflects the diversity of Greater Toronto, where our headquarters is located.
Are we moving the needle in terms of how people feel around diversity and inclusion and the organization? Yes, but our commitment to diversity is deeper and more intrinsic than that. It is our values and visceral belief in what we can accomplish together that helps us move the needle. We are focused on what we are doing as an organization to combat racism, invest in marginalized communities, and become more inclusive. We're committed to creating meaningful and action-oriented change, both in the community and for Interac. Our employees see and feel the authenticity in our approach.
See our current career opportunities, including exciting fintech jobs in Toronto
In the ongoing competition for talent, strong compensation isn't a differentiator. That's just table stakes, especially when your recruiting challenge includes people who are seeking the best fintech jobs in Toronto.
An Interac career gives you a chance to work at the leading edge of fintech and the digital economy in Canada, in a diverse and inclusive workplace. We know competition for talent is tough and getting tougher, and that's why development and growth of our employees is so important. People feel valued when they know their employer takes a sincere interest in their happiness, empowerment and growth. And when our employees thrive, we thrive with them. Interested in career opportunities with Interac? Check out more benefits of working with us here, and have a look at the current Interac job postings