Corporate social responsibility at Interac is about the actions we take and the impact we make. This year Interac held our first National Volunteer Week from April 22 – 29 to bring employees together to participate in volunteer and learning opportunities to better our communities. As a team, we cleaned our shorelines and mentored 30 newcomers to Canada – and had fun doing it!
We kicked things off on Friday, April 22 – coming together to help keep our public spaces clean and green! Employees spent their morning supporting a city street and shoreline cleanup around the Interac offices in Toronto and Ottawa. In addition, Interac proudly partners with a Canadian national non-profit to plant 511 trees, one on behalf of every employee. Planting trees is important for clean oxygen, reducing greenhouse gases, and providing food and shelter for many endangered species.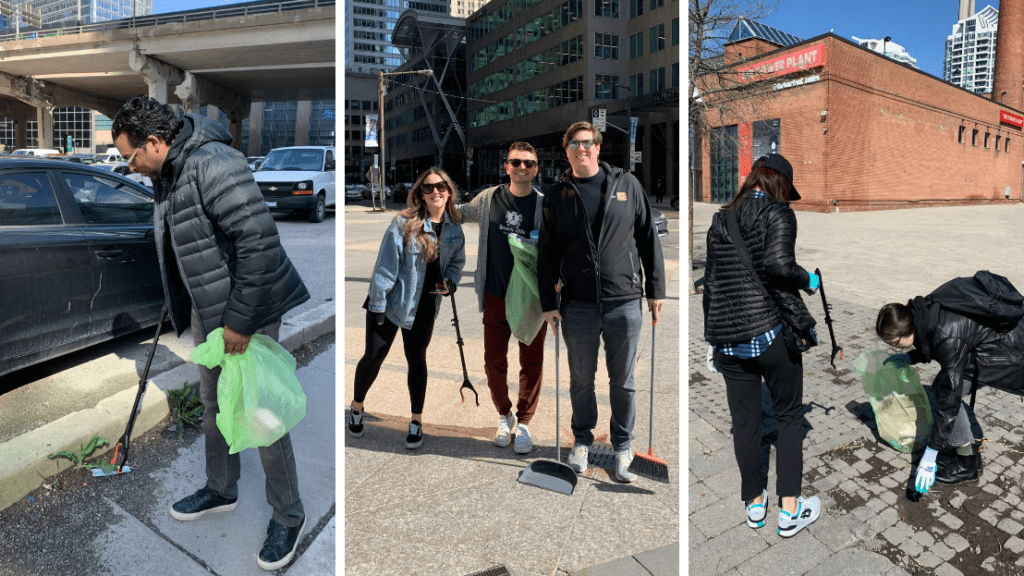 "Shoreline cleanups make one ponder about the challenges we create for ourselves as humanity. Though picking up a few bags of garbage as a one-day activity may seem trivial in the big scheme of things – going back, pondering continuously, and implementing change to reduce our impact on the environment for me was a big win. Thanks, Interac, for making this happen." – Srikanth Ramanujam, Agile Coach, Platform Technology
ACCES Employment Mentorship Event
On April 28, Interac partnered with ACCES Employment, a United Way Greater Toronto partner agency, on our third mentoring event for newcomers to Canada. 34 Interac employees volunteered to take part in 1:1 virtual speed mentoring with mentees, offering insightful advice to these eager and qualified candidates looking to enter the FinTech space. We were also proud to make a financial contribution to ACCES to further support their efforts in opening doors for newcomers to Canada.
"It was a great opportunity to connect with talented new Canadians, offering advice and getting to know their unique backgrounds." – Sarah Boon, AVP, Human Resources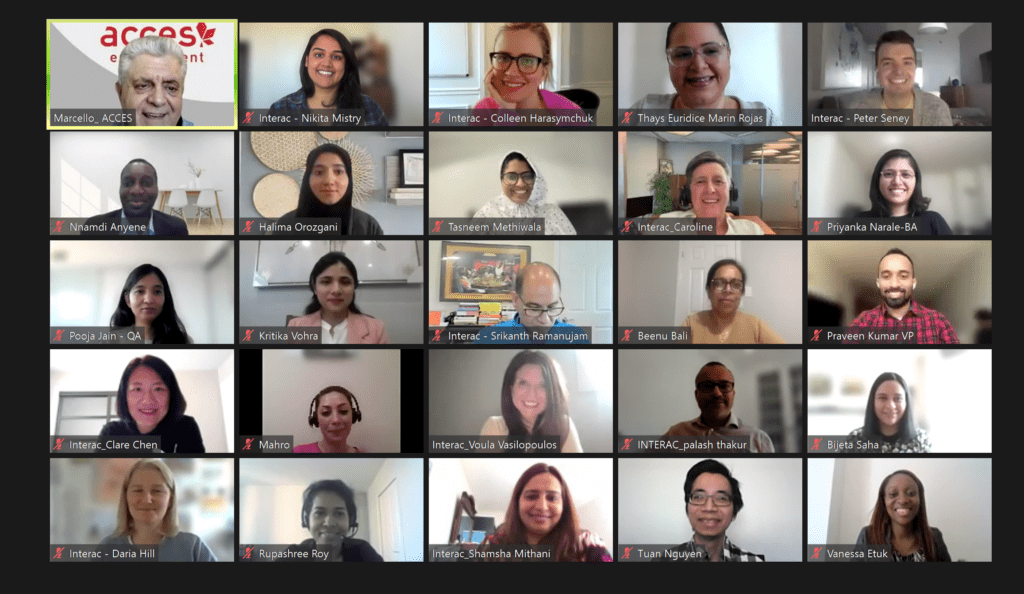 Conscious Economics Founder Talks Leadership and Diversity & Inclusion
We ended the week with an insightful and engaging learning opportunity in a lunch and learn with long-time Interac partner Conscious Economics. In this session, Rhiannon Rosalind, Founder of Conscious Economics and the youngest woman in Canadian history to be inducted into the Most Powerful Women in Business Hall of Fame, shared her story of overcoming trauma and persevering to become a leader in mindfulness and economics. She offered raw, unfiltered advice about navigating life, work, and using business as a vehicle for social change during these unprecedented times, and thanked Interac for our commitment to supporting their organization for the past 6 years.
Conscious Economics is a not-for-profit that Interac has proudly partnered with to serve over 50K young leaders across Canada, providing future work and new economy training for intersectional groups including artists, women and BIPOC leaders.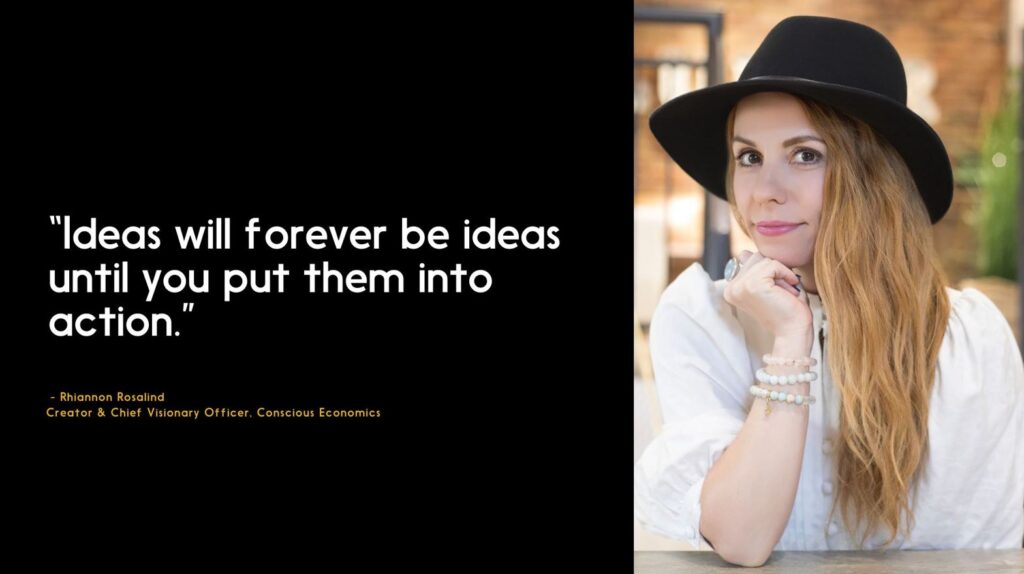 Interac employees made a meaningful impact through these events and initiatives and lived up to our commitment to good corporate citizenship based on the principles of responsibility, diversity and inclusion, and bettering our local communities.
"We are fortunate to touch the lives of more than 29 million Canadians so they can move their money safely and securely; supporting the communities in which they live, work, and play in is a top priority for us." said Daria Hill, Associate Vice President, Corporate Communications & Sponsorships, Interac Corp. "Continuing to deepen our relationships with community partners like ACCES Employment and Conscious Economics brings a stronger purpose to our work. We are honoured to work alongside them in improving our communities."
Learn more about Interac and our citizenship initiatives here.