Black Moms Connection (BMC) is a global movement that started with a simple question – "do they make sunscreen for Black skin?" Founder Tanya Hayles asked herself this at a splash pad with her son but was unable to find the answer in other mom groups online. This sparked the creation of Black Moms Connection on Facebook in 2015, a supportive space both online and in-person, for Black moms and families to connect, share, and receive support.
Now a community connecting parents in North America to Asia, Black Moms Connection has become a national non-profit organization that has more than 30,000 members in its global community. They offer financial support to Black moms in need, financial literacy programs and events, and wellness workshops and retreats.
There are two focused values that Black Moms Connection represents: being a safe space for Black moms and cultural relevance. Having someone who looks like you and has had the same life experience talking about something very personal makes learning easier to take in. "Those are the two core values that we centre in every decision that we make," Tanya said. "Anyone should be able to show up as themselves and be supported," she noted.
Supporting Black moms and families leveraging Interac products
Black moms are at the heart of the organization and BMC prioritizes making financial support as obstacle-free as possible. The process is straightforward – starting with being a member of their group. From there, a member can apply through a very simple grant application process, submit supporting documentation, and once approved, they receive an Interac e-Transfer transaction.
"We chose Interac because it was the easiest, simplest and fastest way to get the funds into the hands of the moms in need," Tanya said. "It's really that simple," she explained about the process.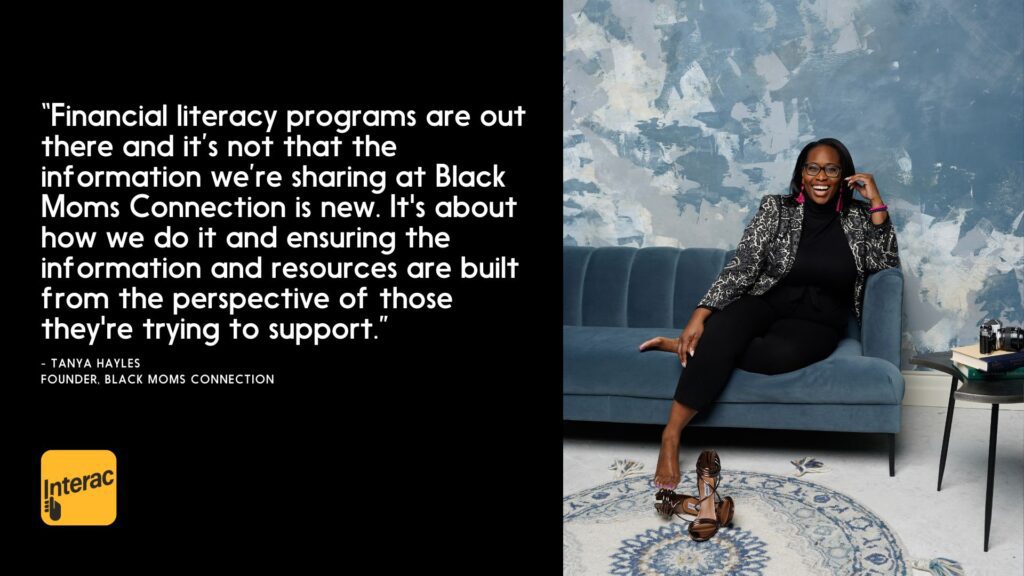 At Black Moms Connection, they always ensure to take in the moms' mental and emotional state when in need of financial support so it can be as seamless as possible. They never want to exasperate the negative feelings that arise when asking an organization for money.
Black Moms Connection provides financial literacy programs to provide resources and education to Black moms. Tanya notes that "it's not that the information we're sharing is new, […] it's the how we do it and it's the who it's for, it's designed for those in need."
When it comes to physical, mental, and emotional wellness, Black Moms Connection provides You Ok Mama and offers wellness workshops and retreats for Black moms. Here they encourage people to read, have quiet time, hang out, and attend social events. Onsite childcare is always present at all in-person events to ensure that no mom must choose between going or not going. "It's another way that we are responsive to the needs of the moms," concluded Tanya.
The value of connection and commonality
Black Moms Connection is based on commonality and allowing Black moms to reach out and connect with each other in a safe space. The organization is built upon the foundation of being exclusively for Black mothers, unapologetically. It's that commonality that, as Tanya notes, makes up humanity.
From supporting the moms financially, mentally, and emotionally, they have all taught Tanya how to be steadfast. "I've learned that if you put time, care, and effort into people who tend to be ignored and neglected, they can thrive," Tanya explained.
Black Moms Connection is a personal, thoroughly thought-out organization that values the strength of connection through commonality.
"There are universal truths and struggles in parenthood – we all ponder how to get our children to eat more vegetables, what's a good school for them, how soon is too soon for a cellphone, […] but there are specific obstacles and burdens that Black moms have to carry that other moms don't," Tanya said. "Teaching our children about anti-Black racism is not an option for us, it's a matter of when."
Future goals
While Black Moms Connection continues to grow, so do their goals for the future. The core goals remain the same – to have a safe space for Black mothers to share and connect, but next steps for the organization include "creating mobile apps so that people can get connected and not have to be so tied to Facebook and a childcare community centre for moms in need," Tanya explains. Within the next 5 years, Tanya has envisioned what the future of Black Moms Connection looks like. At that point in time, Tanya said that they would be "a registered charity not only in Canada but also the United States, FinLit would have a mobile app, secured funding for a childcare centre, and we'd be a $10 million organization."
To support this goal, Interac invested funds directly into Black Moms Connection via their employee Giving Week campaign to support the work they do in educating and providing resources to Black moms across the nation. They also proudly hosted Tanya as their keynote speaker for their Black History Month kick-off event where she shared more on the incredible work Black Moms Connection does to build financial confidence in moms across Canada.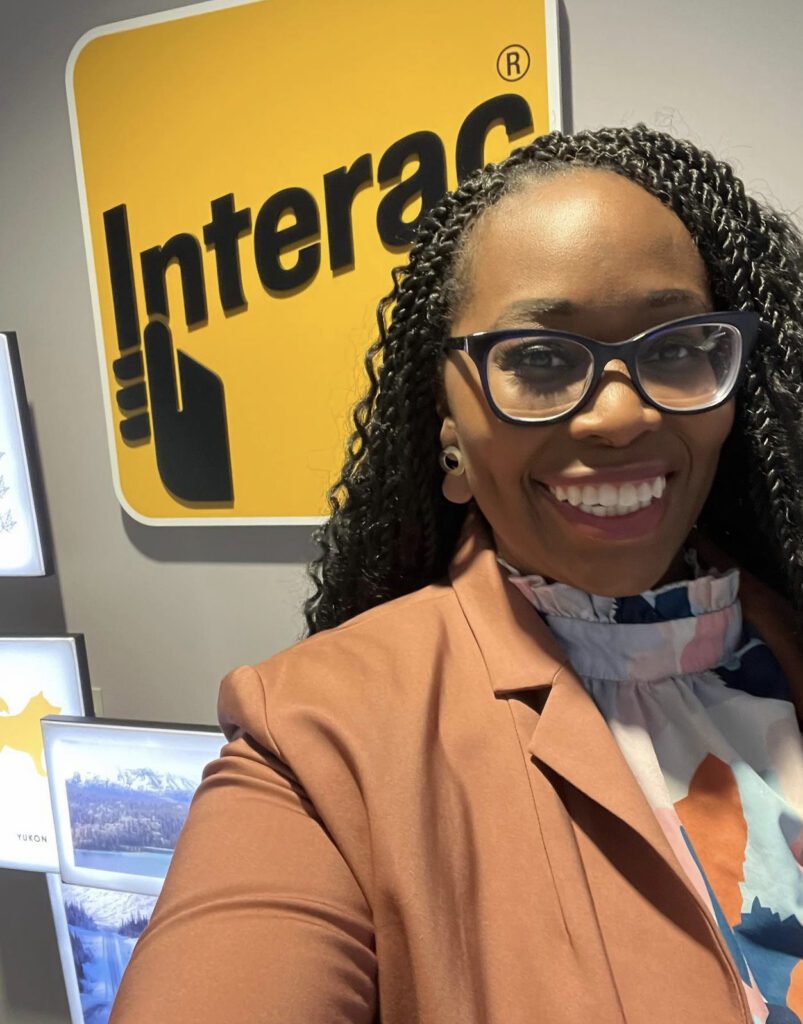 How can you support? Tanya says it best – "believe in why we exist, and if the futures of little Black boys and girls are just as important as the little girls and boys that look like you, then you'll support us."
To learn more and support Black Moms Connection, please visit their website here.