ACCES Employment is a charitable not-for-profit organization rooted in its vision of creating a fully inclusive workforce. To support this vision, they focus on helping job seekers from diverse backgrounds adapt to the Canadian labour force and overcome barriers to employment. With over 19,000 alumni, ACCES shines a light on the uniqueness of each individual job seeker to connect them to opportunities across Canada.
Interac has proudly supported ACCES Employment over the past four years through monetary donations to their World of Difference campaigns that help expand their programming, mentorship events, and educational opportunities to help strengthen financial confidence and connections for job seekers.
ACCES is actively changing the lives of job seekers through their World of Difference 2023 campaign which focuses on financial wellness and emphasizes their support for mental health. "It's about breaking the barrier and creating a comfortable and safe conversation for job seekers to discuss finances," said Anita Carroll, SVP, Corporate and Stakeholder Engagement, ACCES Employment, in reflection of the campaign.
By providing support, ACCES ensures that they stay connected to their clients even after they've helped them land their dream job. The majority of ACCES' services are free, including public workshops/events, interview preparation and one-on-one employment counselling. "If someone walks into our office, they're not going to be waiting a week to talk to someone," said Anita, "[…] we try not to make people wait for services that they need."
Supporting job seekers through Interac partnership
Building trust and confidence in job seekers is an essential part of the relationship that ACCES Employment builds with clients. When it comes to the fast-paced FinTech industry, ACCES encourages job seekers to actively participate in mentorship opportunities and help to build their network through corporate connections, such as the one with Interac.
By partnering with Interac, ACCES has been able to help over 200 newcomers build their professional connections and enter the FinTech industry. Interac has supported ACCES' vision by championing their programs and hosting mentorship events to connect newcomers to job opportunities in FinTech.
Most recently, Interac and ACCES partnered together to hold a mentoring event as part of National Volunteer Week programming. The initiative provided a space for mentorship, recruitment and networking for ACCES clients and newcomers to Canada to cultivate new relationships with Interac employees. Over the past four years, Interac has hired numerous newcomers to Canada through this program.
"It was a great experience getting the chance to talk to so many talented newcomers to Canada that are so passionate about tech and the FinTech space," says Kenny Johnston, Digital Marketing Specialist at Interac. "I am proud and lucky to work at a company like Interac that puts on incredible events like this one."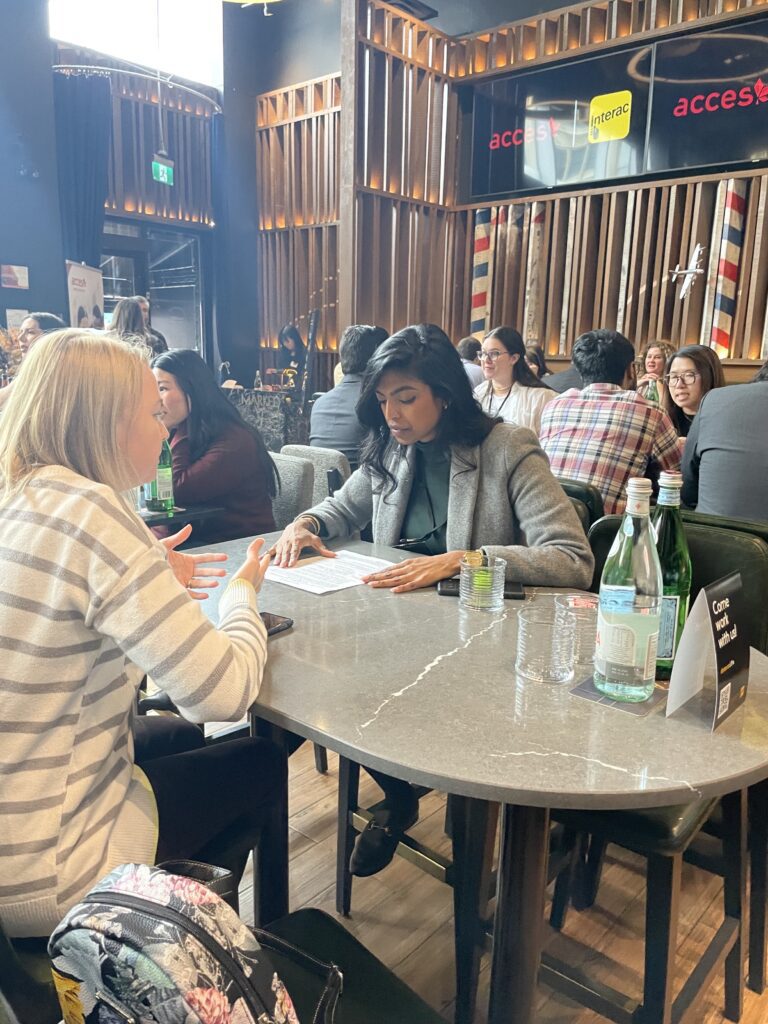 The partnership that Interac has built with ACCES has been greatly impactful. Michelle Moreno, Corporate Engagement & Donor Lead at ACCES, noted that they are "grateful for [Interac's] involvement. There have been lots of mentors along the way that continue to be involved in any way they can."
Addressing job seeker needs
Mentoring events, such as the one with Interac, are part of ACCES' larger strategy to address common newcomer challenges. For instance, newcomers to Canada often lack established professional networks, which is why such events can help broker introductions that can organically evolve into job opportunities. Newcomers also tend to lack Canadian work experience, so ACCES offers experiential learning opportunities where job seekers can complete projects that serve as reputable experience.
When it comes to ACCES' support, alumni Vanessa Etuk and Client Solutions Associate at Interac, stated that their "bridging program provided me with a good understanding of the industry, networking events and interview preparation," she noted. "I finished the program filled with the knowledge I needed to find employment and excel in the workplace."
Past, present and future
ACCES is currently building a 3-year strategy that will include new sponsorships, programming and fundraising goals. While many of their current programs have been extremely successful, Anita says "success is not where things stop, every month things change […], so we respond very quickly."
By taking a reactive approach in their strategy, ACCES is constantly aware of the political climate and what is going on in the community. They are always ready and prepared to welcome newcomers seeking jobs, as was evident in how they successfully served Ukrainian job seekers amidst the recent conflict.
ACCES is aware that for newcomers, a job is not just a job; it's a life-changing opportunity that not only impacts newcomers themselves but also impacts their families and communities at large. Even after landing a job, alumni's success stories work to build trust and credibility that ultimately attract future newcomers to ACCES. Through their resources and support, Anita says that ACCES "see[s] a notable difference in our clients from day one to graduation […], and one of the biggest changes is their confidence level."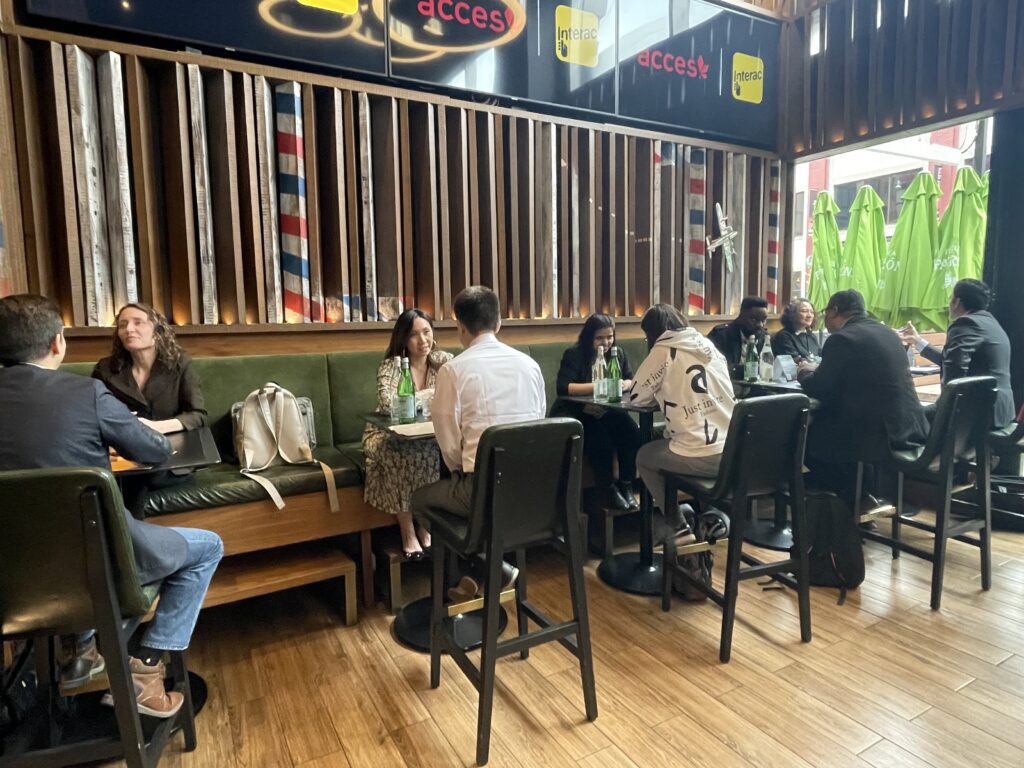 Interested in learning more about Interac's commitment to community impact? Click here.
If you're a job seeker in need of support, please contact Michelle Moreno, Corporate Engagement & Donor Lead, at mmoreno@accesemployment.ca. To learn more about and connect with ACCES Employment, please visit their website here.