For Wes Hall, the anti-racism elevator pitch is pretty straightforward.
"The companies that I own collectively employ 1,500 people, because I was given one little opportunity … by one person who believed in me," says Hall. "As a society, when we're inclusive, we're better off, period, full stop."
There's a lot a person can accomplish if they're not held back by anti-Black racism. Hall is probably best known for his role on television's Dragons' Den, and his BlackNorth Initiative is about holding leaders in corporate Canada accountable for building more diverse workplaces, and workplace cultures that empower Black employees.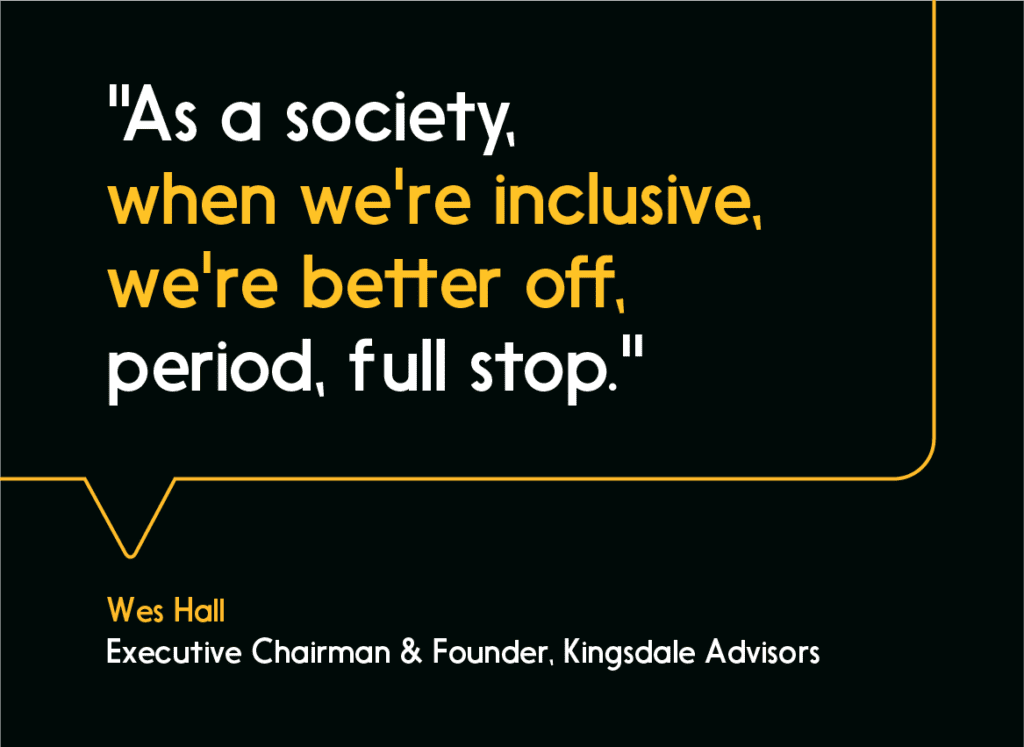 Interac CEO and President Mark O'Connell is one of many signatories of the BlackNorth Initiative Pledge among leaders in the Canadian financial sector. The Pledge outlines seven goals that they believe will move Canada toward ending anti-Black systemic racism and creating opportunities for underrepresented groups. Since then, in part to stay true to that commitment, Interac has stepped up its diversity and inclusion focus with new programs and initiatives. (Diversio, a people intelligence agency that measures, tracks and works with organizations to improve their inclusion efforts, has recognized Interac for its efforts — read more here.)
We were honoured to invite Wes Hall to our most recent annual general meeting for a Q&A discussion with Cindy Cross, Chief Legal Officer, Interac. Listen to the audio file to hear Wes Hall talking about the BlackNorth vision, and keep reading for key takeaways from his talk.
The power of representation: Wes Hall on the BlackNorth Initiative vision
Here, Wes Hall talks about the vision of more equal, diverse workplaces — including the importance of inspiring future generations by having Black representation at the highest echelons of Canada's financial sector.
How to build a workplace culture that empowers Black employees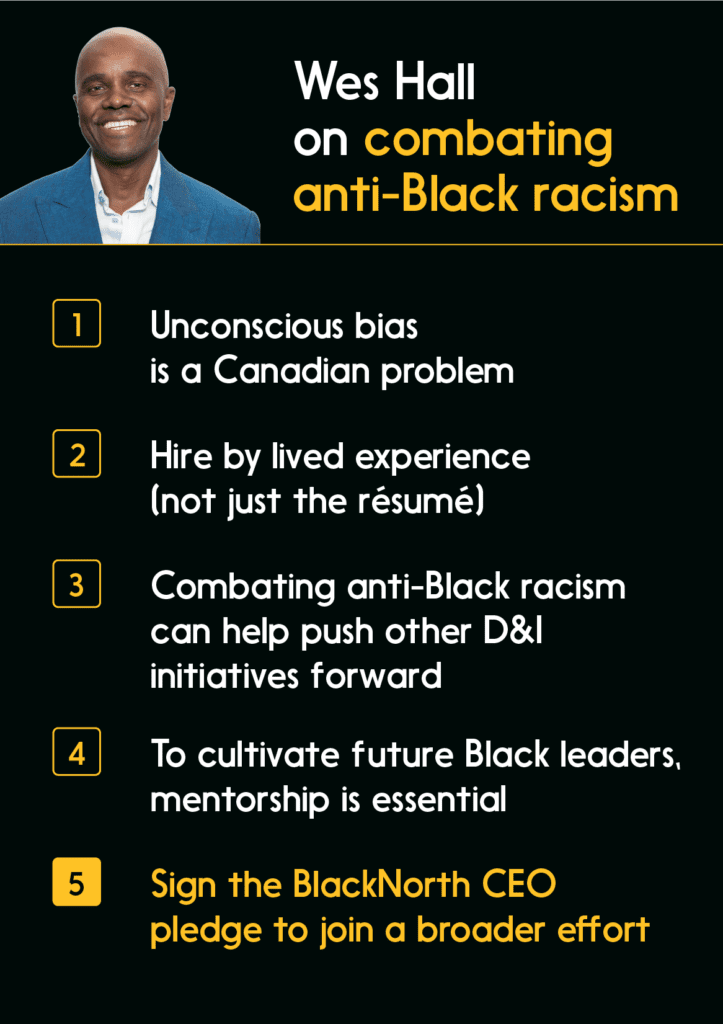 Takeaway #1: Recognize that unconscious bias is a Canadian problem
Today, Hall is the accomplished Chairman and Founder of Kingsdale Advisors, a top shareholder advisory firm. Yet his journey to Bay Street was long, and it began in his grandmother's tin shack in Jamaica, where he recalls absorbing her work ethic. As a boy, he moved to the Toronto neighbourhood of Malvern, where educators mistook his accent for a lack of language skills — and even placed him in ESL class before his father set them straight.
That was an early encounter with unconscious bias. There were many more to come, as Hall related in the Q&A. People who arrive at his house to do some work will say, "Go get Mr. Hall. Are you the security guard?" At the wheel of his Ferrari, Hall gets mistaken for a valet driver. And when he checks in at the priority counter for a flight, someone will tell him, "No, you're in the wrong section. You should be in economy."
These are ways people behave towards Hall as a Black man who appears to be successful. And, yes, all of it took place in Canada. "Those people, they're not racist people," Hall said. "They're just used to being in situations where they don't see anyone like me."
All of this is a lesson for Canadians to recognize that racism is not a "somewhere else" problem: It is real, it exists here, and Black people face it often.
Takeaway #2: Hire by lived experience (not just the résumé)
Hall says smart recruiting involves looking at a candidate holistically. Some organizations, he says, "Are looking at way more than just your résumé. They're looking at your lived experience."
By doing this, organizations could avoid missing out on hiring "brilliant people" who lack strong connections — a contact in the finance sector, say — because they happen to be Black and grew up in certain neighbourhoods. People just like him, in other words.
"Historically, to get [some] positions, you have to know somebody," Hall said. But if an organization breaks down barriers, it can create opportunities — and gain access to overlooked talent.
Takeaway #3: Remember that progress against anti-Black racism can help with other D&I challenges
Hall invited listeners to imagine one failing location in an otherwise successful chain. If a company undertakes an effective turnaround strategy for that location, the lessons could apply just as well to other struggling branches elsewhere.
So it goes for D&I and strategies to empower Black employees, Hall said. Lessons learned in the effort to achieve racial equity could apply to other challenges. "If we solve the [inequality] issue this way by being laser focused on the Black community," the lessons can translate into a playbook for action for "the entire BIPOC community, folks with disability, women, LGBT2Q+," Hall said.
Takeaway #4: To cultivate future Black leaders, mentorship is essential
Internal and external mentors can help up-and-coming Black employees navigate the tricky business of being among the first Black people in their organizations to approach the top.
"If I'm the first Black person in a C-suite of a bank, for example… having mentors externally for that individual will be helpful" Hall said. "Because those mentors who've been in the boardroom, been in the C-suite, they [know] how to behave in that environment."
The biggest takeaway: Get your organization involved. Fulfill the BlackNorth Pledge.
BlackNorth has inspired more than 500 Canadian CEOs to take the BlackNorth CEO Pledge, which acknowledges the scourge of anti-Black racism and commits the head of an organization to actively combating it by creating more inclusive workplaces and ending systemic disadvantages.
Hall said many organizations that have signed the pledge have gone on to support Black entrepreneurs and students with new initiatives.
Interac announced one such initiative at the AGM. Mark O'Connell revealed that Interac shareholders have chosen to fund a BlackNorth Initiative program to open doors for Black entrepreneurs. It's this year's Gift that Gives Back, a significant investment that Interac makes each year in Canadian communities.
"BlackNorth shared with us that Black entrepreneurs are missing out on funding opportunities many, many times because they are unsure of the process and requirements needed to properly apply for grants and such. We are seeking to bridge that gap," said O'Connell. More details about the program will follow soon.
In the meantime, you can see how all of us at Interac are continuing our work in workplace diversity and inclusion. And we're gratified to watch how the BlackNorth Initiative inspires other leading Canadian firms to take actions of their own.
Learn more about BlackNorth Initiative and download their Racial Equity Playbook.