Picture this: Sometime in the not-too-distant future, you're nervous (but excited!) about relocating to a new city for a big career opportunity. There's a lot of planning to do, and changes to manage.
The great news? You've got a digital ally on your side: Interac Verified.
Interac Verified is designed to help take the friction out of some of your day-to-day interactions and make your increasingly digital life easier. Keep reading to learn how.
What is Interac Verified, exactly?
Interac Verified offers a suite of digital solutions to securely verify and authenticate your data. It can help give you convenient access to participating government and business services, from accessing your tax details to managing your memberships to signing up for a new cellphone plan online where available.
And with Interac Verified you can do these digital interactions remotely using your personal computer or mobile phone, removing the need for in-person visits. That's important, because today, confirming your identity and personal data — proving that you are who you say you are — can be clunky and difficult. Think about how many times you've had to squeeze in an appointment (and then commute to it), wait in line, or print out a bunch of documents. With Interac Verified, you can virtually verify personal data or authenticate yourself in digital interactions that require two-way trust between both parties. All so you can take charge of your fast-moving life.
Interac Verified solutions
Interac sign-in service allows you to use your existing login credentials with a participating financial institution 1 to access digital government services. This eliminates the need to create and manage new usernames and passwords.
Interac verification service provides you with the option to use existing login credentials with a participating financial institution2 for secure digital verification of your data. This helps give you faster and more convenient access to participating services that require personal data confirmation.
Interac document verification service offers you the option to digitally confirm your identity using a liveness check and accepted forms of government documents 3 using your mobile phone to get fast and convenient access to participating government and business services that require identity verification.
There already are many ways you can take advantage of Interac Verified. For example, Interac sign-in service allows you to authenticate yourself when using many government services, which could include applying for grants or accessing student loan information.
Businesses across Canada are using Interac verification service, too. Look for the Interac or Interac Verified logo for opportunities to use it. And keep watching because there's so much more that verification and authentication solutions could offer you in the future …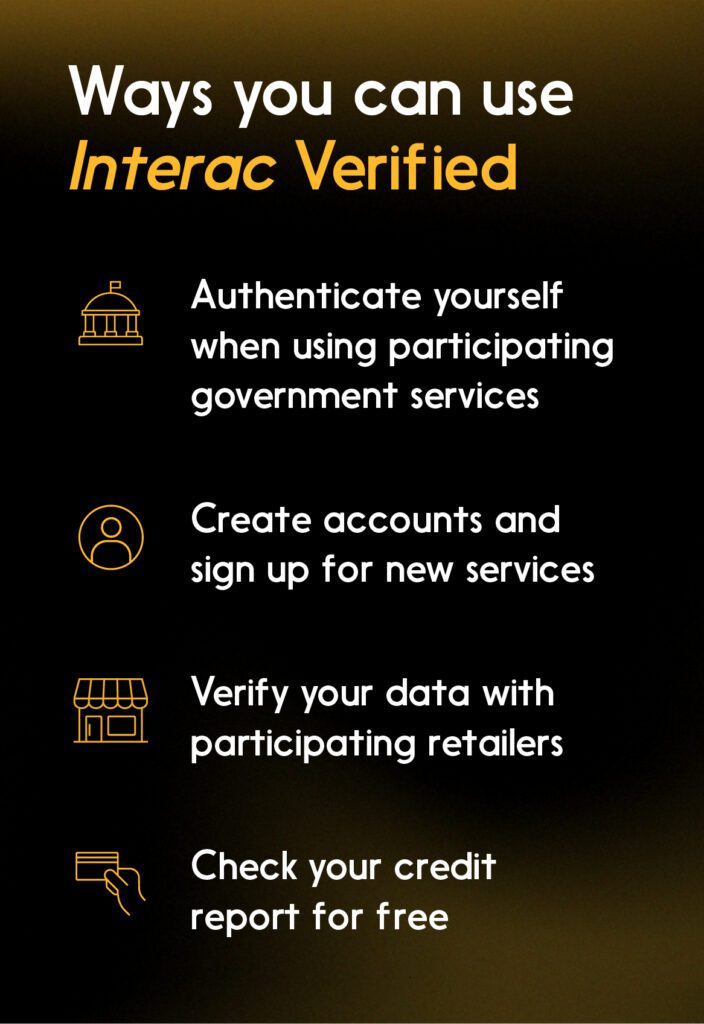 Moving faster with Interac Verified
We're working on revolutionizing the experience of accessing services to make life easier in a lot of places and situations for everyday Canadians — this could eventually be when you're banking, buying insurance, travelling by air, or accessing a service that requires you to prove you're above the minimum age.
Now let's go back to visualizing that big move. Here are some hypothetical examples of ways that a digital authentication and verification service like Interac Verified could one day help you in your digital interactions: 
Banking and finance

You open a new bank account in your new city — online, using your phone and a government-issued ID. With a digital authentication and verification solution in hand, you can sign up for financial services on your mobile phone without an in-person visit or an appointment during traditional business hours.

Retail

You've been a loyal customer of your favourite store for years, but the hassle of going through in-person ID checks every time you wanted to access exclusive deals or special pricing was becoming increasingly tedious. Thankfully, the store recently introduced a new digital membership verification system that has transformed your shopping experience. Now, you can remotely verify your identity to access your membership and enjoy full member only access to your favourite store's digital experience.

Real Estate

You are looking at buying your first house and are looking to get set up with a mortgage. You validate your credit information using Interac verification service to help with pre-qualification and then validate your income by logging into an online government portal to get your notice of assessment using Interac sign-in service. All of this can be done remotely, taking some of the stress out of buying your first house.
On-the-go digital interactions with a brand you know and trust
We think everyone should have options and choice for how they want to access digital services. Interac Verified complements existing methods of authentication where available to ensure Canadians have options that are right for them. And as one of Canada's most trusted financial services brands, we know it's important for you to be able to do so with confidence and security.
So when you see the Interac Verified logo, we hope you'll take advantage of the chance to verify and authenticate your digital self seamlessly — wherever life is taking you.
See how Interac Verified can help you stay in charge of your life no matter where you go.
---
1 For a list of participating banks or credit unions that can be used to log in to the Interac sign-in service, visit https://www.interac.ca/en/consumers/products/interac-verification-solutions/sign-in-service/   
2 For a list of participating banks or credit unions that can be used to log in or access the Interac verification service, visit https://www.interac.ca/en/consumers/products/interac-verification-solutions/verification-service/#which-financial-institutions-can-be-used-to-log-in-or-access-interac-verification-service
3 For full list of government-issued documents eligible for verification by the Interac document verification service, visit: https://www.interac.ca/en/consumers/products/interac-verification-solutions/document-verification-service/