The Canadian economy is changing rapidly. Digital innovations are disrupting traditional systems. Consumer experiences are becoming more seamless and personalized. Canadians are interacting online at higher volumes. As these shifts happen at unprecedented speed, fintech regulations are also evolving quickly to keep pace. That's why at Interac, we place emphasis on the latest regulation and innovation developments, both in Canada and throughout the world.
As the increasingly complex technological and regulatory landscapes shift, the Emerging Regulation & Innovation function at Interac closely assesses, analyzes and interprets the changes flooding the fintech environment, watching how regulations and emerging technologies transform and what they could mean for Canadians and Canadian businesses today, tomorrow and in the years ahead. They go beyond regulatory compliance, exploring new ideas and innovations across a host of verticals in the ecosystem, from open banking to digital verification to value exchange to payments and more.
Advancing fintech innovation in Canada
Keeping up to date on fintech regulations is crucial for the Canadian fintech industry to grow and innovate, as well as to protect consumers and businesses.
When our Emerging Regulation & Innovation function examines recent and emerging regulatory frameworks, they anticipate and address questions or concerns Canadian consumers and businesses may have. Their goal is to identify new trends, emerging technologies and regulations that can support the creation of beneficial value exchange services and economic opportunities—all through the lens of fairness and trust. It is by being proactive on emerging technologies and regulatory changes that Interac can continue to play its pivotal role in preserving and protecting Canadians' trust, privacy and security.
The key here is collaboration. Working with a wide range of players across banking, fintech and government, collaboration is a central pillar in developing new approaches, solutions and systems that meet Canadians' unique needs and enable more secure and inclusive fintech innovations.
"We explore the latest big ideas and their future viability," says Phil Pellegrini, Assistant Vice President, Emerging Regulation & Innovation at Interac. "Then we take what we've learned and share those insights with the organization, Canadians and other key players in fintech about what's around the corner. So, in essence, we're always pulling the thread of curiosity for the greater good."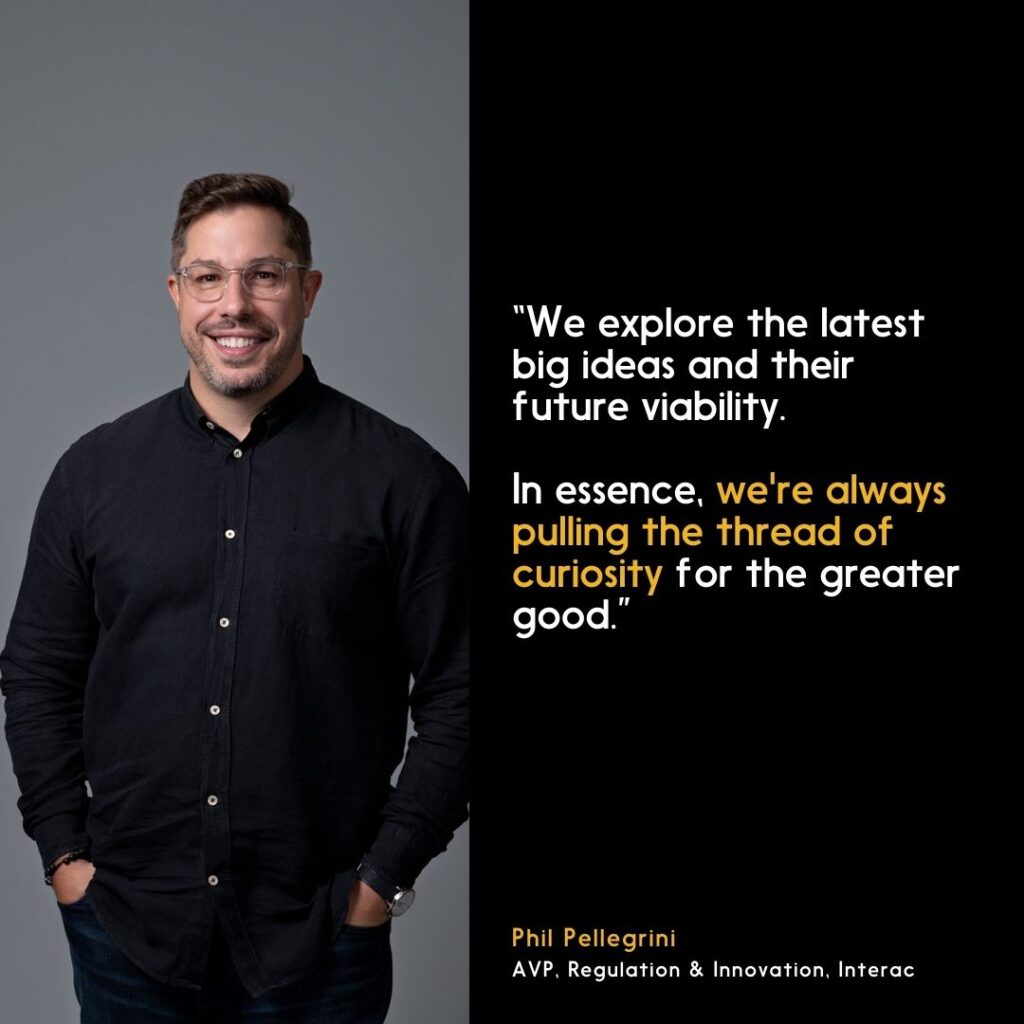 Exploring global regulatory frameworks
The Emerging Regulation & Innovation function at Interac isn't tethered to Canada alone, though their home country is a priority focus. They monitor key fintech regulation developments unfolding at the federal and provincial levels, and in places like the U.S., the U.K., Asia and India.
"Every day, we look deeply at the 'technology du jour,' as I call it," says Phil, "and we act as the sentinel to understand and explore new innovations and initiatives—and what role they'll potentially play in the future, whether inside or outside of Interac. After all, what happens in fintech around the world echoes in Canada."
Take open banking, for instance. It's one example of a fintech innovation that originated outside of Canada. The first country to implement regulations on open banking was the UK in 2017. The European Union followed suit in 2019. Then came Australia in mid-2019, and Brazil in 2020.
Canada joined the growing push for open banking in 2019, when the government launched its consultations. Today, the Government of Canada is designing and implementing key elements of a Canadian-made open banking framework.
Additional innovations and trends on the team's radar
At the moment, the tech trends and innovations being tracked include artificial intelligence (AI), machine learning, verification, cryptocurrency, blockchain, tokenization and, of course, the most recent advancements in payment tech. Essentially, areas where Interac can innovate in data privacy, fraud mitigation, governance, authentication solutions, value exchange and more.
"With all new technologies or innovations, we have to explore how it can successfully, safely work in the industry," says Phil. "Particularly in ways that build trust, as trust is a core tenet that we always think about first at Interac."
Collaboration through constant change
Phil says that no two days in his role are the same. And, no two conversations with his colleagues are the same—and that's a big part of what he likes about his work at Interac. Endless variety and nonstop change drive his collaborative work forward.
"I have a legal background, but I work with a lot of engineers," says Phil. "We're a mixed bag of professionals and personalities, but everyone has one main thing in common: The ability to grasp concepts with incredible speed. This is crucial because that's the pace of innovation. The many different, inclusive lenses members of the team – whether from Innovation, Government Relations, Legal, Technology & Operations or the boarder Interac team – apply to any given focus is also super interesting to me."
Phil doesn't just collaborate internally. He also meets weekly with businesses, financial institutions, government entities and not-for-profit advocacy groups.
"Our goal is leveraging internal expertise to work with others outside of Interac and discuss as a group how new initiatives like open banking should progress and find a common voice within the industry," says Phil, "and to act as a connective bridge between bigger and smaller players throughout the fintech world."
The future looks bright
By collaborating within Interac and across the broader digital economy, the Emerging Regulations & Innovation function works hard to stay ahead of the curve on the latest and upcoming regulations, market shifts and technologies revolutionizing the payments realm, the banking industry and the ways people exchange value.
In addition to contributing to a fairer, more inclusive fintech ecosystem, the Emerging Regulation & Innovation function at Interac looks out not only for Interac customers and partners, but also for the common good of all Canadians—empowering citizens throughout the provinces to digitally transact safely and confidently.
For more information about how Interac is supporting the innovation ecosystem and economy in Canada, learn about our Innovation Partnerships team and take a peek inside The Interac Lab.