Will blockchain help us build trust across communities? Could digital currencies unlock potential for entrepreneurship in the Global South? Can artificial intelligence serve all groups equally, including marginalized communities?
The 21st century has already brought breathtakingly rapid technological change. And we know there's more coming soon: in artificial intelligence, blockchain, virtual reality, cryptocurrencies, authentication and verification services, and so much more.
But innovation for its own sake is hollow. The human dimension is what matters. I take the optimistic view that technological change brings with it the potential to build (and rebuild) the foundations of trust that underpin innovation (and society itself).
In this series, Everyday Trust, I speak with leading thinkers about the role of trust in a rapidly evolving technology landscape. This episode is about leveraging what my guest calls "exponential" technology – in other words, technology that grows at a linear pace in a short period of time – to create better business and social outcomes. It's our task in the present to think about what the technologies of the near future will do for us.
And by "us" I mean everyone.
The opportunity: Exponential technology, trust, and better outcomes
Whenever I'm explaining what the pace of technological change means in people's lives, I like to recall the famous Ernest Hemingway remark about bankruptcy — that it happens gradually, and then suddenly. This reminds me of up-and-coming technologies like AI and blockchain. For years, they slowly develop while most of us treat them as an abstract possibility. Then suddenly, they break out and rush into the centre of people's lives.
My guest, Anne Connelly, is an educator and thought leader in blockchain and social innovation. Recognized as one of CBC's 12 Young Leaders Changing Canada, she has lectured at Oxford University on Innovation and Impact Finance and teaches at Singularity University and Boston University. She's also the co-author of Trust, a graphic novel, and Bitcoin and the Future of Fundraising.
Anne observes that rapid technological change, despite its speed, is often predictable. Think of Moore's Law, which says computing power increases at a regular rate because the number of transistors on a chip has historically doubled every two years.
This kind of development is "exponential" technology, and it's exciting because it means positive social change can ride the wave of innovation at the same rapid speed. "Exponential technology is really just technology that grows on a predictable pattern," Anne says in our discussion. "So, we can look at where this technology is going to be in five years and be able to know this is what we're going to have to work with … So let's start building applications knowing that."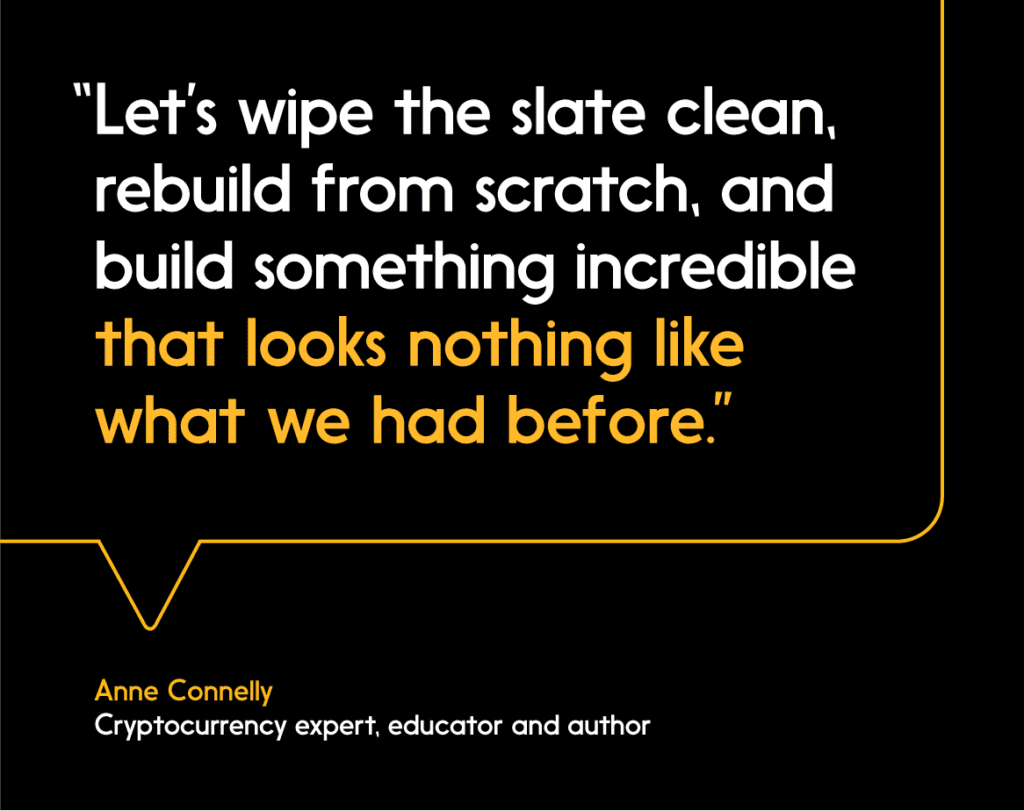 In our conversation, Anne and I talked about how more technology also means more connections between people — and along with that, the potential for meaningful and authentic connections that strengthen business and social outcomes. That may be especially true for people who belong to marginalized or traditionally excluded groups.
So, as we experience exponential technological growth, we can also push for exponential social growth and radical inclusivity. "We're not looking at incremental levels of change," Anne urges. "Let's wipe the slate clean, rebuild from scratch, and build something incredible that looks nothing like what we had before."
The potential of new technology is exciting for us to explore at Interac because we build the solutions Canadians use to exchange value today, and what they'll use in the future. And creating access is crucial. As we introduce new solutions to the market, with Interac Verified, for example, we're working to build inclusion into it.
Trust and exponential technology: A few of the big questions
1. What is the state of trust right now?
Frankly, there's work to be done. Anne notes that younger people tend to lack the faith in brands and corporations that their elders more commonly take for granted, for example. The frequent lack of authenticity on social media erodes trust, too, especially among the young. "When I look at trust, I find that it's changing. And what that means is changing over generations," Anne says.
For my part, I think we, as innovators of new services and technologies, need to think about how to (re)build trust on a solid foundation with three pillars — like a stool with three legs: First, there's authenticity and authentic engagement. For the tech audience, that could mean verifiable credentials. Is the person or the institution you're engaging with really who or what it claims to be?
The second leg of the stool is inclusivity: Can we design systems that include everyone — and I really mean everyone?
The third part of a trust framework is relevance: Are we innovating just to innovate, or is what we're creating relevant to the community's needs?
2. How could exponential technologies help build societal trust?
Because the lack of trust in digital realms is to a great extent a crisis of authenticity, we should look to ways to use newer technologies to rebuild authenticity and therefore trust.
Anne says she's excited on behalf of marginalized communities that could forge new connections through emerging technologies. If tech enables users who are LGBTQ2S+ or neurodivergent to "find their people," that means the technologies involved are building inclusivity and relevance — the second and third legs of the "trust stool."
Take blockchain as an example: It can provide transparency and authentication for peer-to-peer transactions that don't involve the traditional, centralized intermediary institutions. Anne says that could be a welcome development in places (including emerging economies) where some people have reason to be wary of, or are excluded from, traditional institutions.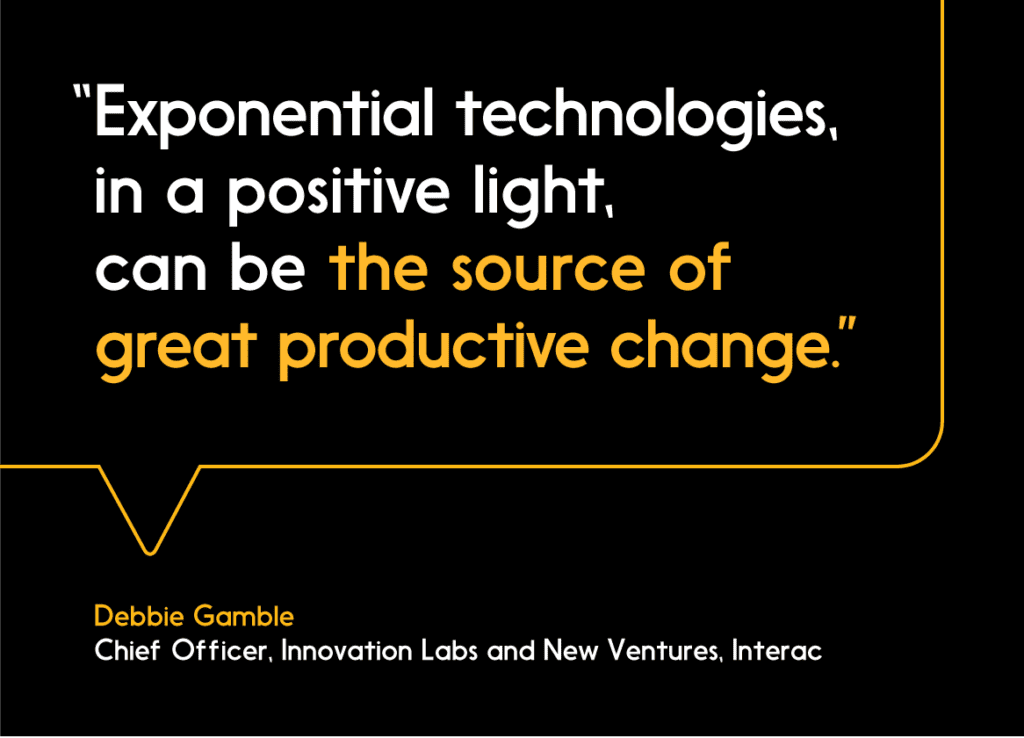 3. How do we build trust in new technologies?
Before we can use technology to build trust, we have to ensure that people trust the technology. That's no easy task, especially when there have been security breaches and scandals that have eroded trust in certain new technologies (cryptocurrencies, for example).
At Interac our long experience in building trust comes into play here. I've been fond of reminding my colleagues in innovation that it isn't the dazzling promise of technology itself that earns people's trust: What actually changes behaviours is the reassurance that the technology in question can be relied upon — it can be counted on to work as promised when it's needed. That kind of trust isn't instant; it requires time to build.
Narratives are also important in building understanding (and therefore trust). We have to help people wade through the complexity of certain new technologies and understand how they apply to everyday life. "One of the best ways that I've found over time to help people understand the technology is storytelling," Anne says. "It's not so much, 'This is how it works specifically,' but more, 'This is the change it's going to create in the world.'" This goes back to my earlier point about the importance of relevance.
4. What role can Interac play in building this trust?
We've been a steady presence in Canadians' lives for decades, and we have a long track record of building trust in new products and services. We have experience of not only introducing technologies, but also helping Canadians navigate their way to becoming comfortable enough with digital innovation to put it at the heart of their day-to-day lives.
In 2003, when we launched Interac e-Transfer, the idea of transferring funds with an email address or phone number seemed really futuristic — it was a total unknown to most Canadians. Over time, they learned that they could rely on Interac e-Transfer to make a transaction. Now it's something they trust enough to use millions of times a day.
Adding contactless capabilities to Interac Debit in 2010 introduced many Canadians to tapping to pay for a purchase for the first time. Since then, in the space of barely a decade, we've helped make contactless debit payments into a trusted routine for Canadians. People trust something after they've seen and experienced it working reliably. (In the first episode of Everyday Trust, we talked about the importance of "rituals" in payments and identity innovation.)
Now, through Interac Verified, our suite of digital verification solutions, we're helping Canadians discover the benefits of secure, user-centric digital verification services, for example, when they use the Interac sign-in service to access government services digitally, without friction.
The technology and systems behind these services are complex in every case. But for the average person, whether to adopt it really comes down to a simple, human-level question: Do I trust this technology, and the organization that's delivering it, enough to make it part of my everyday life?
See the full conversation with Debbie and Anne
In the full video, Anne and I delve into other areas where technology and trust intersect — from medical care to the potential for cryptocurrencies in Africa.