Almost 98 per cent of businesses in Canada are small to medium-sized enterprises, and together they employ more than 10 million Canadians.
To put it simply, there is no Canadian economy without them.
Right now we're in a time when small businesses need big champions. SMEs are facing tough headwinds because of economic factors — and the need to compete in an increasingly digital, omnichannel-oriented marketplace.
The success of independent business owners is top of mind for the fintech and payments industry, as evidenced by the robust industry discussions at the 2023 Payments Canada Summit. At the Summit, I was pleased to participate in a panel discussion alongside leaders and champions of Canadian SMEs. Our discussion focused on how we can deliver solutions to serve their needs so they can compete on equal footing with larger incumbents.
But before we go into potential solutions, let's take a clear look at some of the challenges Canada's SMEs are dealing with.
Small and medium-sized enterprises: Challenges and payment processing needs
The challenges facing SMEs today are reflective of ongoing economic uncertainty, including debt, inflation, labour shortages, and lingering supply chain headaches, coupled with rapidly changing consumer expectations. Dan Kelly, President and CEO of the Canadian Federation of Independent Business (CFIB) noted at the Summit that only 50 per cent of small business owners in Canada report having regained half of their pre-pandemic sales figures. He indicated that many have taken on debt to survive, and 17 per cent of owners say their businesses might not make it.
Also over recent years, Canadian consumers embraced changes to their payment habits, which accelerated the existing trend toward preferences for digital payments. More than ever, the majority of consumers have the expectation that their payment choices will be catered to, which in turn is driving the need for SMEs to adapt to an omnichannel payments environment. Interac survey data shows that most Canadians (72 per cent) believe they should have the option to pay with debit across multiple channels, for example. Yet for SMEs, figuring out which tools will enable them to seamlessly meet their customers' needs on multiple platforms — in person, online, and via mobile — can often be a hurdle.
We're also hearing about SMEs' needs for payment solutions that will streamline their back office operations. There's lots of potential for automating payables and receivables with accounting/ERP software integrations — in other words, bringing the efficiencies of finance transformation to SMEs.
Daniel Eberhard, founder and CEO of the fintech KOHO, says SMEs want fast account-to-account payments so they can make real-time payments to contractors, suppliers and employees. By replacing Electronic Funds Transfers (EFTs) and cheques with faster payment options, employer businesses could pay their employees at the end of each shift instead of essentially locking their pay away for a number of days. And because SMEs employ millions of people collectively, this would not only solve a pain point for hourly wage earners, but could help stimulate the economy as well.
Solutions on the way for business payments, payments modernization
Thankfully, there are solutions in the works that can help improve payment processing and business payments, to the benefit of Canada's SMEs.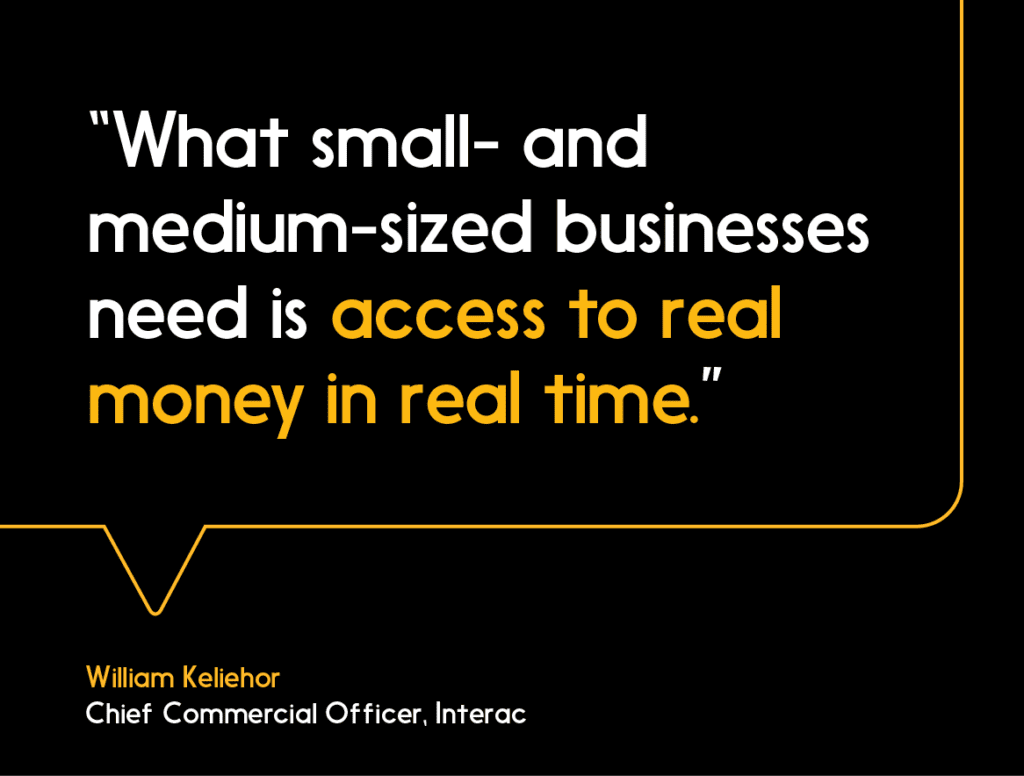 Julien Brazeau, Associate Assistant Deputy Minister at the Department of Finance says he expects the adoption and increased usage of real-time payments to serve as a catalyst for broader innovation, as it has in other jurisdictions that have implemented it.
For SMEs, the benefit of real-time payments can be tangible and immediate: Money is available right away, with good funds, taking away pain points like delays and chargebacks. What small and medium-sized businesses need is access to real money in real time, because cash flow is paramount to their success.
At Interac we've been talking all along about the economic potential of real-time payments. Interac e-Transfer for Business can already enable them to vendors and employees, and Interac is continuing to support the development of Canada's new Real-Time Rail (RTR) system.
As an industry, we're continuing to innovate on the consumer payments side, too. For our part at Interac, we're continuously working to deliver solutions in order to help meet the payments challenge of Canada's SMEs.
As we work on these new solutions, I'm glad to hear my colleagues in the fintech and the payments industry share some of the considerations that help drive new offerings at Interac. One is simplicity of adoption: As Dan Kelly noted, business owners don't have time to work out complicated solutions to their pain points. The challenge lies with innovators to create products and services that work for SMEs right out of the box.
Another forward-looking principle for our industry is the need to deliver real value and real innovation in new payment products and services. Daniel Eberhard noted that it's often been the case in Canada that "innovation" is built on existing platforms, focusing on the UX level, rather than delivering services that are truly fresh and transformative. I couldn't agree more; payment innovators need to think and act on a deep, systemic level to genuinely deliver wins for the Canadian economy.
Enhanced payment tools for SMEs are a win for Canada's economy
Interac offerings can fuel SME growth and competitiveness in the here and now. To ensure businesses can get transactions over the finish line and grow sales in an omnichannel world, Interac Debit is a low-cost payment option that consumers recognize and trust, with a network that's connected to 98 per cent of Canadian financial institutions. We continually build on the capabilities of Interac Debit; one solution for the faster digital world that SMEs are facing, for instance, is the flexible and low-cost Software-Based Pin on Cots (SPoC) for Mobile Point of Sale transactions, which enables micro-businesses to take payments on a mobile device.
For the back of house, Interac e-Transfer for Business is allowing SMEs to streamline their B2B payments and re-engineer their processes to be more efficient and future-ready.
Ultimately, at Interac we're always working to support and champion SMEs as key drivers for the Canadian economy. And based on the insights shared here, that sentiment prevails across the payments and fintech ecosystem. In tough times, independent business owners should know that we're working hard to foster a more innovative, competitive Canadian economy — thanks to payment solutions designed to help SMEs thrive.
Interac e-Transfer for Business can help you level up your B2B payments and re-engineer your back office functions.