The Interac Payments Diary is our periodic, ongoing pulse check to see how Canadians are spending and moving their money.
Data from the Interac Payments Diary is based on the day-to-day payment habits of some 5,000 Canadians, as well as survey data, and it gives us a unique picture of how everyday consumer behaviour shapes the Canadian payments landscape. (See the note at the end of this article for more details on methodology.)
While we originally developed the Interac Payments Diary as an internal tool for understanding evolving trends and consumer behaviour around payments, including the evolving digital economy, we share this data to help our industry peers better understand how Canadians are behaving. We want to help inform policy and business decisions that will fuel economic recovery and build a stronger economy for all.
Here are some insights we can share today:
1. More Canadians anticipate a cashless society
A few months into the COVID-19 pandemic in 2020, some Canadians began to notice the same folding money had been sitting in their wallets for months — which at Interac we regard as another sign of the long, slow retreat of cash.
The pandemic prompted Canadians to embrace digital/contactless payments to a greater degree than ever before, largely in an effort to adhere to physical distancing restrictions and avoid touching payment terminals, bank notes and coins. This phenomenon was easy to spot by comparing our survey data from fall 2020 and the previous year (see below).
Cash withdrawals by Canadians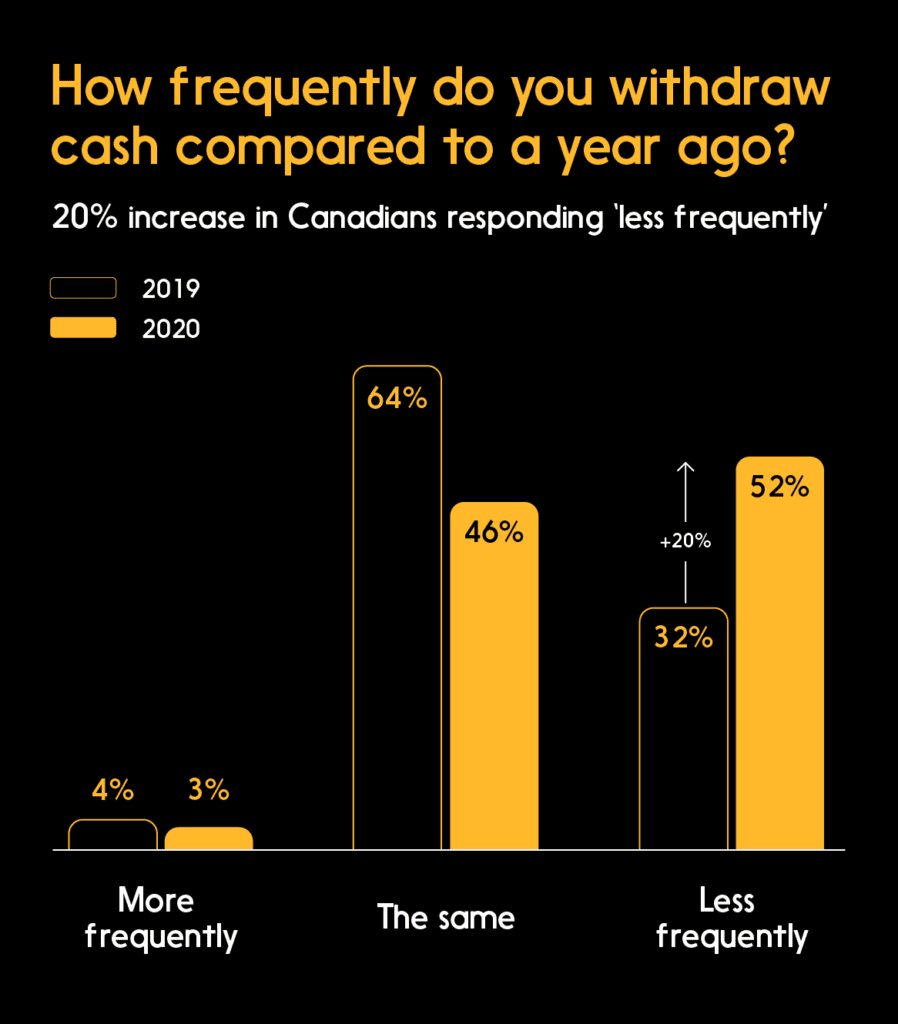 What's interesting now is the shift in attitudes as a result.
The trend toward digital payments had of course begun years earlier, but the COVID-19 pandemic represents a sudden inflection point — a speeding up of the process. At Interac we've long recognized that such changes can happen (to borrow a phrase from Ernest Hemingway) "gradually, then suddenly."
As more consumers get used to embracing digital payments for their day-to-day transactions, their outlook has shifted in response. Interac Payments Diary data reveals that more Canadians are becoming comfortable with this shift.
Canadians' outlook on a cashless society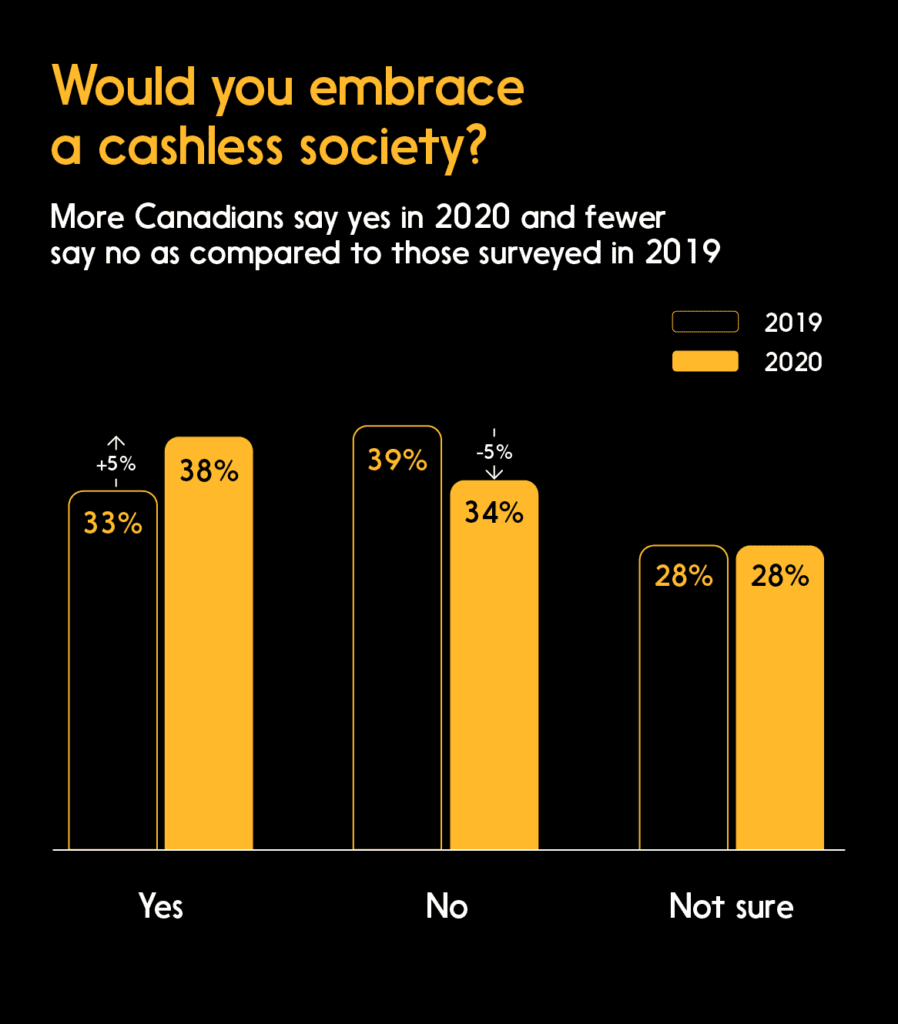 Asked when they believe Canada will become a cashless society, 18 per cent of Interac Payments Diary respondents believed it would happen within five years — up sharply from 10 per cent a year earlier.
When will a cashless society happen?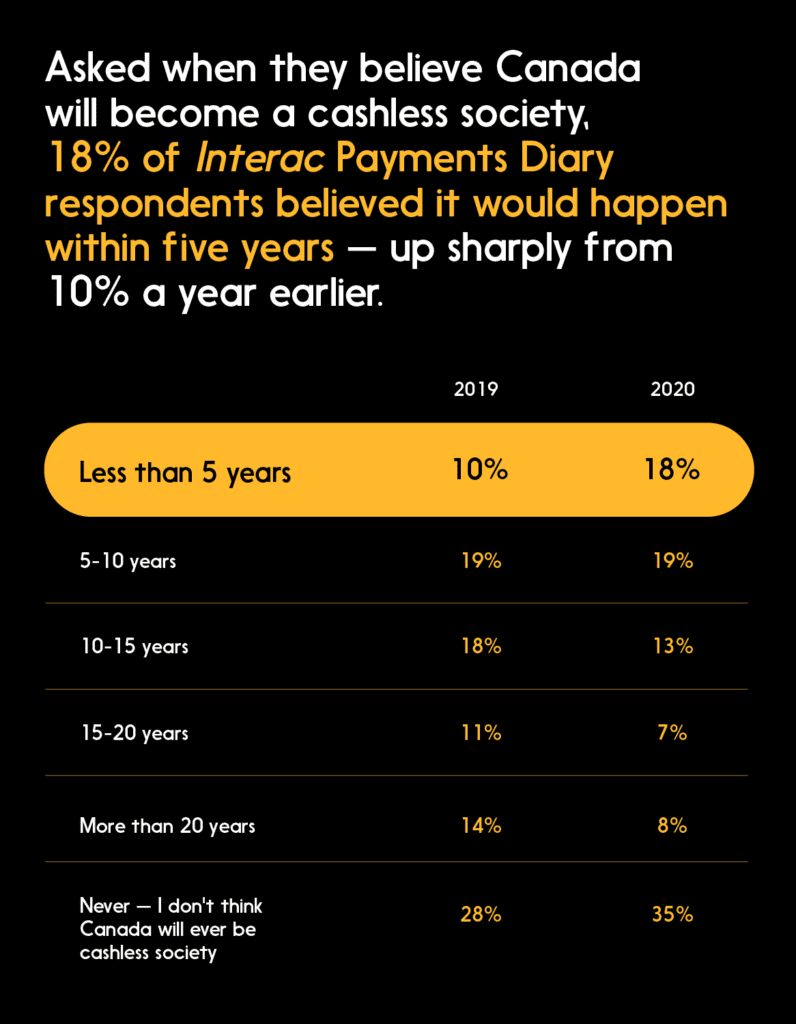 It's not just point-of-sale transactions that are increasingly cashless (and paperless), Canadians have also made more use of digital services like Interac e-Transfer during the COVID-19 pandemic for goods and services — expanding their activity both in terms of volume and use cases.
While survey results and consumer behaviour may show a rising emphasis on digital/contactless payment methods, it is important to note that there is likely to be a continued use for cash for the foreseeable future, especially given that there are many Canadians who still depend on it today
2. The changing role of cash
Interac Payments Diary data shows the gradual march toward an increasingly cashless Canada over the past several years, especially for smaller transactions. And as consumers use cash less often, the threshold for choosing to use cash is becoming lower. Interac Payments Diary data shows that transactions under $10 are the only price level left where a significant percentage of the Canadians that we surveyed say they prefer to spend cash over other methods of payment, such as debit.
Another interesting point: Forty-six per cent of adults who took part in the Interac Payments Diary in 2020 said they prefer to use cash for payments under $10. Yet actual behaviour shows that an even higher percentage may actually be reaching for cards and e-wallets for these lower-value transactions. As you can see in the graphic below, at least 57 per cent of Payments Diary participants reported using digital payment methods for under-$6 transactions, and 73 per cent reported doing so in the $6 to $10 range.
The rise of digital payments …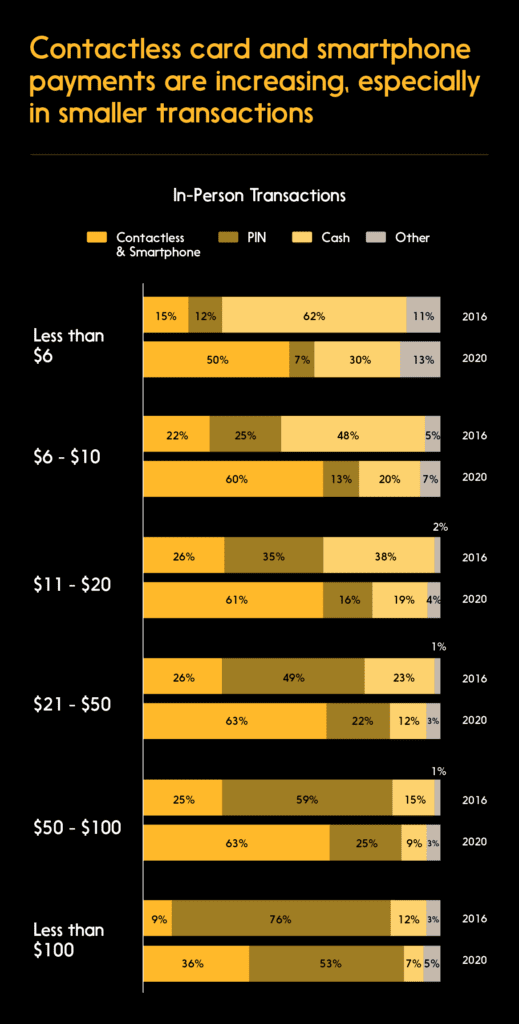 In other words, thanks to the Interac Payments Diary data, we have a subset of information showing that consumers' actual, real-life payments behaviour in small transactions has changed faster than what they say they prefer — to the point where even a morning coffee run is likely to involve a digital payment.
… and the decline of cash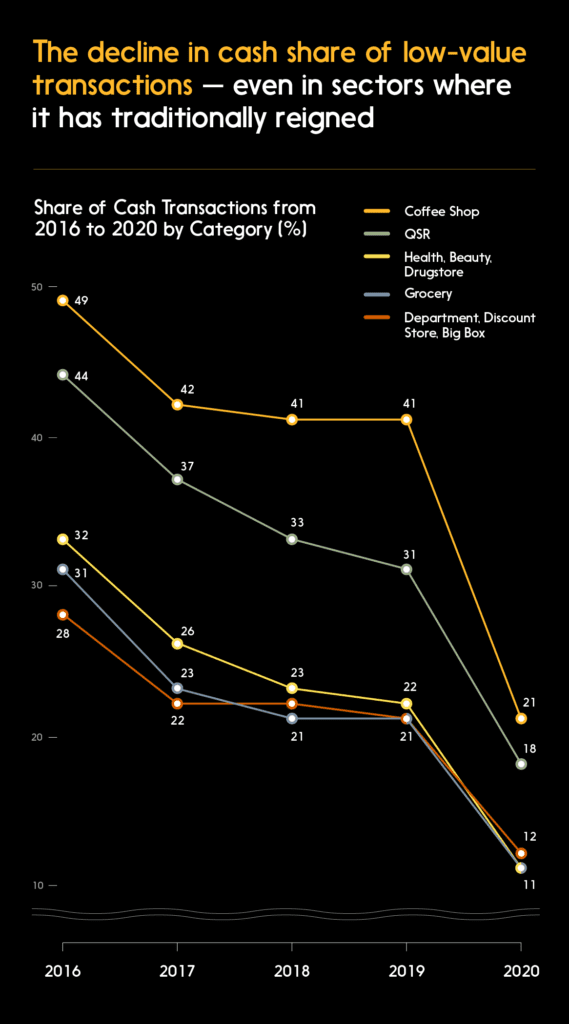 3. How consumer behaviour in the COVID-19 pandemic has paved the way for the omnichannel payments landscape
The COVID-19 pandemic has increasingly turned Canadians into online shoppers: The number of online transactions increased by a third, and now accounts for 10 per cent of all transactions.
Businesses in certain sectors have seen a dramatic increase in remote transactions, as opposed to in-person. The Interac Payments Diary data below reveals a decrease in the number of in-person transactions during the COVID-19 pandemic in a number of sectors, most notably (and obviously) restaurants, bars and coffee shops — and a corresponding bump in online and in-app transactions in those same sectors.
More in-app transactions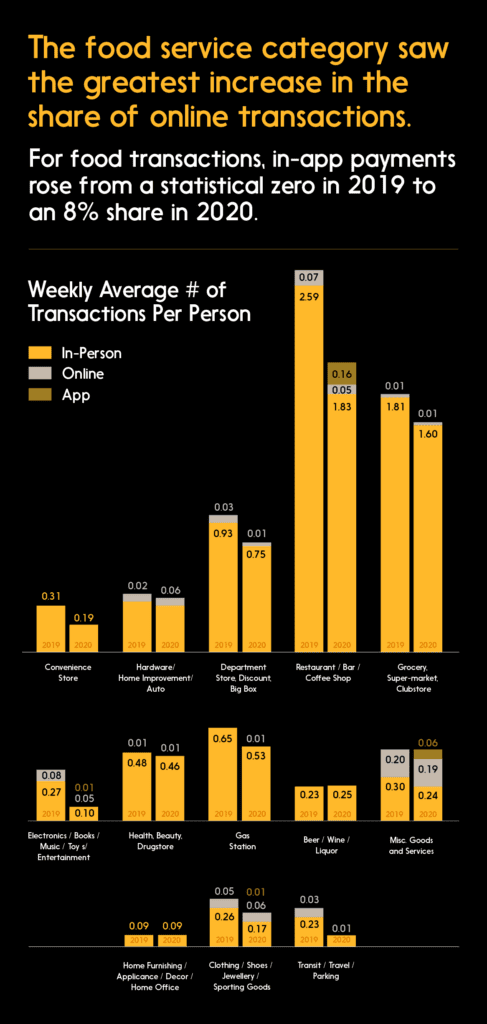 This reinforces what we've known since relatively early in the COVID-19 pandemic: that it pays for businesses to prepare for a future of delivery and remote shopping.​
It's also important to note that while in-browser and in-app payments accounts for just 10 cents of each dollar of consumer spending (and conversely, in-person shopping still represents 90 per cent of transactions), the share of online payments is growing rapidly.
What does this mean for Canadian businesses? In order to thrive in this moment, Canadian businesses have to anticipate and cater to the needs of customers who arrive via all channels — in person, via a website, by app — with the right payment tools for each.​
Another piece of data we've collected underscores the urgency: Canadians have told us their expectations are high when it comes to being offered a variety of ways to pay, and they may not have patience for businesses whose shopping experience remains trapped in the past.
At Interacwe'll continue to report how these outlooks and behaviours evolve.
4. Methodology: How we conduct the Interac Payments Diary
We use a mixed methodology to generate the data and arrive at the insights of the Interac Payments Diary.
First, a probability-based panel survey involving 2,000 Canadians collects responses on payment methods; data collected is then used to validate and calibrate data collected in the seven-day payments diary.
We then conduct a payments diary study with 5,000 Canadians who sign up to track their purchases and payment methods over a seven-day period; many of whom use a custom web-based app. It prompts the user to record each purchase by day, time and payment method, and employs geolocation technology to record the physical location of purchase. Participants record their activities for seven days.
The combination and analysis of these two streams of data make up the Interac Payments Diary.