For many entrepreneurs, the pandemic has completely shifted the business landscape. None have felt this more than local independent businesses, many of which have been called upon to develop entirely new ways of reaching their customers.
For made-in-Toronto menswear designer Outclass, this has meant doubling down on their workload to continue serving a loyal clientele — they've even made some hand deliveries to a front porch or two.
Outclass is known for its more relaxed cuts, with untucked shirts, cozy sweaters and practical outerwear, which are all designed and produced in Canada. We spoke with founder Matteo Sgaramella about how he uses Interac solutions in his day-to-day operations, and how the brand has evolved, from his early days at OCAD University to today, as he looks forward to the line being stocked at five Harry Rosen stores across the country this fall.
How it all started
Matteo started making graffiti art as a teen, and despite being a successful artist and selling commissions of his work, he didn't see a future in that. So he decided to study graphic design at OCAD University. But his immersion in street art, skateboarding and hip-hop culture stuck with him, and he started Outclass while he was still a student. His first collection, along with the brand's wordmark logo and website, were part of his final thesis: He had even gone to the length of producing a full sample collection. When he graduated, instead of leaving the project behind, he decided to go ahead and market it.
Matteo takes a hands-on approach for his brand, and it was important for him to have his garments made locally. He found his first suppliers when riding through Chinatown one day. "I was just biking around and I saw somebody go up these stairs with a roll of fabric and I just followed them up. I found the owner and convinced them to make some stuff for me. And the rest is history."
Making it easy to connect with customers
Outclass had just opened its Toronto storefront six months prior to the pandemic, so it was disappointing to have to close it temporarily. Besides making everything contactless as part of the sanitary efforts, Matteo said the brand had to take everything online, something that was made easier because it started as an e-commerce and wholesale label.
The company shifted to intensifying its content creation and sending newsletters, staying in contact with its customers online as much as possible. "It was just a different hustle. We were working twice as hard and just making it happen by any means. From the pandemic, we become a stronger business, because we've learned how to adapt when we have to."
How Interac helped make it happen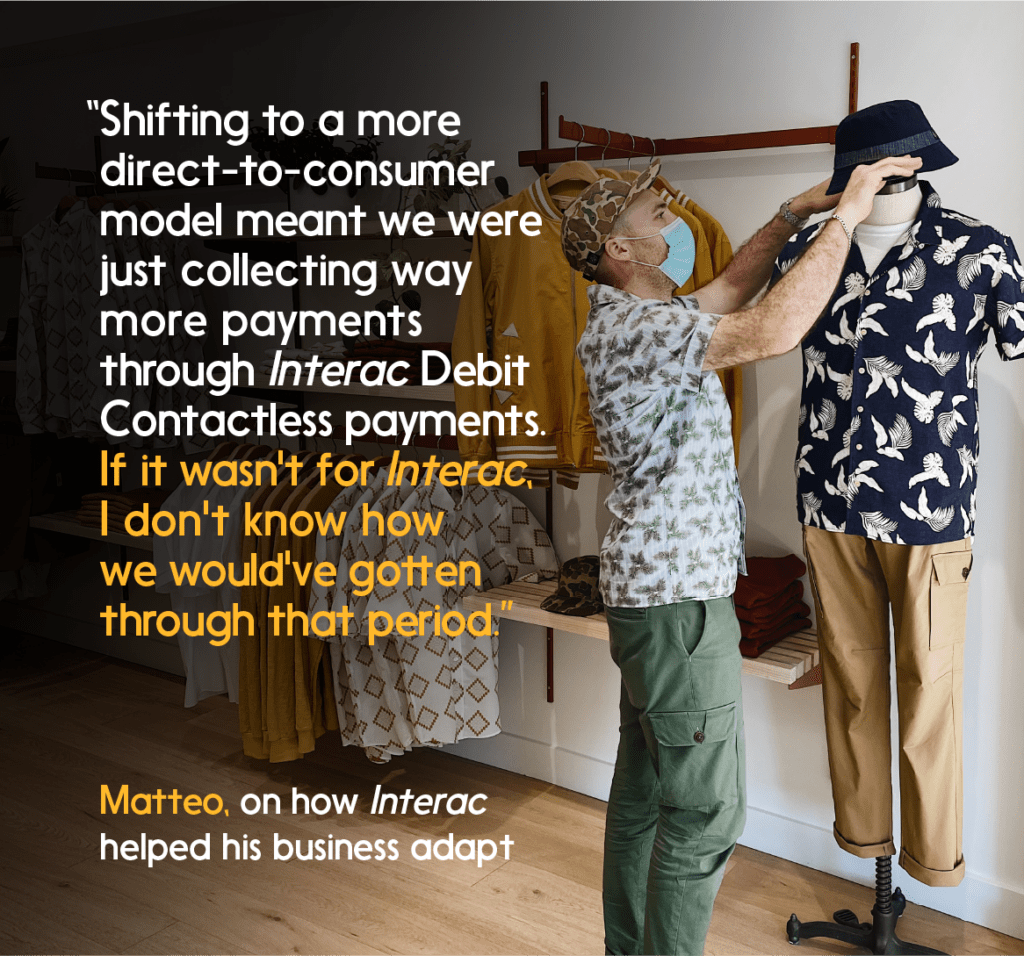 Having a retail space brought an additional challenge when the storefront was closed during the holiday shopping period. But Outclass was able to sell from the front door using contactless payments.
"Shifting to a more direct-to-consumer model meant we were just collecting way more payments through Interac Debit Contactless​​ payments. If it wasn't for Interac, I don't know how we would've gotten through that period. We were able to do numbers that were similar to the year before."
Supporting the Toronto business community
Outclass does business with local suppliers and manufacturers in the Greater Toronto Area, which helps Matteo establish robust relationships with them: He can easily travel to the factories he works with and see the products, and most important, the people who make them. Part of those relationships is payment, of course, and Interac e-Transfer helps make those fast and seamless.
"We have such personal connections with our suppliers. We find it important for them to get paid quickly. We send money via Interac e-Transfer to our suppliers, because we know they get the money faster – and that's important to us."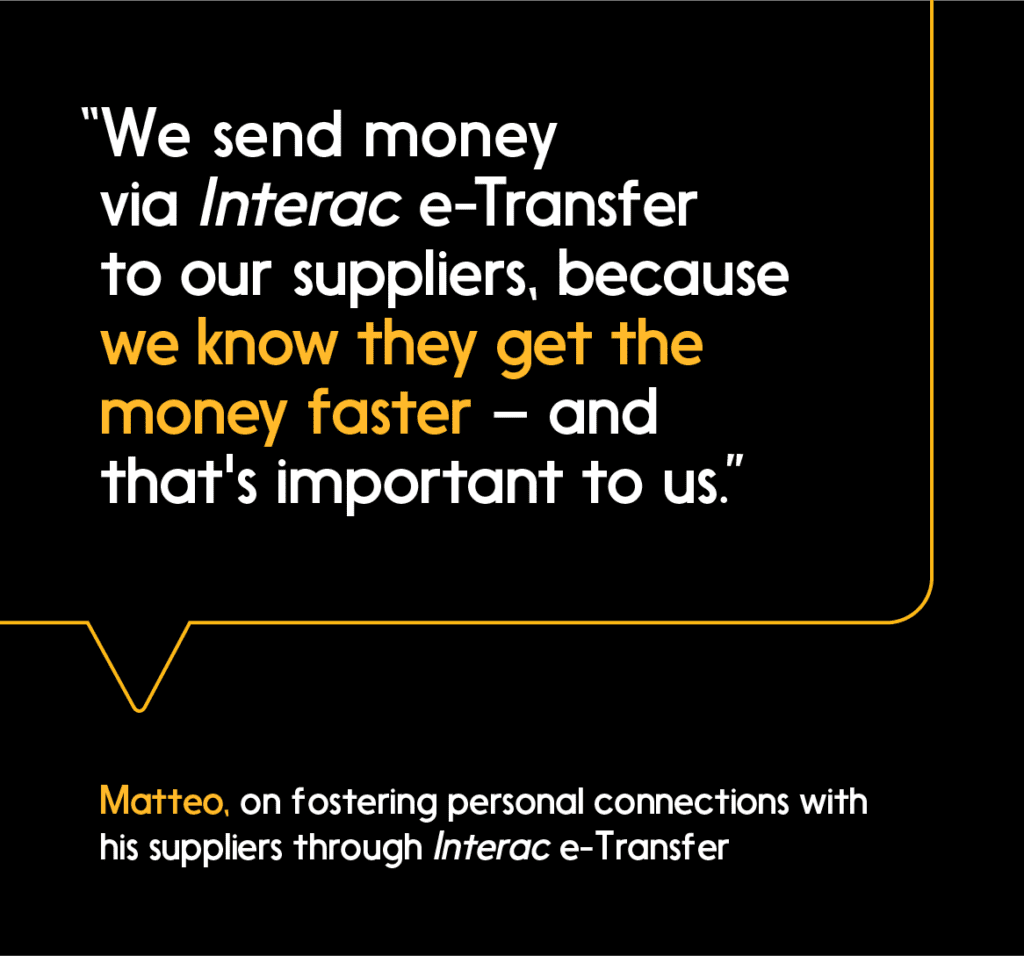 Looking ahead: Making the most out of life
The pandemic has shifted Outclass' long-term goals, but Matteo is happy to have made it through the worst of it. On the brand's horizon: refreshing the website's design, growing their product range, as well as an expansion in Harry Rosen stores, which Matteo is very excited about.
After spending more than a decade building the business, Matteo has learned a thing or two about how to prioritize what matters most. Since becoming a dad, he confesses having realized that life is not just about work. He likes to take the time to stop and spend time with his son, appreciating how far he's come.
"It's important to put your head down and really focus for a few years, but it's also important to lift your head up every once in a while and take a breath, to appreciate what you've accomplished.
"Take a moment to just soak it in and try to do that with your family or friends or loved ones … Live in the moment and know that that business is not the be-all, end-all."
Discover all the tools Interac provides to small businesses like yours.