For the second year in a row, Interac hosted National Volunteer Week from April 17 – 26. We focused our efforts to learn, address, and understand challenges affecting women and small businesses in our community through various volunteer initiatives.
Mario Falvo, Chief Financial & Risk Officer, and the Executive Champion of this year's campaign, brought together hundreds of employees for various volunteer opportunities. Throughout the week, we curated care packages to send to Ernestine's Women's Shelter, cleaned up our shorelines and mentored 50 newcomers to Canada – making a huge impact and having fun while doing it!
Ernestine's Women's Shelter Care Packages
In the weeks leading up to our first volunteer event on April 17, donation bins were set up throughout the Interac office where employees donated more than 2500 hygienic products and non-perishable food items. With these donations, employees created care packages for Ernestine's Women's Shelter. With the rising cost of living, these donations support many women, children, youth and individuals in need at Ernestine's, many of whom are fleeing violence and abuse, by providing them the necessities they need to live comfortably.
Our team in Ottawa also collected donations in support of the Nelson House Women's Shelter where they packaged essentials to provide to those in need.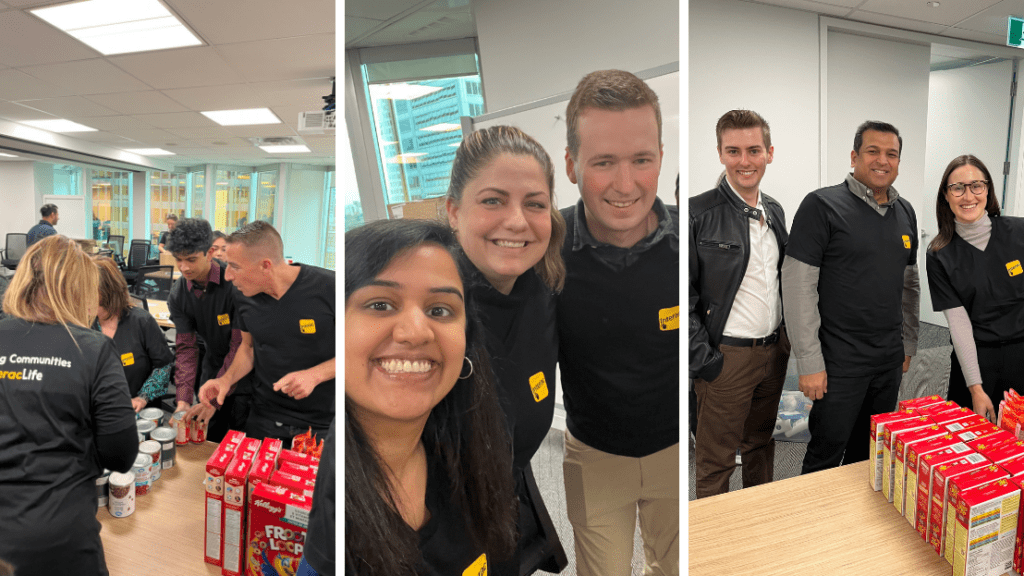 Shoreline Clean-up
With volunteering in full swing, 1Interac kept the ball rolling with an organized outdoor clean-up on Wednesday, April 19. With gloves, garbage bags and trash pickers in hand, over 80 employees cleaned the streets of Toronto in partnership with the local Waterfront Business Improvement Association and their Clean Streets program. Our team in Ottawa, having their biggest turn out yet, kept the streets clean in support of their local community. "It felt good knowing that we played a role in keeping the streets clean yesterday," says Toritseju Okoturo, Acquiring and Gateway Partnerships Manager. "It was also nice to bond with members from other units at Interac. That's the amazing thing about volunteering. It weaves us all together!"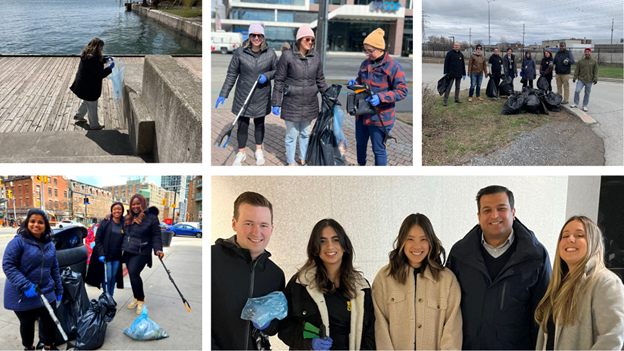 Learning session: Building Financial Confidence
At Interac, we are committed to building financial confidence in Canadians, particularly underrepresented people who are often not given an equitable opportunity to achieve financial success. We demonstrate our responsibility through impact-based programming that helps Canadians build their financial and digital confidence.
To educate and empower employees to get involved in our communities, our Corporate Sponsorships & Citizenship team led a learning session on Friday, April 21 on how Interac is building financial confidence. Led by Peter Seney, Corporate Citizenship Manager, and James Monaghan, Director, Corporate Sponsorships & Citizenship, the session provided an overview of our social impact strategy, information on our Mindfulness & Money and HeARTwork programs through our partnership with Conscious Economics, a Canadian not-for-profit organization and social enterprise, and upcoming opportunities for employees to get involved in throughout the year.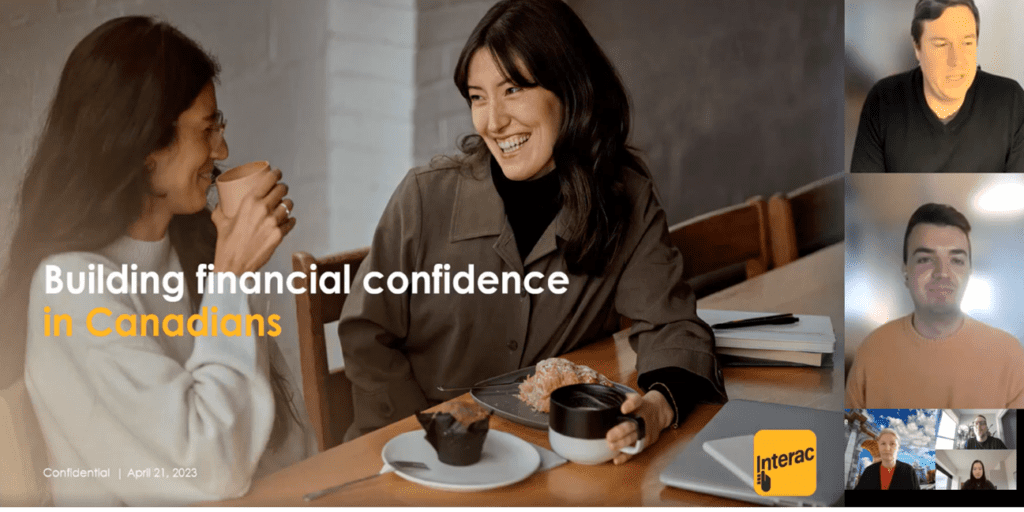 ACCES Employment Mentorship Event
On April 26, Interac partnered with ACCES Employment, a United Way Greater Toronto partner agency, for our fourth annual mentoring event for newcomers to Canada. 50 Interac employees volunteered to take part in one-on-one speed mentoring with mentees, offering insightful advice to qualified candidates actively seeking opportunities to enter the FinTech space.
Mario Falvo kicked off the evening filled with networking, mentorship and connection. Vanessa Etuk, Client Solutions Associate, chatted with Voula Vasilopoulos, Director, Talent Acquisition, about her journey to Canada, getting hired at Interac from last year's mentorship event and the important support ACCES Employment provided her. With the crowd inspired, Interac volunteers participated in speed mentoring sessions with ACCES participants, cultivating new relationships with Interac mentors across the company.
"As a speaker and mentor at the event, I was able to inspire the mentees with my personal experience and hear some of their personal struggles in gaining employment," said Vanessa. "Their stories really resonated with me, and it was a full circle moment to support another person's career development with guidance and advice to prepare them for the future ahead."
Interested in learning more about our community impact initiatives? Click here.