Raising financially confident vs. well-educated children can help parents and kids alike get the most out of life. According to Vanessa Bowen, financial coach and owner of Mint Worthy, good money habits start in early childhood and pay off in the long run. Everyone in the family and community benefits as children grow up and become financially responsible.
Good money lessons start forming from the second your child is born or even understands what money is. The key to good financial habits in kids is that there is no age restriction.
Early lessons lead to creativity and curiosity, meaning more opportunities to answer questions about topics like where the money comes from, how adults get paid, savings, education, toys and more.
Early money lessons nurture good financial habits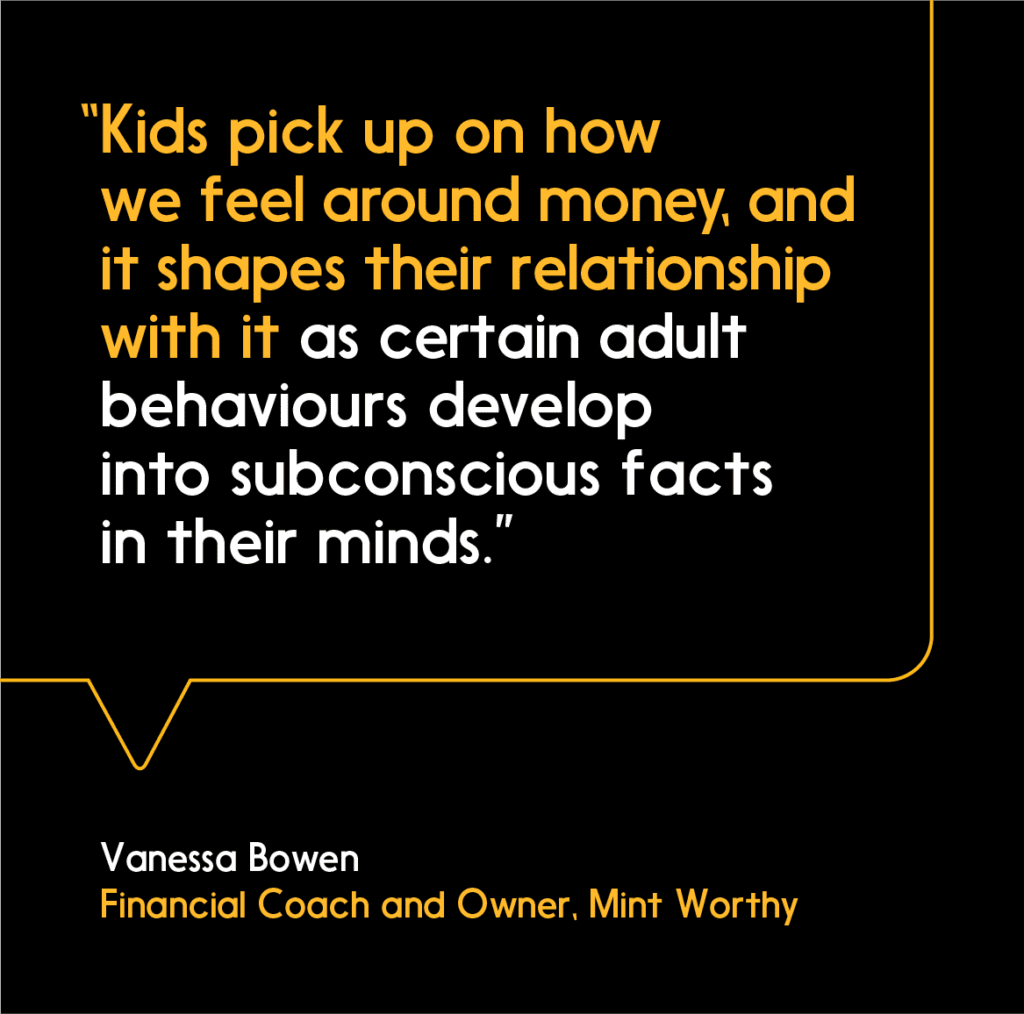 Most of us don't remember how our parents dealt with finances, but behaviours like spending hesitancy or anxiety around budgeting are learned between birth and eight years of age as children gather and digest imperceptible clues. Aligning intelligent purchasing with passions induces happiness, research suggests, and children are emotional sponges. "Kids pick up on how we feel around money, and it shapes their relationship with it as certain adult behaviours develop into subconscious facts in their minds," Vanessa explains.
Good financial habits let everyone get more out of life and learn new mindsets as a family. Many parents are used to the idea that children should be left out of family finances. Vanessa argues you should include them. "We have to bring kids in the conversation from the minute that they can understand."
In times of economic stress, open-mindedness and creativity can make a difference.
Half of younger Canadian consumers like Millennials and Gen Z have shown a heightened concern of overextending their finances and a willingness to embrace technology like digital debit payments to shift out of bad spending habits and to control costs.
Money education doesn't have to be so serious
Easing everyone into incorporating money and budgeting into everyday decisions can make life more joyful and less stressful. Some of the best lessons can be simple. Take concepts like a big trip and simplify them so that kids understand. Here are a few tips to get started: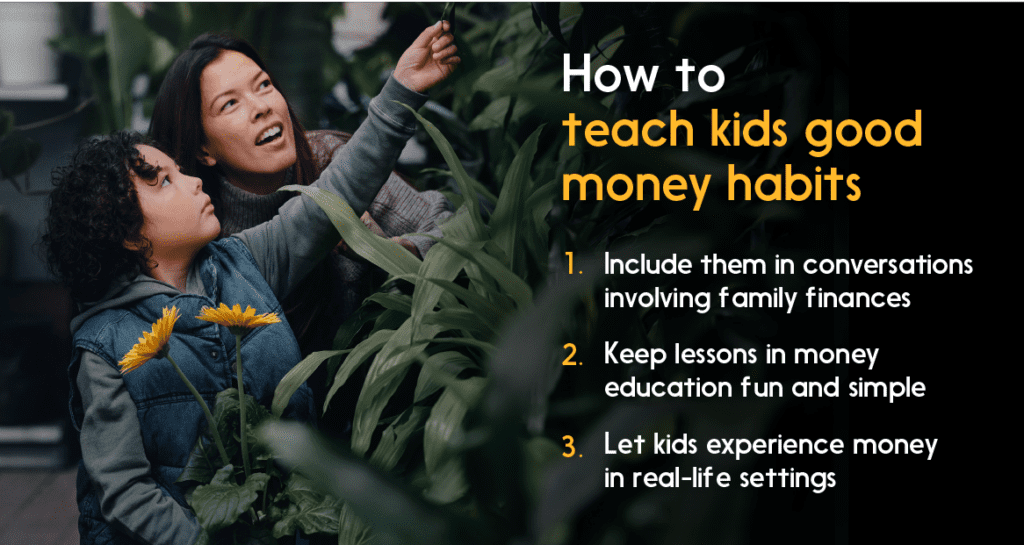 1. Include the whole family in big decisions.
Get kids excited about saving for something big — like a trip or a backyard treehouse. Talking about big changes or purchases you want to make and incorporating the kids' ideas in the results will get them eager to participate in the saving and planning required. More importantly, it will make the kids feel like they're being trusted and their opinions are valued and included.
2. Make budgets fun
Budgeting as a family can spark creativity and lead to financial freedom. You've got a big idea all planned out and got everyone excited? Take that same energy to explain to kids what you'll need to do as a unit to make it happen. If you need to cut back in some areas like eating out or want the kids to start pitching in small amounts from their savings to get them invested in the changes they get to be a part of, family budget meetings can make everyone feel included. For ideas, learn from other parents' stories to help you secure your financial future.
Vanessa says most people see a budget as a restrictive tool, when in reality it is the opposite. "It doesn't shrink you; it creates expansion. A budget is that road map to your dreams. It's just telling you where to put each pocket of your dollars, so that your dreams become a reality."
3. Be playful and creative
Saving doesn't have to be some numbers on paper. Create a family thermometer for exciting goals or big buys you can fill in together. The excitement of seeing it go up will keep everyone motivated and the joy of using or experiencing the big purchase will have great memories attached.
Take your kids on a field trip—to the grocery store. But mentally prepared for this to be a learning trip. Plan a meal to cook together and get them to experience spending in action by finding the lowest prices, asking questions about the shopping list budget and encourage them to make the decisions based on money.
Make it real. Put the learning into practice
Nothing is as good a teacher as real-world experiences. The best way to put basic financial concepts into practice is to let the kids experience money in real-life settings. Let's break it into two categories — earning and spending.
Earning money
Games that feature real or play money, like playing pretend store or restaurant, help younger kids understand money interactions. Bonus points if you can incorporate digital payment methods that mimic real-world card use like real debit cards, since nearly four in five of all payment transactions are electronic, so honing skills early is a must.
For other fun options, lemonade stands and bake sales are the first crucial steps in understanding how money works and moves while having fun along the way. Chores around the house, neighborhood jobs or simply an allowance allows kids to start saving and spending like adults do.
Letting children access their own debit card is a chance to explain how tools likeInterac Debit support healthy money saving and spending, which is particularly beneficial.
Spending money
When you feel in control, you have time for things that matter, like play! Using tools meant to aid in organizing and streamlining money decisions like Interac Debit and Interac e-Transfer can help you keep on top of your finances and get more out of life. It's the same with your kids. Learning happens when they get to manage the money they've earned and enjoy the purchases and decisions they saved up for.
Vanessa recommends getting children set up with their own bank accounts and their own debit cards and helping them use these to make purchases and set aside savings independently. This teaches them opportunity cost and helps kids weigh decisions and understand outcomes.
All early financial lessons are valuable, even if they seem like simple games to adults. Spending their own money teaches kids responsibility, control, patience and perhaps most importantly, that investing in themselves pays off.