Responsible and secure data collection can fuel innovation, help Canadians access new services, and streamline the processes that we go through in everyday life.
At the same time, Canadians don't always have insight or control regarding how their data is used or who gets to see it. They need to know they can trust the digital economy with their data. Otherwise, we create a space for mistrust — and even misinformation — to grow. We need to build trust around these interactions. And for the sake of our country's competitive position, we need to move fast.
In the Everyday Trust series, I speak with leading thinkers about the role of trust in a rapidly evolving technology landscape and what it means for Canadians. In this episode we talk about trust as a competitiveness issue: The digitization of our economy has made it more important than ever for governments and industry to enable Canadians to trust the institutions they interact with.
First let's acknowledge there's still work to be done building trust. Canadians feel strongly about controlling and protecting their data. It's important to ensure Canadians experience the benefits of the digital economy — from smoother interactions with government to better access to financial products — including ensuring that their personal data remains firmly in their hands.
As my guest Senator Colin Deacon says, many of the buttons to make this a reality already exist within the Canadian government. And as a former entrepreneur and a member of the Senate of Canada, he would know.
The opportunity: Data portability powered by trusted digital verification
For years, those of us who work in the verification space have been eagerly working toward unlocking the benefits of system-wide innovation to create real benefits in Canadians' lives, not to mention efficiencies for governments, businesses and other organizations.
If payments modernization and other advances such as open banking are working in concert, all sorts of exciting things could happen. If people were able to link their various accounts securely, they could receive personally tailored offers — a lower interest rate on a loan, for example. More renters could link their monthly payments to their credit reporting to improve their credit scores with each payment and more Canadians could interact with government services (for things like passport or benefit renewals). This will be an especially welcome development for the more than 40 per cent of Canadians who live in population centres with fewer than 100,000 residents, who often face long travel times when they have to perform these tasks face-to-face at a physical office.
If there's one vital connector that will enable all of this, it's secure digital verification of Canadians' data. We need Canadians to have the tools that give them the ability to securely share their personal data to complete an interaction while also understanding how that data is used. That way, they'll not only enjoy the benefits of data portability between organizations and businesses, they'll also be able to trust that the control and movement of their information remains securely in their hands.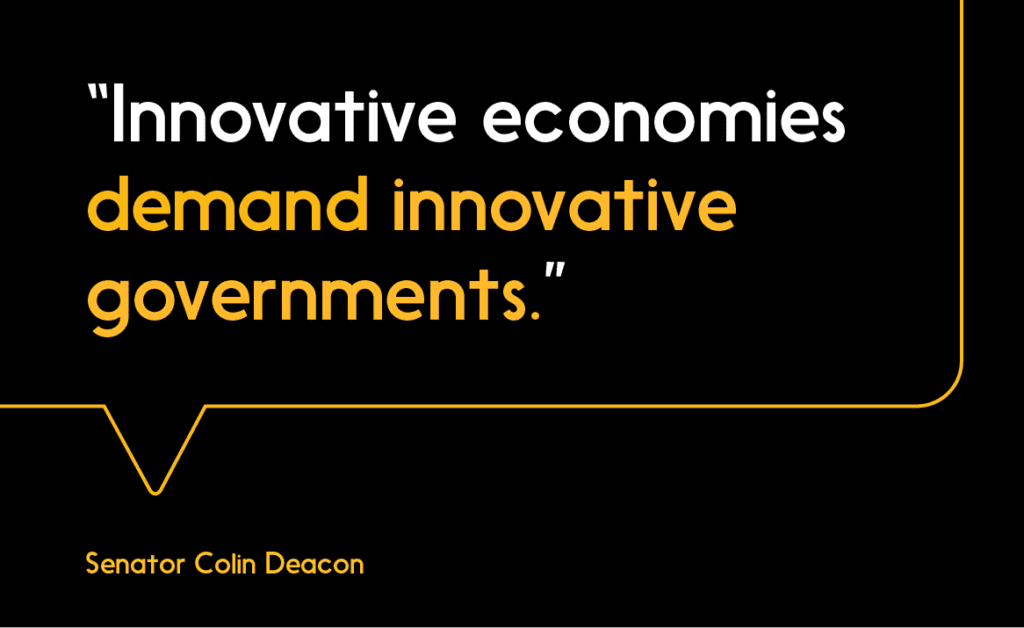 The challenge, Senator Deacon says, is that Canada isn't moving ahead as quickly as other governments at building the e-government services and digital infrastructure that fits all the pieces together. This poses a risk to Canada's ability to drive innovation, productivity growth and higher living standards — unless we act now to build trust and drive adoption in digital services and tools.
Digital verification and Canada's digital competitiveness: A few key questions
1. Where does Canada stand in comparison to other countries in embracing e-government, digital verification and related innovations?
For Senator Deacon, when it comes to e-government, Canada lags behind other leading nations who have adopted fully digital citizen experiences, such as Estonia.
For now, Canada still essentially has analog governments. "My worry is that we're falling behind in our ability to grow and compete relative to other countries when it comes to our digital competitiveness," he says.
The Organization for Economic Co-operation and Development's most recent economic snapshot of Canada shows us falling to the back of the pack of the 38 member states in terms of our ability to innovate, grow and compete — and ultimately deliver higher living standards — unless we make changes now.
Senator Deacon says creating an infrastructure of digital trust is a foundational building block toward a more prosperous future, and I couldn't agree more.
2. What's the connection between trust and (digital) competitiveness?
Trust is a key enabler to delivering on the promise of digital services, whether we're talking about the financial sector or government services. To put it simply, in a world where we are more frequently meeting virtually rather than face-to-face, people need to be able to trust that a virtual interaction is genuine.
"How does it affect the ability of Canadian businesses to function into the future," Senator Deacon asks, "if we don't enable them to quickly and easily establish trust with their customers?"
Digital verification technology, like Interac Verified solutions, can unlock more trusted transactions between businesses, governments and consumers. Our products are designed to help protect Canadians verify their identity online using secure technology to enable a trusted transaction.
When we do have an engaged society and a population that can choose which digital interactions to integrate into their day-to-day lives, it will accelerate different solutions across sectors — in healthcare, travel, education and more.
3. What are the risks of a lack of trust?
If governments and businesses don't offer Canadians secure solutions and help them understand the choices they can make to keep their data secure, there's a risk that consumers won't trust the opportunities and services they're offered as citizens in a digital world — and won't use them. This would mean our society and economy won't see the benefits.
Senator Deacon tells me he's hearing from a few members of the public who believe in a myth that systems for digital verification of our identities will give governments (among others) more control over our data. The reality is that when we think about digital verification at Interac, we're looking for ways to give individuals and businesses more choice through trusted interactions, helping them reap the benefits from the ever-more-digital Canadian economy.
The more Canadians are able to trust their interactions, the better off we'll all be.
As innovators, we need to keep working hard to show Canadians that we're innovating responsibly as we create products and services that are relevant to their lives. Open and transparent education around these innovations will help consumers make informed choices about the services they want to use. We have to be clear that we're not telling Canadians, "You have to adopt this or that technology." It's about providing them with choice.
4. Digital competitiveness: How do we stop talking about it and start doing it?
Development of standards and codes of practice certifications are going to be crucial if Canada is going to have an economy that protects Canadian citizens, gives them control and enables them to be innovative. Data portability means you need interoperability — and it needs to be smooth; I make the point that we need to give consumers good experiences with new technologies, not headaches.
From his perspective, Senator Deacon says government has a role to play in all this. There's only so much the private sector can do without it. But the federal government needs to stop thinking its job is to control the Canadian economy, he says. "Their job is to catalyze the Canadian economy."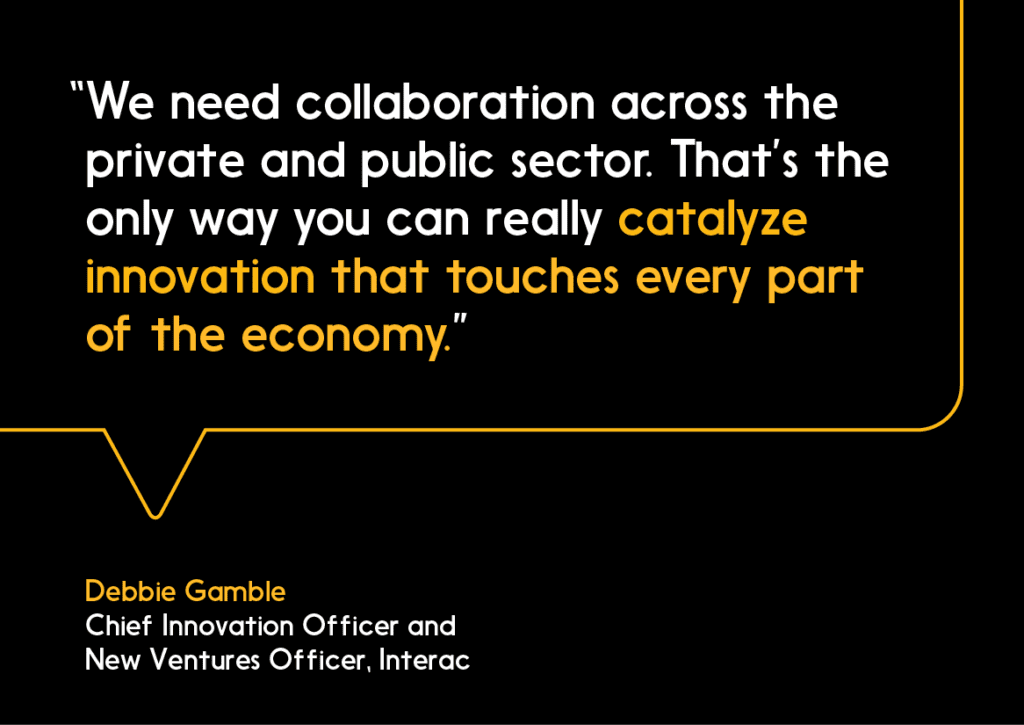 And if the government starts to see itself as a catalyst, the opportunities are endless. At Interac, we believe in the need for collaboration across the private and public sector. That's the only way you can really promote innovation that touches every part of the economy.
5. How is Interac helping to build trust in technologies that will enhance Canada's digital competitiveness?
Many Canadians are accustomed to using Interac sign-in service to access government services (including Canada Revenue Agency, among some 280 provincial and federal services in total). We surpassed 100 million transactions last year. Each time another Canadian uses our digital verification services for the first time, that means there's one more person who's reaping the benefits of secure, trusted data verification and access.
At Interac, we've long understood that when we're advancing new technologies — whether it was Interac Debit or Interac e-Transfer in the past, or Interac Verified now — establishing a comfort level among end users is one of the most important drivers of behavioural change. I spoke to David Birch in a recent Everyday Trust episode about the importance of "ritual" to driving digital adoption. When people try a new service and it works, reliably, that's how we make new technologies and behaviours a part of the fabric of everyday life.
And is adoption viral? Can adoption also lead to even wider adoption? Senator Deacon makes an interesting related point about the way behavioural change spreads through word of mouth: When one person becomes comfortable with a new service or technology, they spread the news. So as governments, innovators and other players deliver reliable digital services, Canadians will do some of the work of spreading the word for us about the benefits.
We're still at the beginning steps of all this. Open banking, payments modernization and digital verification will continue to converge in new ways to deliver everyday wins for Canadians. In the big picture, we have to make the strategic investments and choices necessary today to fundamentally shift towards a digital environment where Canadians can enjoy more trust in government than they currently do, and where they can transact securely and confidently with businesses online.
The alternative is to lose competitiveness. As Senator Deacon says, "If the government does not prioritize these issues, we've got a problem."
​​​See the full conversation with Debbie and Senator Colin Deacon
Watch the full video to learn more about how e-government fuelled by digital verification can power innovation — as well as Senator Deacon's thoughts about areas where Canada can improve.