Ah, the thrill of the new thing….
Be it a hobby, an after work or school activity, or just a new thing you're in the process of learning, doing something you enjoy can enrich your life, boost your self-confidence, and relieve stress. Not to mention, add a little fun and variety to your daily grind.
Make that new thing a you-thing
Hobbies can help you get more out of life, and a "you-thing" can be anything from being more active outside to leaning into downtime at home. However, costs are rising in Canada and starting new hobbies might feel unattainable. But, with the right tools, you can stay in charge of your money as you go, so you can feel confident no matter what you choose to take on.
There's no limit to the range of outdoor and indoor activities you can do on a budget. Here are a few ideas you might want to explore.
Hobby ideas to get outside
Being in nature and getting physical activity are great ways to boost energy, decompress, and spark creativity. The great thing about outdoor activities is that they can be done with as strict or as loose a budget as you want.
When outside you can:
Make your mind and body one with yoga
Fill the need for speed by taking up running
Explore the great outdoors by going on a hike
Grow herbs and vegetables in planter pots on your balcony or set up a garden in your yard
Explore your surroundings through a camera lens by taking up photography
Get into the team spirit by joining a local pickleball, soccer, or baseball league
Hobbies you can pursue in your own space
Taking your activities indoors, meanwhile, also has its advantages. Along with the familiarity of being in your own space, you don't have to let the change of weather interfere in what you want to do.
When indoors you can:
Pick up the crochet hooks and make a stylish scarf or a warming blanket
Try out that new viral recipe
Get lost in a good book
Get ahead of your travel plans by learning a new language
Put your point of view on the canvas by learning how to paint or draw
Create practical and beautiful dishware or stunning sculptures with pottery
The beauty of these activities is that you can invest as much or as little as you see fit.
How Interac can help make your solo hobby happen
From quick, contactless payments in stores to fast e-Commerce purchases made from home, with Interac Debit you can use your own money to register for classes and purchase any starter specialty items like yoga mats or cooking gear from participating physical or online storefronts. Tracking your money in real time with Interac Debit reduces the risk that spending on your new hobby will get out of control – a risk when you wait until the end of the month for a bill.
And if you're stepping out to pick up supplies, you can add your debit card to your digital wallet to make paying on-the-go where available and tracking your purchases even easier without the need of a physical wallet.
Another tip to help keep that hobby on budget: Consider purchasing gently used equipment for a good price from an online marketplace. Better for you, and better for the environment. Interac e-Transfer can help make the transaction go smoothly without the hassle of figuring out cash. Just make sure to exercise caution when buying from online marketplaces. Be sure to look at seller reviews and ask to meet in person before sending. An Interac e-Transfer transaction cannot be reversed once a recipient has deposited the funds.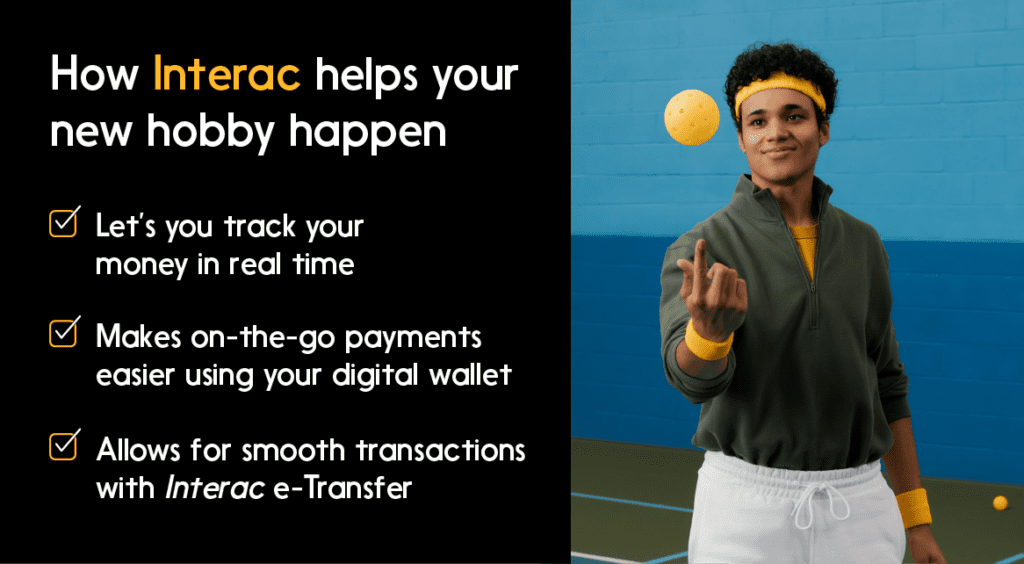 Make that you-thing a crew thing
Being part of a group can be a great motivator to help you stick with your hobby, create lasting memories, and strengthen friendships (even if your friend is a little too competitive).
Like solo activities, there are a number of things to do with a group on a wide variety of budgets.
Grab a friend, some paddles, a pickleball ball, and some comfortable clothes and find one of the many pickleball courts appearing in parks nowadays. Once you're ready to go pro, you can always enter a tournament.
Bring your brainy friends together for a fun night of weekly pub trivia. The only cost is time, food at the venue it's being held at… and patience with your one friend that doesn't know music but still tries to answer music questions.
Put on a monthly potluck-style dinner with your friends to share your respective cooking talents. Cost of ingredients, along with some drinks to complement the meal, are all that's needed. And, if you're all looking to level up your cooking skills, you can even join a group cooking class.
Have a book that you want to share with the crew? Start up a monthly book club. You can purchase enough copies to go around, so you can all read and talk about it – just make sure that they're okay with paying you back for the bulk book purchase first.
How Interac can help make the dream for the team happen
If you're the one taking charge of organizing group activities, getting started might require more effort and planning. But with Interac, the process of budgeting, paying for things, and getting paid back, is simple, convenient and secure. Learn how this volleyball enthusiast uses Interac e-Transfer Request Money and Autodeposit to organize tournaments and meetups with friends.
For example, you might be able to get a deal by registering for classes or teams as a group and having your friends pay you back quickly with Interac e-Transfer. Pro tip: By setting up Interac e-Transfer Autodeposit, the money will be automatically deposited into your account. No security questions and answers needed.
And if your friends still need a little reminder now and then for the money they owe you, you can use Interac e-Transfer Request Money. Your friends will receive an automatic reminder to send you funds, so you don't have to constantly follow up.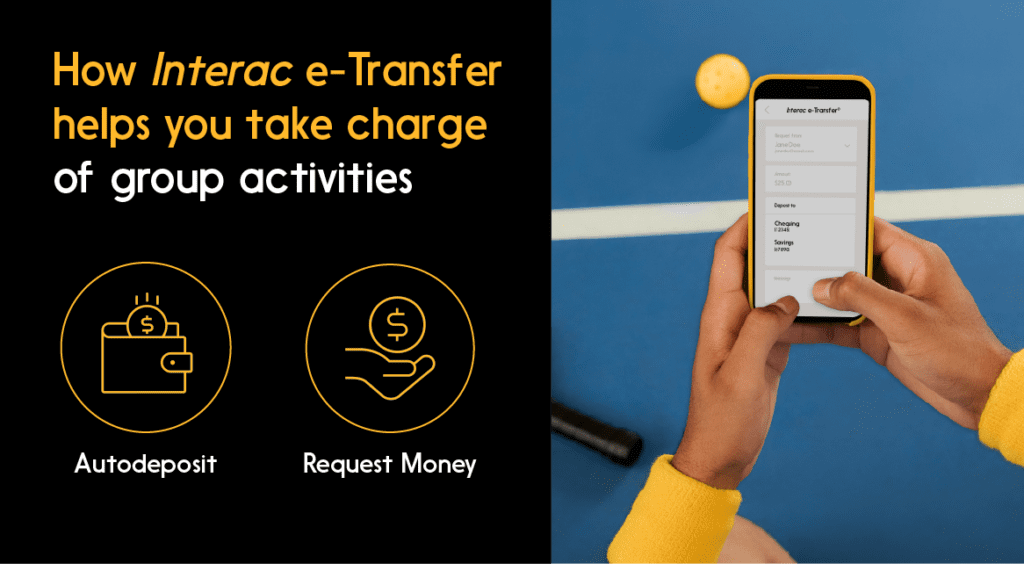 Get the most out of life with that new-you-crew-thing
Hobbies don't have to be the trendiest thing, like perfecting a sourdough starter or learning interpretive dance. They should be personal to you and whatever helps you get the most out of life.
Remember: You're in charge of what you want to do, where you want to do it, and how you want to pay for it. So, get started with the help of the tool you already have in your pocket: Interac.
From adding your debit card to your digital wallet to setting up Interac e-Transfer Autodeposit, learn how to use the many features of Interac products.