Music. It has the power to move us, connect with us, and show us what true freedom really is.
For Toronto-based artist, poet, and musician Levyi-Alexander J. Love, music is the ultimate means for expressing his emotions and letting the world know who he is. It's about bringing people together, sharing love and beauty where he can, and feeling the freedom to be who he is on his own terms.
We caught up with Levyi to talk about his love of music, turning it into a primary source of income, and how being in control of his profession makes him feel.
Finding his voice with music
Levyi came by his love through his family, who took part in choir and played multiple instruments. His love and appreciation for music got deeper, however, when his parents gifted him his first guitar at the age of 13. Initially playing Christian music, Levyi began to explore other styles and genres to see the range of his new instrument. The more he played, the more he began to see music as the direct line to his heart and a lifelong friend. He found himself able to express himself and to articulate who he was and what he was going through. Both as a musician and as a young person struggling to put his feelings to words, Levyi had discovered his voice and a new career path.
"It was nice to be able to finally find my sound and like myself," he says. "I didn't think I'd get to this place in my life where I just like myself and enjoy who I am as a person. And I think that heavily influences the songs I make. I'm proud of myself and proud of the process I've made and taken to get here."
Levyi's musical style is described as soft and melodic, taking inspiration from artists such as Bon Iver and Lord Huron. With guitar flowing like a river and a voice that is as free as the wind, his songs are intended to touch the soul and build a direct connection from his heart to the listener's. Singles like "Hot Cocoa" and "Let Me Bloom" get to the very heart of that goal, showcasing Levyi's soothing, unguarded, and almost assuring singing voice with a passion that can only come from the heart.
"I think my fans like how authentic my music is. I think they like how vulnerable I am throughout my songs. I think that's something they enjoy."
Lifting and bringing together communities through art
Alongside his work as a musician and artist, Levyi is the founder and organizer of UnObscured, an open mic series started in 2019 specifically for the queer and trans BIPOC community to showcase their talent, meet fellow artists, and be who they are without compromise.
"Our first show was the biggest show we ever had, and it was really cool. We don't really have safe spaces for Black folks to really be queer, trans, and free and not think about having to compromise either being trans or being Black, they can just kind of be that at the same time."
A trans man himself, it was important for Levyi to create a space for his local community where they can support and celebrate one another. Especially since it was that same community who helped support him in both his life and career. For Levyi, it's all about passing the good will on.
"I've met so many people along my journey who were like, 'Yo, you really impacted my life' And I was like, 'Nah, dude, you did the same to me. We're just staying together and fusing together' And we pass on opportunities to one another and keep that tight knit community. Kind of like a fraternity if you will. Just sending each other opportunities, creating opportunities for each other."
Music as a primary source of income
Beyond that, Levyi has been fortunate enough to make music his primary source of income since 2019, the majority of which has come from songs being featured in multiple projects such as the #ITSALLRIGHTNOW campaign put on by The Bentway/BSAM, hosting events such as the Afraspektion Celebration & Market for Sundays @ Riverside Common, and performances both at Toronto Pride and the MusicLife pre-show for the Metro Retro Drive-In's second year, presented by Interac.
As an artist who works on a freelance basis, Levyi faces many of the day-to-day professional struggles in staying on top of his finances. To tackle them properly he naturally enjoys getting paid in a timely manner and for that, Interac e-Transfer has been a welcome source of convenience for him.
"I'm new to this adult life. I'm turning 27 in a couple of weeks, but I still feel very new to this organizing bills life, " he says. "That's why Interac e-Transfer has been great. It's smooth, breezy, and the money shows up right away. It makes me feel like I have one less thing on my mind."
The power and freedom art brings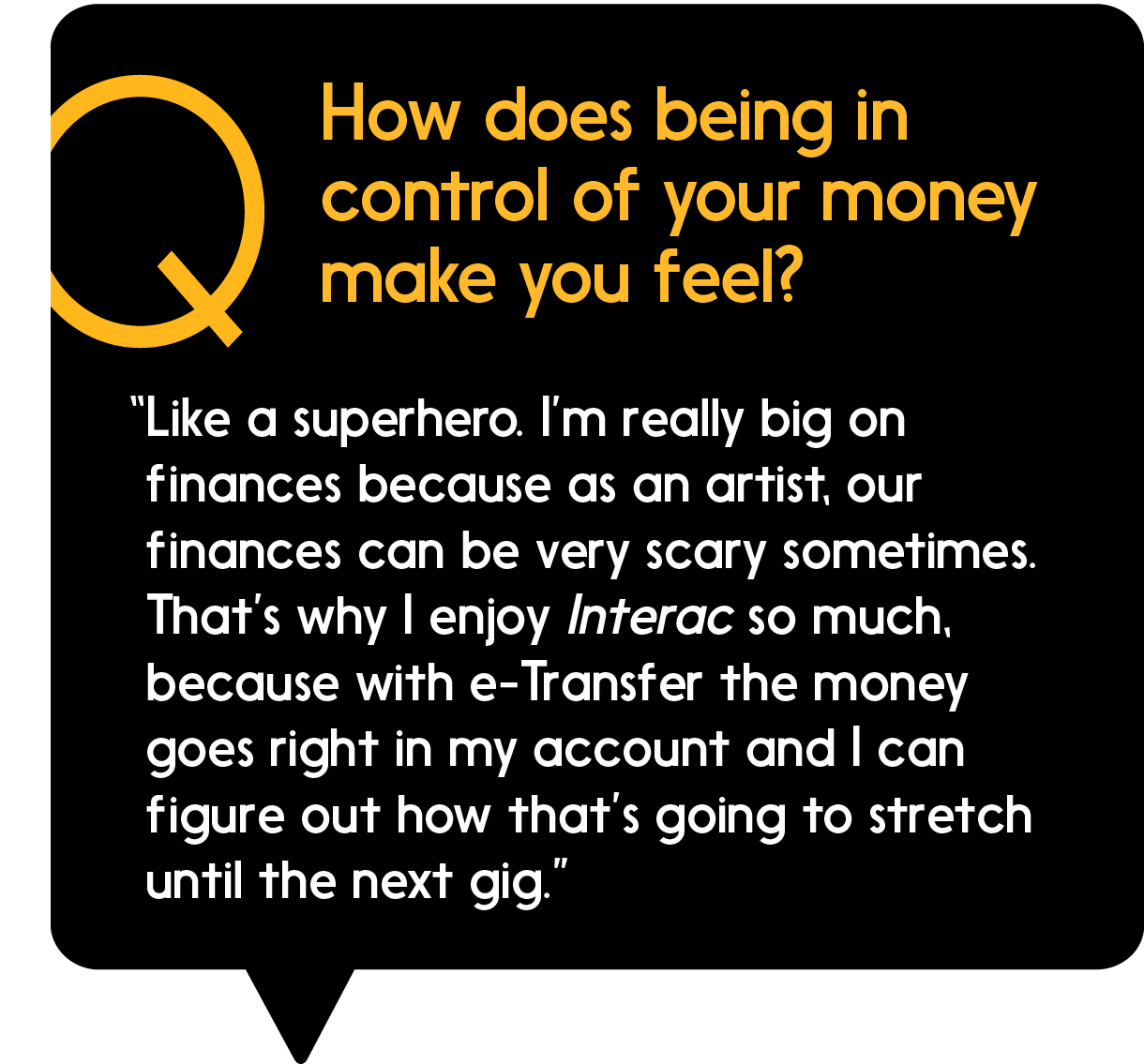 Having one less thing to worry about is important for Levyi. After all, the more his finances are in order the more time and energy he can devote to his music. And time is a precious commodity in the creative process, because it gives Levyi more focus and control over the music he's creating and the details that help it come alive. From scribbling down the first word of a song and working out the tempo to putting the final touches on a track and working the flow of a live performance, a musician can control all of it.
"You are in charge of your own energy when you go on stage. You have control of the energy, you determine how the crowd goes in terms of what you say. So that makes me feel like, "Okay, I can take more charge of my music."
And being able to take charge of your music in that way is important to those who don't see music as just a way to make a living, but a way of living. Where some might find it as simply the accumulation of pretty words and pleasurable tones, Levyi sees a whole other language that transcends culture, time, and place. Music has the power to bring communities together and offer a shared experience from one soul to another.
"I think art is the only language that everybody understands, regardless of whether you speak English or Punjabi or so on. We can jam to a Hindi song right now and we may not know what they're saying or what the language is, but we understand that the music itself is beautiful."
Advice to other musicians
For those considering a life of musical performance, they will find no shortage of opportunity and support throughout the community. But to those just starting, Levyi offers a word of advice. Namely: practice.
"Practice, practice, practice. Hone your craft and learn to love your sound and love your music because when you're in love with it, nobody can take that away from you."
"Art never lets you down. Art never leaves you hanging. It's always there, no matter what."