Interac embarked upon an ambitious Diversity and Inclusion (D&I) initiative to create an environment for diversity of thought and experience, where unique ideas, perspectives and voices are not only welcomed, but encouraged.
The Interac D&I Program recognizes eight dimensions of demographic and cognitive diversity, which are implemented through eight types of initiatives designed to embrace diversity as a strength, promote fair treatment, equal access to opportunities and organizational flexibility.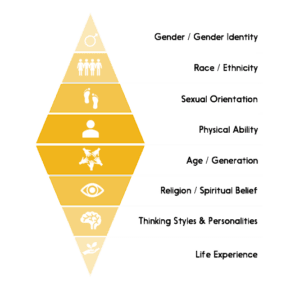 Executive champions representing the broader Interac team formed the Diversity & Inclusion Council. Feedback from an anonymous survey helped us better understand our strengths, opportunities and the perceptions of diversity and inclusion at Interac. These results also determined the first year of programming.
Creative hiring for diverse talent
We launched the Interac Recruitment Challenge at Elevate Tech Fest, inviting talent to submit creative job applications for a year-long rotational position. Interac was also proud to welcome a summer intern from the Ready to Work program at Holland Bloorview Kids Rehabilitation Hospital.
Employee Training
Interac implemented company-wide Unconcious Bias Training, which encouraged our staff to recognize their implicit biases and how these biases manifest themselves in our daily lives and hiring practices.
Diversity in our Business
As part of our commitment to increasing participation and leadership of women in tech, Interac created an interactive installation at the #MovetheDial Summit. More than 2,000 attendees were invited to participate in the installation, which created a vibrant data map of the interconnected identities.
Celebrating Diversity
Interac brought staff together to celebrate our team's diversity through internal events including International Women's Day, Pride Week and the International Day of Pink and sent a contingent of employees to the Inaugural BFUTR Summit hosted by BPTN (Black Professionals in Tech Network).