There is no doubt the COVID-19 pandemic has had a profound impact on consumer spending, government services and business transactions.
For example, the demand for new digital payment options is reflected in a 333 per cent year-over-year increase in Interac Debit payments made within a merchant app or website1 from March 2020 to March 2021, and a 113 per cent year-over-year increase in Interac e-Transfer transactions being received by businesses across Canada since the pandemic began2.
We expect to continue seeing an acceleration of digitization trends that have taken hold over the past year and a half in both payments and other aspects of our economy.
With this in mind, Interac recently provided recommendations to the House of Commons Standing Committee on Finance's annual Pre-Budget Consultation process. Read our full submission to the Committee here.
Modernization of business and government payments
Current payment processing methods (which include cheques, EFTs, paper invoices, cash, and other traditional methods) are costing Canadian businesses an estimated $3 billion to $6.5 billion per year, according to Payments Canada3. Eliminating even a modest portion of these payment processing costs represents a large potential savings for Canadian businesses.
To help businesses take advantage of this opportunity, Interac recently launched Interac e-Transfer for Business, an innovative solution that builds on the widespread adoption of the Interac e-Transfer service. Millions of Canadians already use the Interac e-Transfer service in their personal lives, and now businesses can streamline paper-based accounting processes to maximize working capital and reduce operational inefficiencies. Key features include the ability to send and receive funds instantly with real-time confirmation, richer remittance data traveling with payments and higher transaction limits.
For the Government of Canada and other governments across the country, COVID-19 has reinforced the need to move money to individuals quickly and securely. With COVID-19 support programs including employer payroll support, social assistance and unemployment payments, and direct aid to families, methods for disbursing funds have included everything from cheques to direct deposit to the Interac e-Transfer service.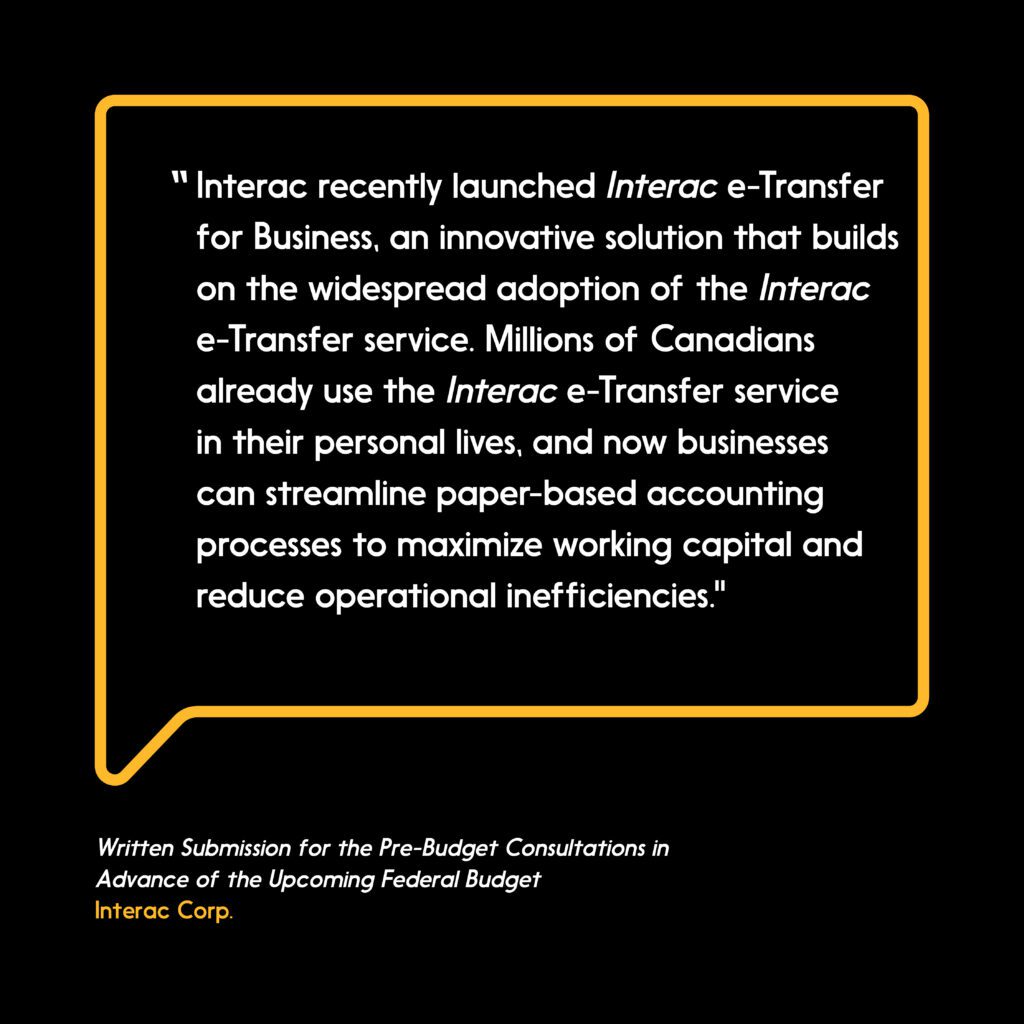 With this in mind, Interac called on the government to enhance government-to-citizen and citizen-to-government payments through digital, real-time payment and disbursement options used by businesses and citizens alike.
Developing digital identity for Canada
Digital identity is a key innovation that will support our recovery post-COVID and can serve as a bedrock for an inclusive digital economy. Digital identity offers the promise of giving individuals more privacy and control over how their information is used and shared, while at the same time reducing threats linked with physical ID documents such as theft, counterfeiting, and most recently, hygiene concerns. [Update: Interac acquires SecureKey digital ID services for Canada: Five things you need to know.]
For digital identity to fully provide its benefit to society, it needs to be underpinned by foundational government credentials such as birth certificates, citizenship documents and driver's licences. These documents sit at the centre of the identity ecosystem and are the means by which we obtain other trusted identities such as banking cards and employment credentials.
Industry also has an important role to play in establishing common standards and platforms to allow for digital identities to be used widely by all Canadians. Some recent steps, such as the of the Pan-Canadian Trust Framework™ by the Digital Identification and Authentication Council of Canada (DIACC), show progress in this work and a path for the acceleration of digital ID adoption.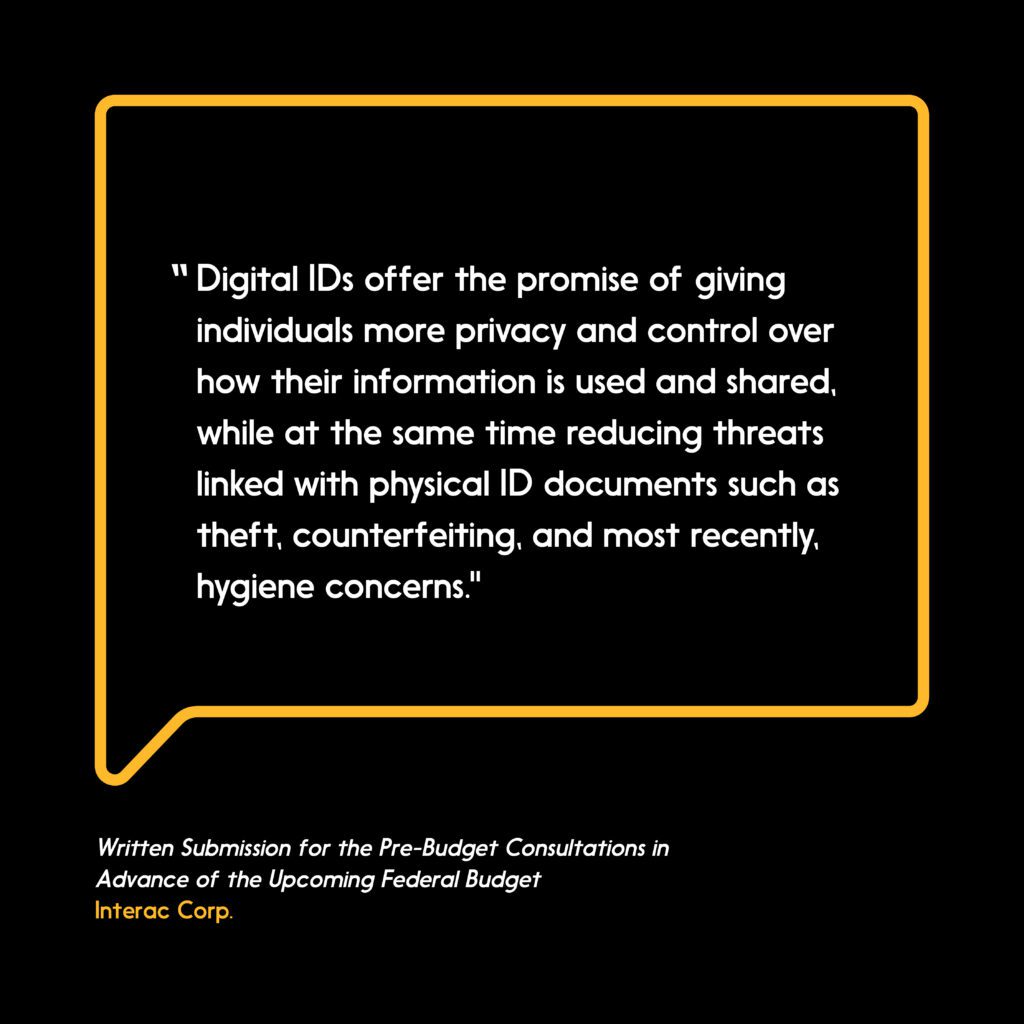 To move digital ID forward, Interac requested the government advance technical and policy changes required to support Canadians' use of digital identity, relying on foundational government credentials.
Establishing an open banking framework
Finance Minister Chrystia Freeland released the final report of the Advisory Committee on Open Banking in the summer of 2021, which recommends that open banking be implemented in Canada by January 2023. The report acknowledges the meaningful benefits of a secure open banking system for Canadians, enabling them to do more with, and have greater control over, their financial information.
Open banking could help improve access to financial services, ensure a more level playing field, improve competitiveness and foster innovation. While open banking can benefit a wide array of stakeholders, it holds special promise for three target audiences hard-hit by COVID: those that were already financially vulnerable, women, and small- and medium-sized businesses.
In its submission, Interac elaborated on benefits for each of these groups and encouraged the government to build on the Advisory Committee on Open Banking's recommendation to implement a Canadian open banking framework. With a successful implementation, open banking will improve the financial futures of the financially vulnerable, including those most affected by the pandemic.
1 Interac Debit e-Commerce payments March 2020 vs. March 2021
2 Interac e-Transfer transactions 04/01/2019 – 03/31/2020 vs. 04/01/2020 – 03/31/2021
3 https://www.payments.ca/industry-info/our-research/payments-perspectives/business-payments-canada-trilogy-surveys-point