HONK transforms the parking experience for drivers across Canada as the first to offer INTERAC Debit as a way to pay for parking online and in-app through digital wallets
TORONTO, April 14, 2021 – HONK, North America's leading provider of contactless digital payments for parking, announced today the launch of Interac Debit through digital wallets within HonkAPP, HonkTAP and HonkWEB. This latest feature marks a major milestone in HONK's mission to make parking easier and more convenient for drivers. For the first time ever, Canadians can now pay for parking from the comfort of their phone in-app and online —with Interac Debit through digital wallets.
This new payment feature is available across HONK's entire payments platform, including HonkAPP, HonkTAP, and HonkWEB. Drivers who bank with participating financial institutions simply select the duration of their parking session, and seamlessly pay using Interac Debit through the digital wallet of their choice: Apple Pay or Google Pay. What's more, drivers can opt to receive parking notifications and securely add more time to the meter from afar.
"Our priority at HONK is to enhance the parking experience for Canadians by offering the most convenient and seamless ways to pay," said Michael Back, HONK Founder and CEO. "Adding Interac Debit as a payment option in our app, mobile guest checkout and website builds on this mission, and we are thrilled to be the first company in Canada to do it."
"In today's touch-averse world, drivers deserve to pay for parking with their preferred method of payment from the safety and convenience of their phone. Touchless ways to pay are now a necessity — and we're proud to give the millions of Canadians who prefer paying with Interac Debit the flexibility to do so," said Michael Back.
"As consumer spending continues to grow online, so does their expectation to pay seamlessly using the payment method of their choice," said Nader Henin, AVP, Commerce, Interac Corp. "We're excited to collaborate with HONK to offer drivers in Canada the option to pay for parking conveniently using Interac Debit through digital wallets within the HONK app or website."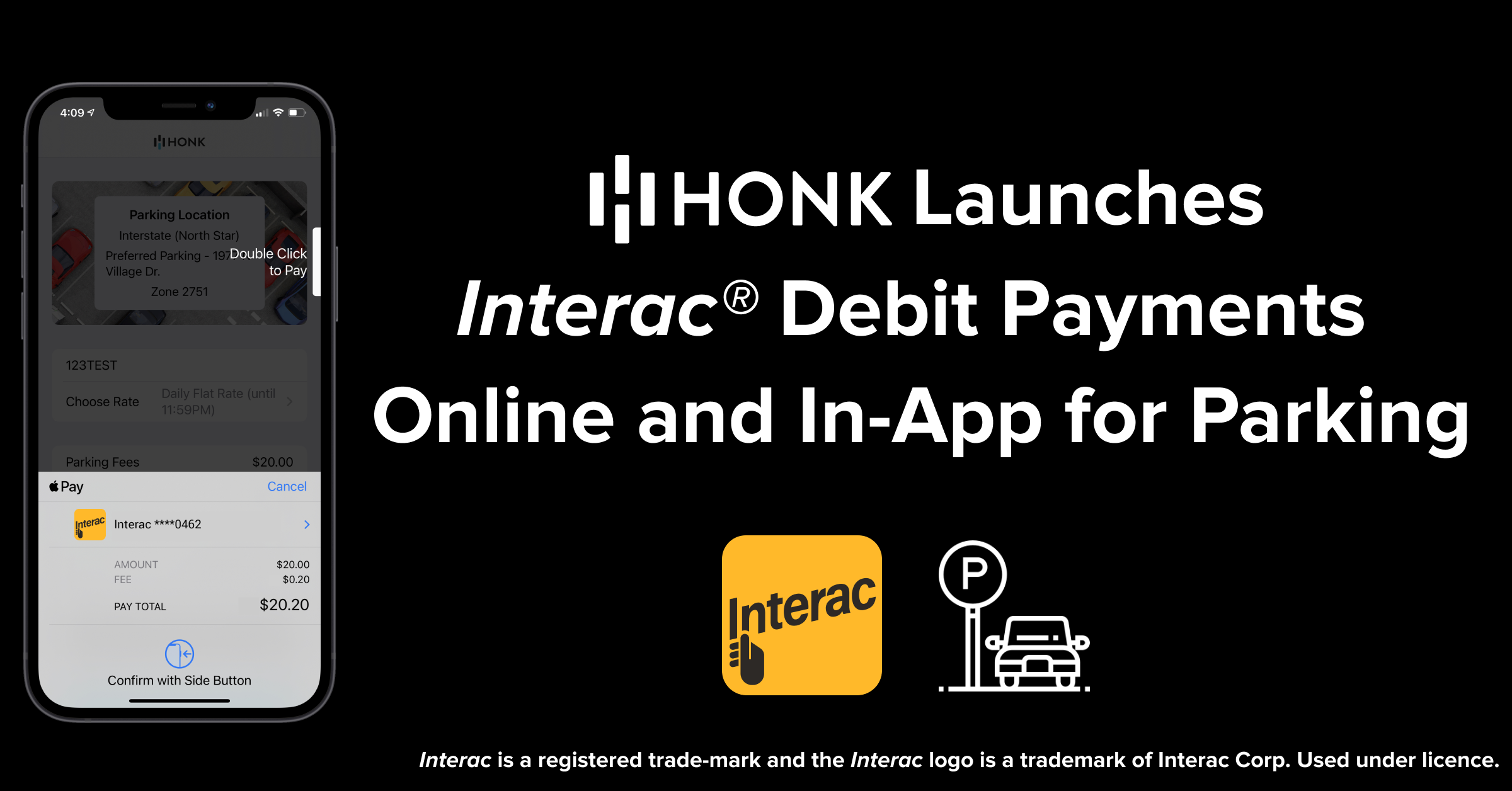 About HONK
HONK is North America's leading provider of safe, contactless payments for parking. Since 2013, HONK has been creating touchless solutions to make paying for parking easier, faster, and safer for drivers. Motorists can download the HonkAPP to search, find, pay for, and extend parking right from their phone. Or they can use HonkTAP contactless Smart Stations to safely pay for parking – a simple tap or scan of their mobile phone brings them to a guest checkout payments page. HONK is trusted by millions of drivers across North America.
For information, interview and images, please contact:
Rachel Lemkow
Director, Marketing
rachel@honkmobile.com
416.574.5832
About Interac
Interac Corp. empowers Canadians to transact digitally with confidence by providing payment and value exchange services rooted in security, reliability, and efficiency. As a leader in digital security and authentication alongside our subsidiary, 2Keys Corporation, security is the core of everything we do. Through our world-class privacy, fraud mitigation and governance expertise, we help keep Canadian customers safe and secure when transacting with Interac. With nearly 300 financial institutions connected to our network, Canadians choose Interac products an average of 18 million times a day to pay and exchange money. Interac is committed to championing workplace culture and corporate citizenship based on the principles of responsibility, diversity and inclusion. We are proud to be one of Canada's leading and most trusted financial brands. For more information, visit newsroom.interac.ca
For further information:
Interac Corp., 416-869-2017, media@Interac.ca
Interac is a registered trade-mark of Interac Corp.