Interac arrived at the #movethedial annual summit in Toronto with a message that promoted diversity and interconnectedness — but we needed the help of participants to complete the picture.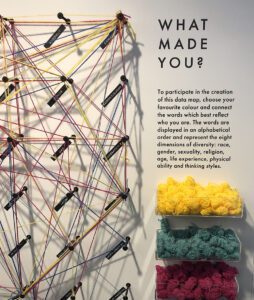 Imagine a wall-sized board of pegs labelled with words that represent identities and relationships — "mother," "brother" and "traveller," for example. The installation, created by a cross-functional Interac team with the help of artist Dorota Grabkowska, invited attendees to take pieces of string and wrap them around all the pegs that applied to them personally. One string at a time, #movethedial attendees gradually created a matrix that mapped out — in the form of a monumental tangle of string — all the different ways our identities connect us with one another.
And what better place to bring this message than #movethedial, which aims to break down the traditional barriers that women face when working in tech? For Interac, the event helps us work on a broader commitment: namely, increasing the diversity of our team — while also promoting inclusion in the fintech industry as a whole.
"We're committed to an ecosystem where a diversity of experiences and voices can thrive," Kikelomo Lawal, Chief Legal Officer & Corporate Secretary for Interac and Executive Champion of the Diversity and Inclusion Program. "That's why we're proud to work with #movethedial and make other connections to help make the face of the fintech industry more diverse —in particular, at the leadership level."
As well as #movethedial, Interac has been involved with a number of initiatives that promote inclusion in the finance and tech sectors. At Out on Bay, for example, Interac was one of a number of high-profile corporate sponsors who helped make Canada's largest LGBTQ+ student recruitment conference possible. We also work with the Black Professionals in Tech Network and Women in Payments, which both provide opportunities for networking, training and support.
To help transform diversity from a goal to a reality, the Diversity and Inclusion Council works with Human Resources in its efforts to encourage a representative group of candidates to apply for opportunities at Interac. Lawal said she's been happy to see an encouraging degree of success to date.
"In our organization we're fortunate to be working towards a level of diversity that represents the face of Canada," said Lawal. Take gender, for example.
Interac plans to deepen its participation in programs such as #movethedial in future years. For 2019, meanwhile, our installation generated not just thought, but donations, too.
In order to take part in our live art installation, participants were encouraged to make a donation to the SickKids Foundation in Toronto (a.k.a. SickKids). Donors had a chance to use Interac e-Transfer QR Code Technology, to demonstrate just how quick and easy giving can be – without the need to exchange personal information.
How does it work? The process starts when the would-be donor scans a QR code with a mobile device. This action brings them to a page that layers into the existing Interac e-Transfer platform where they're asked to complete the transaction. In the #movethedial use case, donors chose between a $5, $10 or $15 donation that was made instantly with a few clicks. For its part, with assistance from CIBC, Interac provided the collection capability service for SickKids, as part of its continued deployment of new capabilities to enable digital payments for fast, efficient solutions for Canadians.
"In an increasingly digital world, we're seeing a rapid shift towards mobile commerce," said Anurag Kar, Director, Money Movement Products at Interac. He said Interac e-Transfer QR Code Technology will be useful for collecting small amounts of money at times where high foot traffic is present and for situations when people may not have cash on hand. And it works with less friction than cash, too, considering the lowered overhead to implement the capability and reconcile accounts.
"At Interac, we're developing solutions to ensure seamless customer experiences — for consumers, businesses, and not-for-profits alike. We can offer greater choice for Canadians to pay whenever and however they want and for all use cases and transaction sizes; be it for people to pay a business for services or making micro-payment for donations," he said.