This article was originally published on Oct. 22, 2020.
The world didn't anticipate a year like 2020. The COVID-19 pandemic and the need to practice safe physical distancing led to a radical shift in the way people interact with each other, make payments and access services. As governments swiftly instituted emergency lockdowns that led millions of Canadians to bunker down in their homes, new trends emerged highlighting the critical need for a future where key services such as health care are easily accessible online, both securely and safely. At Interac, we believe digital identity is a key component that will enable this future, and can serve as a bedrock for an inclusive digital economy that is a source of opportunity for all.
To put it simply, digital identity is a way to verify who we are both online and offline in a manner that safeguards personal information. This could include having personal documents such as driver's licences, passports, birth certificates, and health cards accessible on a mobile phone. It would allow individuals to securely verify their identities when accessing services or making transactions. While digital IDs would be similar to their physical counterparts in some ways, they offer the promise of giving individuals more privacy and control over how their information is used and shared, while at the same time reducing threats associated with physical ID documents such as theft, counterfeiting, and most recently, hygiene concerns.
A national survey conducted by Interac shows Canadians agree the pandemic has emphasized the need for digital IDs. Three in four Canadians (75 per cent) say government services should be accessible online instead of in-person, with approximately half agreeing it is more important now than pre-COVID-19 to access health (55 per cent) and government services (50 per cent), such as renewing a driver's licence and registering for benefits, online.
This is being driven by Canadians increasing use of online services amid COVID-19, coupled with hygiene concerns around physical IDs. More than half of Canadians (51 per cent) report having accessed at least one online service for the first time following COVID-19. And nearly six in 10 (58 per cent) Canadians have been transacting in ways that reduce physical contact more often than before the pandemic, citing worries about hygiene when handling physical IDs. Less than half (48 per cent) say they are comfortable accessing government services in-person now, a 25 per cent drop since pre-COVID-19.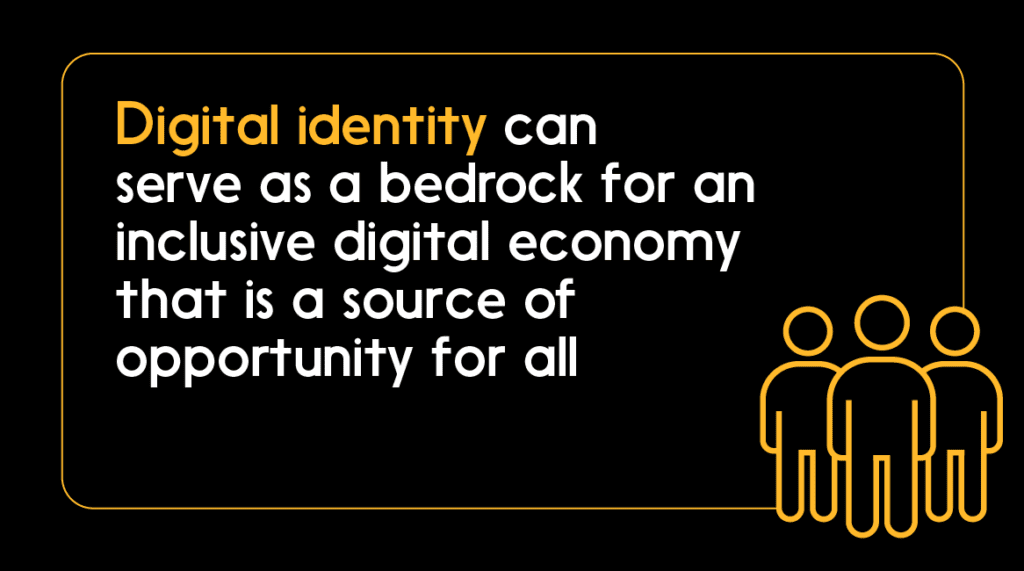 However, while three-quarters of Canadians agree that they should be able to access government services online, security remains a key consideration for adoption, with nearly seven in 10 (67 per cent) Canadians noting they are open to using a digital ID if it means their identity data is better protected than it is today.
The majority (64 per cent) of Canadians are worried that fraud is rising in the wake of COVID-19, with three in five saying they care more now about keeping their identity data safe online.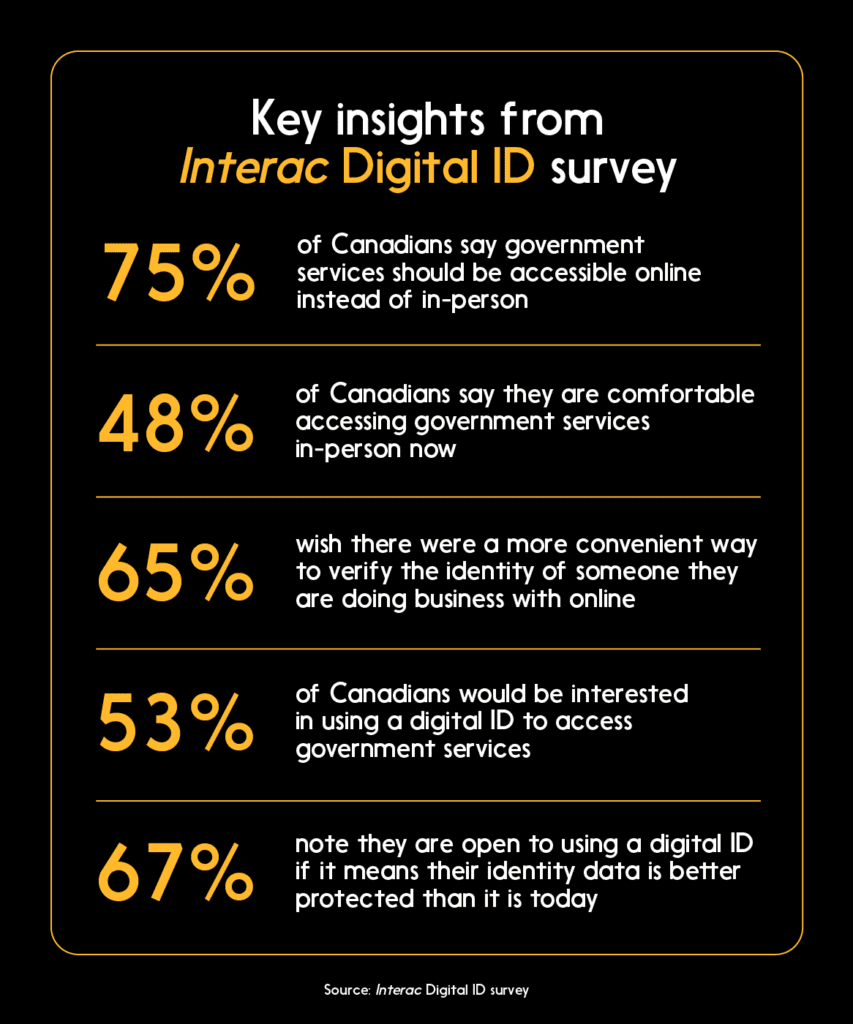 With all of this in mind, how do we move forward with digital ID in a way that gives Canadians confidence and allows them to access key services and participate fully in an economy that is increasingly moving to a digital default? Below are three key considerations that public and private sector organizations should consider when working to shape a digital future that is secure, effective and inclusive.
Digital identity standards with government at the centre
For digital identity to fully provide its benefit to society it needs to be underpinned by foundational government credentials such as birth certificates, citizenship documents and driver's licences. These documents sit at the centre of the identity ecosystem and are the means by which we obtain other trusted identities such as banking cards and employment credentials. Industry has an important role to play in establishing common standards and platforms to allow for digital identities to be used widely by all Canadians. Some recent steps, such as the Digital Identification and Authentication Council of Canada's (DIACC) recent launch of the Pan-Canadian Trust Framework™, a set of digital ID and authentication industry standards for the implementation of digital ID across Canada, show progress in this work and a path for the acceleration of digital ID adoption.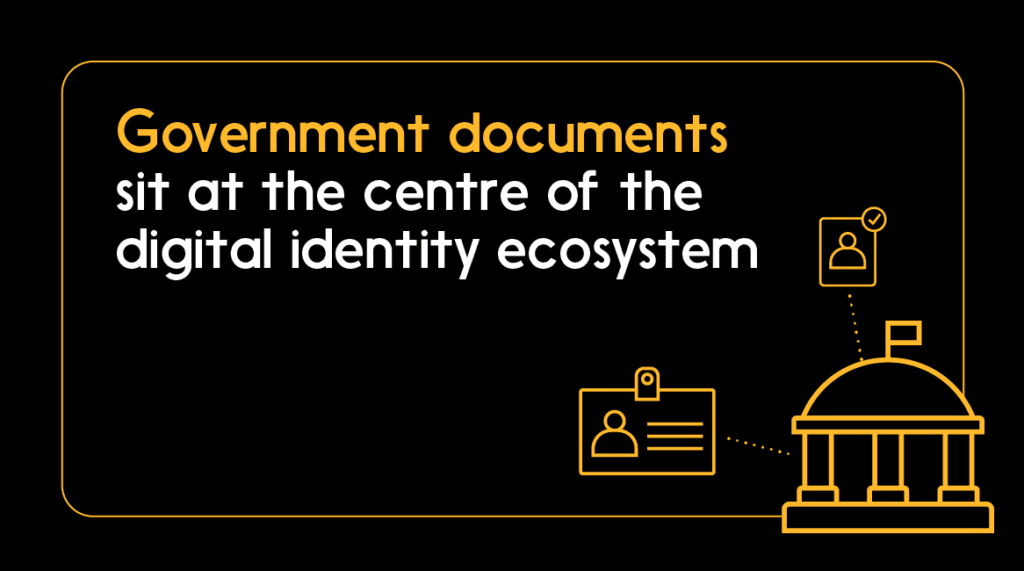 Protecting Canadians' data and guarding against fraud
During COVID-19, we have seen firsthand how important it is to protect ourselves online. As governments have rapidly scaled up support programs for citizens and businesses, scammers have similarly upped their game. As we move towards adoption and usage of digital IDs, this places renewed importance on ensuring we have proper protocols in place to safely store identity information and facilitate the secure exchange of this information between citizens, governments and businesses. The good news is we already have many of the capabilities required to do this. Encryption and data abstraction technology that is currently used to secure payments made via the Interac network can also be used to secure digital IDs.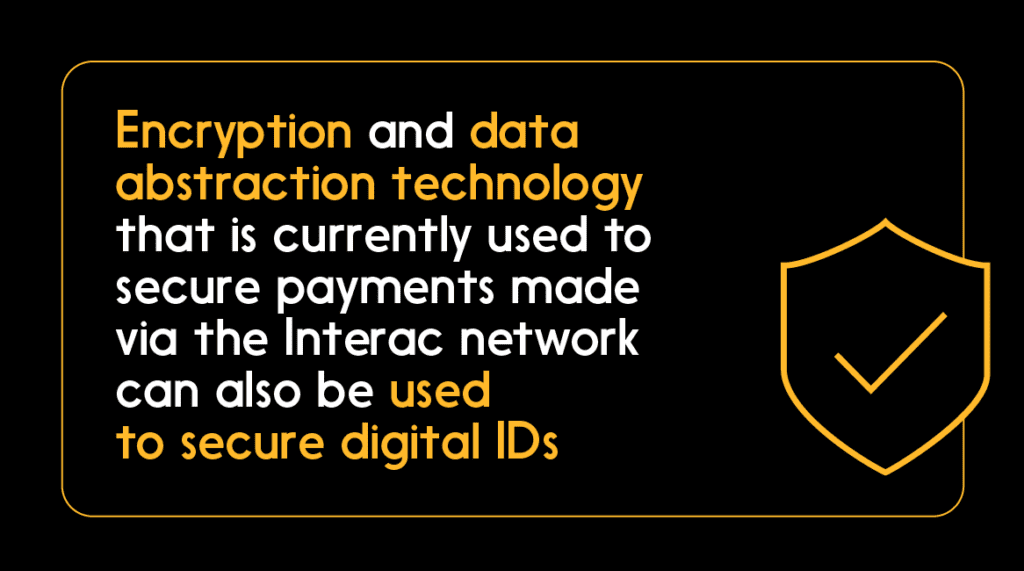 Paving the way for future opportunity
Digital ID should not be seen as an end in itself, but rather an innovative solution that could facilitate the adoption of a variety of new opportunities including state-of-the-art government e-services, consumer-directed finance, digital health, real-time payments, and connected smart cities. It also has the potential to improve the convenience and effectiveness of current services in both the government and the private sectors while reducing the cost of delivery. DIACC estimates that governments spend nearly $500 million each year on manual validation of identity — usually associated with people needing to visit an office in-person to present and verify their identity documents.1
Digital identity opens the door for Canadians to rethink how we interact with key services to ensure the digital future is a better future for all. Canada must take this journey in a way that is responsible, secure and that earns its citizens' confidence.
All survey statistics presented in this piece are taken from a national online survey of 996 adult Canadians conducted by Interac Corp. in August, 2020. See survey details here.