As the COVID-19 pandemic continues to evolve, its long-term impact on Canada's economy remains top-of-mind. With this in mind, the House of Commons Standing Committee on Finance has sought recommendations on how Canada can help the economy recover and grow in a safe and sustainable manner for its Pre-Budget Consultation process.
We believe that safe and secure digital payment systems, as well as robust and privacy-enhancing digital identity will play a critical role in this economic restart. Read our full submission to the Committee here.
COVID-19 economic impact
Interac observed significant changes in spending and money movement since the onset of the COVID-19 pandemic in Canada. Commerce ground to a halt when governments initially instituted states of emergencies – excluding shopping at grocery and drug stores. However, overall transaction levels have increased as provinces reopen and everyday commerce grows.
The COVID-19 pandemic has accelerated Canadians' shift to digital payment solutions. In July, Canadians surpassed 67 million monthly Interac e-Transfer transactions, a record high. The increased usage signals the critical importance digital transfers are playing in keeping families safe and businesses running.
The increased use of digital payments is also reflected in the growth of Interac Debit for In-App and In-Browser payments, especially as more Canadians use digital wallets for take-out and delivery.
These indicators are signalling larger shifts in the way Canadian consumers and businesses want to transact and proving that both digital payments and digital identity are an integral means to economic recovery in Canada, even as our economy continues to re-open.
Restarting Canada's economy through digital payments
Whether opening an online store for the first time or serving clients virtually, businesses are increasingly seeking practical digital solutions to maintain and grow their operations. For many small businesses, the Interac e-Transfer platform is a convenient solution that allows them to adapt to the digital economy.
For a business owner, the ease of immediately requesting, sending and receiving money, as the Interac e-Transfer platform makes possible, is an important component of this transition. Since the end of March, businesses have received 35 per cent more Interac e-Transfer transactions than expected1.
Supporting businesses in their transition away from legacy systems like invoicing, cheques and electronic funds transfer (EFT) and towards new digital capabilities has the potential to save significant resources and support economic growth as Canada recovers from COVID-19.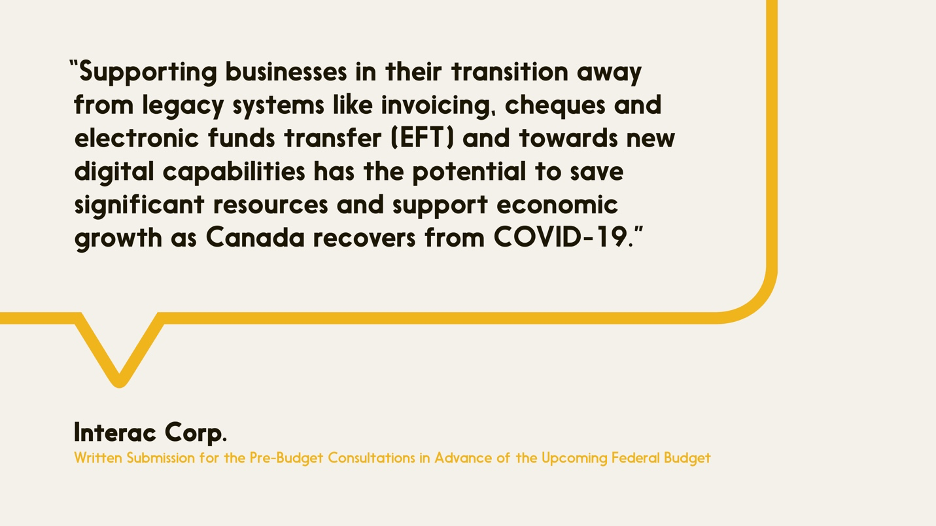 Case study: Efficient disbursement support for government relief payments
In times of crisis, getting money quickly, securely and in real-time to those who need it most is imperative. Recently, Interac worked with the provinces of Alberta, Quebec and New Brunswick to distribute one-time COVID-19 emergency funding via the Interac e-Transfer platform. And during the 2016 Fort McMurray wildfires, the Canadian Red Cross distributed $50 million through approximately 100,000 Interac e-Transfer transactions.
These payments were made possible by Interac e-Transfer Bulk Disbursements, a product built on the Interac e-Transfer platform. By offering governments and businesses a secure and cost-efficient way to initiate many payments at one time, funds can be sent quickly and without the need for a recipient's banking information. This process reduces reliance on cheques, allows for payments to be accepted in real-time, offers easily trackable data and ultimately reduces costs.
Restarting Canada's economy through digital identity
Being able to validate and prove who we are is primarily an analog function (e.g. ID verification in person). However, the COVID-19 pandemic is rapidly changing expectations. Citizens want, and in many cases need, to use government and corporate services online, without stepping foot into public spaces.
Digital ID enables all Canadians to engage digitally in a secure, privacy-enhancing manner across a variety of areas such as new government e-services, consumer directed finance, digital health, real-time payments and connected cities. In a world where a high percentage of our interactions are not done face-to-face, providing citizens with a means to say with confidence that they are engaging with the people and organizations they want to engage with will increase trust in these areas and can accelerate adoption and economic growth.
There are several factors critical to implementation of robust digital identity including technology, standardization, coordination and trust. There is also the challenge of moving towards greater digital adoption without exacerbating inequalities for those currently without access to the technology, knowledge or economic wherewithal to participate.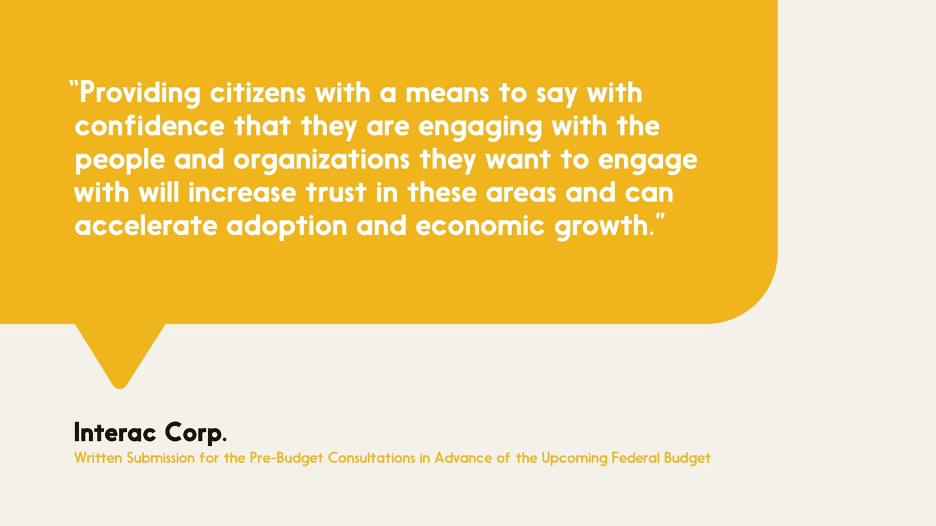 Restarting Canada's economy through digital literacy and broadband connectivity
Despite being declared an essential service, nearly 60 per cent of rural communities still lack access to high-speed broadband2, and approximately 1.4 million low-income households lack basic internet access3. At the same time, while positive steps have been made in expanding digital literacy at both the national and local levels, there is still a strong push to do more4 and ensure efforts between various levels of government and the private sector are coordinated.
Digital ID and digital payments will provide economic and social benefits. However, these transformations will not be fully realized unless backed by key pillars including robust broadband access and digital literacy.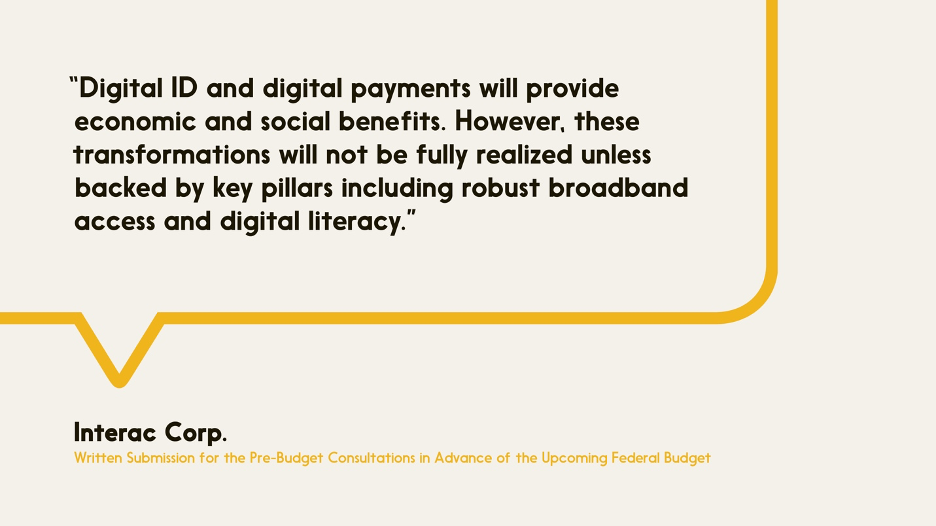 Read our full submission to the House of Commons Standing Committee on Finance for its Pre-Budget Consultation process here.